Every year, when I start gearing up in the offseason, I go through and organize some of the articles I intend to write for the year. I get them all set up in cozy little folders separating different parts of the season, but there's a lonely folder at the bottom. One named "Postseason."
Last year, there was literally a single document in that folder. It had a title, but no content. "I hope against hope!" This year, I don't have to be consumed by blind optimism. This year, that folder will get some love. This year, the Tampa Bay Buccaneers return to the postseason.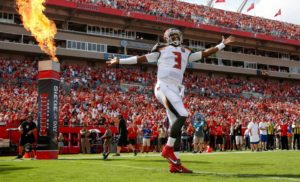 Compared to past years, the Bucs have had a relatively low-key offseason so far, and that's really been a blessing. Isn't it nice to have an offseason without a coaching carousel, twenty-five free agent signings, a billion questions, and a bunch of valid pessimism?
Don't get me wrong, I'm not saying that a few OTAs have proven the Bucs walk out of Houston in February with their sights set on Disney World. Though it sure would be nice, especially since that game would be a short drive for me…
The fact of the matter is that the Buccaneers look more like a football team now than they have in years. More fresh talent, more experienced starters, and a couple of big problems solved have the Bucs on an excellent path towards this season.
Linebacker Lavonte David has already said this year the Bucs can be "the best defense ever." That's high praise from a player who has been understandably displeased with the defense, and at times his own performance, in past years.
Meanwhile, Mike Evans has said he can be "the best receiver in the league." And by golly, if Jameis Winston makes the leap that many quarterbacks do going into year two of their career, that might just come to fruition. There were problems last year, we all know this.
Dirk Koetter knows, and he's going to do everything in his power to remedy them. Koetter has taken a franchise that has been defined for over a decade by flux and underperformance and given it some much-needed stability.
Despite the struggles, the Buccaneers keep on trucking. In some years, it seemed like they only did this because they were still technically an NFL franchise and were obligated to continue participating in games. Contracts and paydays, all that nonsense. This year, Jameis Winston is driving that truck and he's ready to steamroll over the competition.
In coming weeks, WTB? will be getting back into the swing of things and gearing up for one could be one of the most exciting seasons of football Tampa Bay has seen in years. I'll be taking a look at all aspects of the team as we barrel towards the preseason, and eventually to opening day.
Sunday, September 11th. Mark your calendar if you haven't already. The Bucs will be in the Georgia Dome, and grilled Falcon is on the menu. After that, it's just a hop, skip, and an NFC Championship to Super Bowl 51.