Martin Gramatica was one of the most popular and likable players in Tampa Bay Buccaneers history. He spent 6 seasons in Tampa as the Bucs kicker playing in 89 games, going 137 for 179 (76.5%) on field goals and 181 for 183 (98.9%) on extra points during that span. He was released after an injury which opened the door for Matt Bryant to come in for the next few years. Ever since then, the Bucs kicking game has been cursed with the team changing kickers ten times since 2009 while Bryant has been "Mr. Dependable"  for the Atlanta Falcons. The list of failed attempts at finding a consistent kicker include Mike Nugent, Connor Barth, Rian Lindell, Patrick Murray, Kyle Brindza, Connor Barth again, Roberto Aguayo, Nick Folk, Patrick Murray again and Chandler Catanzaro. However, the Bucs may have finally found the guy to break the kicking curse here in Tampa in recently signed Cairo Santos. He is now 14 for 14 on his kicks with the Bucs in his first 3 games, including 3 for 3 on field goals and 11 for 11 on extra points. What's funny is, there are quite a few similarities between Santos and Gramatica that I thought were interesting.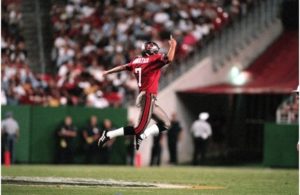 Santos is 5'8″/160lbs while Gramatica was 5'8″/170lbs. They are both soccer style kickers who grew up playing the game. They are both from South America with Santos hailing from Brazil and Gramatica hailing from Argentina. So far, Santos isn't quite as animated as "Automatica" used to be after making a kick, but then again he's only kicked three field goals and has yet to kick a game winner. However, he is more accurate. Even though Martin played in twice as many games as Cairo has so far in his career, his field goal percentage is nearly ten points higher at 85% versus 76%. Gramatica has a slight edge with his extra point percentage at 99% versus 96%, but then again Santos is kicking at more narrow uprights than Martin did in his career. Both kickers have now been on four different teams. Gramatica started in Tampa, then went to Indianapolis, Dallas and eventually New Orleans. Santos started in Kansas City then went to Chicago, Los Angeles and now Tampa.
So here's a few "fun facts"  that I found about our new kicker Cairo Santos.
He is the first Brazilian born player in the NFL
He learned about American football as a foreign exchange student in St. Augustine, Florida.
He went to college at Tulane where he won the Lou Groza Award as a junior for being the best kicker in the nation.
His father was killed in a plane crash during his senior year of college.
The Chiefs signed him as an undrafted free agent and he beat out Ryan Succop for the kicking job.
In Week 4 of the 2015 season, he made seven field goals in one game against the Bengals including two of 50+ yards.
His best season was 2016 in Kansas City when he made 31 of 35 field goals with a long of 54 yards. He also won the AFC Special Teams Player of the Month honors in November by making all 11 of his field goals, including a game winner to beat the Broncos in overtime.
He played in 2 games with the Rams earlier this season, filling in for the injured Greg Zuerlein, where he made a 39-yard game winning field goal in his first game to beat the Seahawks.
He has only had one field goal and one extra point blocked in his 55 career games.
I don't know about the rest of you, but I think it's been nice to be able to keep my eyes open and breathe during kicks over the last 3 games. With the Bucs last few kickers, that hasn't been the case. At least for now, it looks like the Tampa Bay Buccaneers kicking game in in good hands, or maybe feet is  more appropriate. Eventually, Santos will miss one and the angry whispers will start once again. But as of this moment, he's still perfect and becoming more and more popular among Bucs fans with every kick that splits the uprights. I have a feeling that he may get an opportunity to play a major role in their next game, so we'll see if he runs around the field jumping for joy after he makes a game winner to beat the Saints on Sunday.
Until then, as always…GO BUCS!!!