I'm sure that I'll catch some heat from some of you about this article, so I want to preface it by saying this:
I'm a Buccaneers fan for life. Always have been, always will be. Even if this team moved to London, I'd be pewter & red til I'm cold & dead!
That being said, this team is in serious trouble. I'm not just talking about this season either. That ship sailed when they lost the "must win" game in Buffalo. I'm referring to the whole organization in general. The Glazers are historically notorious for being impatient with general managers and head coaches and this regime is running out of time.
Since the Glazers took ownership of the franchise in 1995, they've been through four general managers and six head coaches. Rich McKay had the longest tenure from 1995 to 2003 and was also the most successful with a 80-64 record, five playoff appearances in 9 seasons and a Super Bowl win with Tony Dungy and Jon Gruden. Bruce Allen was next in line from 2004 to 2008 and finished his 5 year stint in Tampa with a 38-42 record and two playoff appearances with Gruden. The Mark Dominik era was next with an abysmal 28-52 record and zero playoff games from 2009 to 2013 with Raheem Morris and Greg Schiano. Which brings us to Jason Licht who is now just 19-36 with no playoff appearances over his four seasons with Lovie Smith and Dirk Koetter coaching the Bucs.
The clock is ticking.
Don't get it twisted. I'm not calling for a coaching change. I don't necessarily want Dirk Koetter or Mike Smith to get fired and for this team to start from scratch again. However, coaching seems to be the big issue with this team. I don't know what else to blame this season on. How does a team that finished so strong last year at 9-7, just barely missing out on the playoffs, that didn't lose any key players to free agency, that added even more talent on both sides of the ball through free agency and the draft, that's in it's third year of the offense and second year of the defense, start this 2017 season 2-5 losing four straight games in the process?
The talent is there. No question about it. An offense that was already pretty good added J.R. Sweezy, DeSean Jackson, O.J. Howard and Chris Godwin. A defense that dominated the second half of last season added Chris Baker, T.J. Ward, Kendell Beckwith and Justin Evans. This team should not be losing football games. They especially should not be losing four in a row.
The only explanation is coaching. Whether it's the game plans or the playcalling or the preparation during the week, it all boils down to coaching. This team is not going into games mentally prepared to play or physically ready to play. They don't even seem willing to play at this point. In my opinion, these player's spirits are broken. They came into this season with everyone expecting them to pick up where they left off last year on defense and to be prolific on offense. Then came Hard Knocks and all that comes with it. I think these players got overconfident and bigheaded to begin this season and thought that every game would be like Week 2 against Chicago when they dominated in all three phases and beat down the Bears 29-7. Then they went to Minnesota and got punched in the mouth by a mediocre backup quarterback and a rookie running back. Instead of getting up and fighting back, this team went to Arizona and got their ass whipped AGAIN by the Cardinals. That game told me everything I needed to know about the heart of this team…or lack thereof at least.
Sure they came back the next week to beat the Giants, but New York is 1-6 now and they needed a last second field goal to beat them by two points. Had Nick Folk missed that kick like he had the rest of that game, this team would be 1-6 right now with their lone win coming against a Mike Glennon led Bears team who's now 3-5 AND who by the way managed to beat the Carolina Panthers 17-3 last week. This is not a good football team right now, Bucs fans. They have as much individual talent, if not more so, than any other roster in the NFL but it doesn't mean shit if they don't have the right coaching staff to bring it all together.
I'm not saying it's ALL on the coaching. These players have to take some responsibility for not showing up ready to play week in and week out. I mean it is their "job" afterall. They get paid quite handsomely to be ready to play every game. Right? My intuition proved to be right yesterday when the Bucs lost to the Panthers 17-3 in Raymond James Stadium. After the game, starting left tackle Donovan Smith was quoted as saying "We just didn't show up ready to play today". EXCUSE ME?!? How does a team NOT show up ready to play for a must win game at home against a division rival? HOW DOES THAT HAPPEN??? Is that a coaching problem or is it a player problem? Is it both? Then again, if it's a player problem isn't it ultimately the coaches problem for not having them ready to play? I don't know the answer. And I don't think Dirk Koetter knows the answer either.
The broken record continues to spin in the Bucs interviews and press conferences.
"They were better than us today."
"We need to do a better job."
"We had a good week of practice."
"We just need to watch the film and learn from our mistakes."
"Everything is easily fixable."
"We've got to get better."
If the problems were easily fixable, then why haven't they been fixed yet? Why haven't the issues been resolved BEFORE losing two or three or four games in a row? The answer is because the problems are NOT easily fixable. Sure, there have been issues with missed tackles, missed blocks, missed assignments, poor techniques, a lack of pass rush and many more fundamental football mistakes. However, these are professional football players. They know the fundamentals. They know how to play the game of football. They haven't forgotten. It boils down to the players heart, will, desire and effort. I haven't seen much of that from ANY of them over the last 5 games. That's a problem. Coaching may be a big part of the problem lately, but it wouldn't matter if they put together the perfect game plan or called the perfect plays if the players don't show up ready to play or even willing to play.
Sadly, I wrote a similar article to this one last season right after they were blown out by Atlanta 43-28 here at home giving them a 3-5 record. They proceeded to win their next five games and six of their final eight of the season. I'm hoping this one has that same effect although this year's team has yet to show any evidence of turning things around. In that article, I wrote "I don't see another winnable game on the schedule for this team if they continue playing like this" thinking they were done. I feel the same way now about this year's team. I'm looking at the schedule asking myself who they're going to beat and I don't have an answer. Last year was different. The team was different. Last year, they felt like a family. This year not so much. Last year, the expectations weren't as high. This year, they were through the roof. Last year, they overachieved. This year, they're the most underachieving team in the entire league. That's not just my opinion. It's the opinions of quite a few analyst and experts as well.
So, what's the solution? Any ideas, Buc Nation? If so, I'm sure Dirk Koetter and Jason Licht would be willing to hear them out at this point. Both of them have to at least be entertaining the possibility that their jobs are on the line. How much more losing will the Glazers put up with before they "clean house" yet again? Is that even the answer? I've been pretty happy with the job that Jason Licht has done, especially in the draft. With the exception of the Aguayo debacle of course. He's also done a nice job in free agency, for the most part, bringing in talent but not overpaying for it. So, is it really on the general manager? Or does the blame lay solely on the coaching staff?
I thought it made sense to promote Koetter from offensive coordinator to head coach. It enabled Jameis Winston to stay in the same system and continue to develop under the same coach. To me it was a no-brainer. And it looked like the right decision when he led them to 9-7 after the rocky start to the last season. It appeared as though the team had bought into his philosophy and his coaching. Now it appears as though he's lost the team. It appears as though this team doesn't want to play for him anymore. Maybe it's not even him. Maybe they just don't want to play period. Maybe they've lost hope.
I realize that it's only Dirk's second year as an NFL head coach. But I look around the league and see other teams winning with new coaches.Take the Philadelphia Eagles for example. They are now 7-1 this season under a second year head coach, a second year offensive coordinator, a second year defensive coordinator and a second year quarterback who's completed 61% of his passes for 2,063 yards, 19 touchdowns and only 5 interceptions. Do the Eagles have more talent than the Bucs? I don't think so. The Los Angeles Rams are an even better example. They are now 5-2 this season under a first year head coach, a first year offensive coordinator, a first year defensive coordinator and a second year quarterback who's completed 60% of his passes for 1,719 yards, 9 touchdowns and 4 interceptions. Do they have more talent than the Bucs? No, I don't think so. The difference has to be coaching.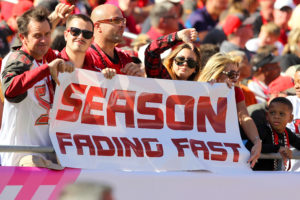 As I said before, I'm not a big fan of changing coaches and schemes and systems every couple of years. I recently wrote another article about how stability in the front office and the coaching staff seem to be the common denominator amongst the more successful NFL franchises. In that article I also mention that the opposite is true as well. The least successful franchises tend to switch G.M.'s and head coaches quite often. After so many years of losing seasons and coaching changes, I think the Bucs could use some stability. However, I'm also a realist. And the realist side of me sees how talented this roster is and knows there's just no excuse for such a talented team to be playing this brand of bad football. I don't want new coaching. I want better coaching. If Dirk Koetter and Mike Smith can do that, then I'm all for them staying in Tampa. If they can't get the job done, then maybe Jason Licht and the Glazers need to have a talk about making the necessary changes to make it happen.
I'm disappointed in this season so far, but hardly surprised. I've been a Bucs fan long enough to somewhat expect these kinds of results whenever our expectations get too high. It doesn't matter who is the general manager. It doesn't seem to matter who is the head coach. It doesn't seem to matter who is in at quarterback. It doesn't matter what free agents they sign or who they pick up in the draft. Every year it's the same old Bucs. Every year we come into the season with hope and excitement, only to leave it with despair and anguish. And yet, every year we come back for more. That is the definition of "It's a Bucs Life". That's what being a true Bucs fan is all about. We spend our hard earned money, our precious time and our valuable energy supporting this team week after week, year after year. And for what? What do we get in return for our loyalty? One Lombardi trophy in 41 seasons. No playoff appearances in 10 years. No playoff wins in 15 years. And 12 winning records in 41 seasons. Geez, thanks.
Nonetheless, our fans will travel to New Orleans this weekend and cheer them on. And we'll all be right back in RayJay screaming our heads off in two weeks when the Jets come to town. Why? Who the hell knows. Maybe we love the torture. Maybe we revel in the agony. Maybe we're just blindly devoted. I saw a great analogy on Facebook this morning and I apologize for not giving credit because I don't remember who posted it. But they said that being a Bucs fan is like being in a relationship with the love of your life while knowing that your love is cheating on you every week. It's heartbreaking. It's maddening. It's an up and down emotional rollercoaster that you can't get off of. You just can't leave because you love them so much. That is precisely what it's like being a member of Buc Nation. Even though we know they're going to disappoint us at some point, we still love them. We still cheer for them. We still have hope when there's no hope left. That's a "Bucs Life". And it's all I know. It's all I'll ever know. And in my blind naivety, I'm still holding out hope that they'll somehow right this ship and start playing the way we all expected them to this season. I know all of you are too. Until then, as always…GO BUCS!!!