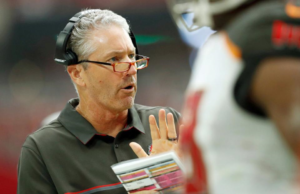 Well, the Bucs found themselves on the bad end of a beat down in Phoenix.  It didn't take long for the "Fire Dirk" chatter to begin.  On national and local sports radio it has already started.  One week removed from a complete Buccaneer love-fest after a win on the road against division rival Atlanta, the over-reaction has started.
On a national sports radio show I even heard an interview with Jimbo Fisher where he was asked if he was interested in moving to the NFL.  It was discussed that the Buccaneers were only planning on Dirk for a short time and then they had their eye on the FSU Head Coach.  How did Jimbo respond?  "Never say never."
I also heard "Mike Smith should be the head coach".   Really?  You can tell that after two games?  What has the Buccaneer defense done that is so spectacular to deserve that thinking?  Mike Smith's defense just got gave up 40 in Arizona.  You know…that game that has you wanting to fire the head coach?
This is a good negotiating tactic on the part of Jimbo Fisher, but it plays right into the quick trigger history of the less informed Bucs fan base.
The Arizona game is one loss.  No more.  No less.  The Bucs are tied at the top of the division and the season is just starting, but the calls for a coaching change have already started.  So have the "We should have picked Mariota" cries.  Really?  One week removed from Winston winning multiple Player-of-the-Week awards the doubting has started?
The team had a bad game.  It is a young and incomplete team on the right path to success.  There will be bumps in the road.  This was the head coach's second game.  There will be hiccups.  A Superbowl-or-bust attitude is probably premature at this point.
The Buccaneers are on their fifth head coach since 2008.  A team simply cannot succeed changing coaches every two seasons.
So stop the "Fire Dirk" talk.  Stop the unrealistic expectations. Enjoy the ride.  This is a young and talented team, but it is incomplete.  It takes a while to build a juggernaut.  If you want a juggernaut than give it a while.  At least that's the view from the cheap seats.