It was inevitable. It probably should've happened during the bye week, but it didn't. The fans have been calling for it since that embarrassing Week 4 loss to the Chicago Bears. The hashtag has been burning up Bucs fans social media for the last two weeks. And the Bucs organization finally answered their calls. Mike Smith has been "relieved of his duties"  as the Tampa Bay Buccaneers defensive coordinator.
It had to be done. I don't like seeing anyone lose their job, but for the good of the team and the sake of Dirk Koetter's, and maybe even Jason Licht's jobs this had to happen. The organization didn't have much of a choice at this point. Smith's defense had gotten progressively worse over the last three seasons and was now ranked 31st in total defense giving up a whopping 440 yards per game. Only the Kansas City Chiefs are worse this year at 468 yards per game. In comparison, the top ranked Baltimore Ravens are only giving up 271 yards per game.
They are 32nd in passing defense giving up 356 yards per game through the air. They're tied for last in interceptions (1) with the San Francisco 49ers. In comparison, the 1st ranked Miami Dolphins have 11 interceptions and the Chicago Bears and New York Jets are tied for 2nd with 10 interceptions each. In fact, the Bucs interception rate of .51 (1 in 198 pass attempts) would be the worst in the NFL since 1981 with the next being the 2008 Detroit Lions who finished their 0-16 season at .90 according to Greg Auman.
The Bucs had 8 passes defensed in the first 2 games. Since then, they've had just 5 passes defensed in 105 pass attempts. That total of 13 passes defensed is the lowest in the league. Just to compare, the Cleveland Browns lead the league with 41 passes defensed. Atlanta's Matt Ryan threw the ball 41 times on Sunday and the Bucs defense only managed one pass defensed which was by defensive end Carl Nassib.
The Bucs only have 9 sacks in 5 games and are on pace for just 29 sacks for the season. That is more than the 22 sacks they had last season, but not anything near what they were hoping for after "revamping"  the d-line in free agency and the draft. Only the three teams have fewer sacks this season. The Patriots, Giants and Raiders all have 7 sacks so far. To compare those numbers, the Baltimore Ravens lead the league with 26 sacks after an 11 sack performance against the Tennessee Titans on Sunday.
On Sunday against the Falcons, Smith's defense gave up 400+ yards for the 20th time in 37 games. They gave up 30+ points for the 14th time in 37 games. The Bucs allowed them to convert 8 of 12 third down attempts in the first half. The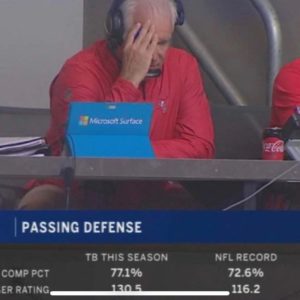 Falcons were 3 for 3 scoring touchdowns in the redzone in the first half. That's been an issue all season with opponents scoring touchdowns on 11 of 11 trips in the redzone in their last 4 games and 15 of 16 total in all 5 games. That's worst in the league.
The Bucs offense put up 512 total yards against Atlanta. In the last 37 years, there's only one game where the team has had more yards and lost. That was against the New Orleans Saints in 2012 where they had 513 yards of offense. Since 1940, teams who have 100+ yards rushing, 395+ yards passing and 4+ touchdowns are 51-1-1 all time. On Sunday, the Bucs finished with 123 yards rushing, 395 yards passing and 4 touchdowns. They lost 34-29.
Part of the issue this season has been the terrible starts. The Falcons had 219 yards and 3 touchdowns on their first three drives on Sunday which gave them the 24-13 halftime lead. After that, they only had 197 yards, 1 touchdown and 2 field goals on their final seven drives of the game. They've given up 116 points in the first half this season while allowing just 50 points in the second half. They've allowed 30.7 points per game in the first half over the last 3 games and are on pace for the most first half points in NFL history.
Another big issue is redzone defense. Opponents have converted 94% of their redzone trips against the Bucs into touchdowns (15 of 16).  In 48 plays, the Bucs have zero sacks and zero interceptions while allowing opposing QB's to go 20 of 30 for 132 yards and 10 touchdowns.
They've given up 41 points per game in their three road games.
They're giving up 6.89 yards per play which would be the highest in NFL history.
They're on pace to allow 553 points which would be a new NFL record.
They're on pace to allow 5,689 passing yards which would be a new NFL record.
And they're on pace to challenge the NFL record for total yards allowed held by the 2012 New Orleans Saints (7,042).
All of this with a team that's allocated $88 million towards their defense for 2018, which is the 6th most in the entire league.
Is it all Smith's fault? Of course not. As Dirk Koetter said following the Bears loss, Mike Smith isn't the one out there missing tackles and blowing assignments. It's true. Smith's scheme might be old and outdated, but it wouldn't matter what scheme the Bucs try to implement if the players don't execute it properly. Sure this team has built in excuses for what's gone wrong this season. Injuries and inexperience have definitely been contributing factors in how this defense has played so far, especially in the secondary. The youngsters at cornerback and safety have been exposed and exploited all season long. The injuries on the d-line have caused issues with depth at times. But those are just excuses. They don't explain why Kwon Alexander guesses the wrong gap too much. They don't explain why Vinny Curry bites on play action and chases the running back instead of containing the left edge allowing Mitch Trubisky to scramble for 27 yards.. They don't explain why Justin Evans goes for a pump fake to the flat leaving his man wide open on a wheel route down the sideline. Those are all results of poor coaching and a lack of preparation. THAT is why Smith got fired. The Atlanta game was his final test. Despite the extra week to game plan and getting players like Beau Allen and Jordan Whitehead back from injury, his defense still gave up 24 points in the first half and over 400 yards of offense. That was enough.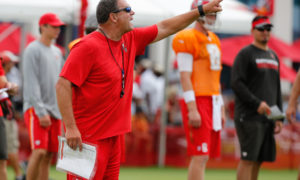 Exit Mike Smith. Enter Mark Duffner. The Bucs linebackers coach has been promoted to DC. So what does that mean exactly? We're not sure yet. The basic idea of Smith's scheme will likely remain, but hopefully "Duff"  will add his own twist to it. Hopefully, his twist is a more aggressive approach. More blitzing. More press man coverage. More in your face. More physical. Even though Duffner has spent most of his professional career as a linebackers coach, he does have some experience as a defensive coordinator. He was with the Cincinnati Bengals from 1997 to 2002, serving as the DC for the final two seasons. In 2001, his first year as DC, his defense had the fewest points allowed by the Bengals since 1989 (309), the fewest yards per game allowed since 1983 (302) and also set a franchise season record for sacks (48) that stood for 11 years. He also brings a ton of coaching experience with him to the position with 19 years in the NFL and another 22 years in college football.
His new job will be to get these players to do THEIR jobs. One problem that I've noticed with this defense is that the players don't do THEIR jobs. They choose to try to make plays outside of THEIR jobs instead. That's the biggest difference between this team and the one that won the Super Bowl. The players from that 2002 defense knew THEIR jobs. They did THEIR jobs. They trusted the other players around them to do THEIR jobs. They didn't try to do more than THEIR job. THAT is the difference. It's not for lack of talent. In fact, I think this team has more talent than the Super Bowl defense from top to bottom. They just need something or someone to bring it all together. Hopefully, Mark Duffner is the man who will do that. We'll find out if this team rallies around him on Sunday against the Cleveland Browns.
Until then, as always…GO BUCS!!!