Us old guys have rusty hinges but that is not what we are talking about here. We are talking about our friends at Elder Ford and the amazing gifts they will be giving away as part of our partnership all season.
First, they wil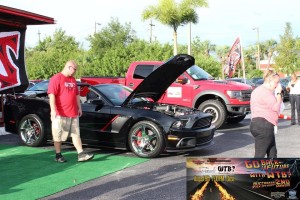 l have some kind of awesome vehicle at each event. If you remember our kickoff party we had a sweet Mustang and tricked out truck for you to check out. Expect more of that each week, both home and away (when we will be at the Tampa Winghouse).
Second, if you are fortunate enough to be a member of the Ford family or to be honest, just like your service done well, Elder Ford will be donating two free oil changes to be raffled off for FREE at the WTB? Tailgates and Watch parties each week. Just swing by the donation Treasure Chest and ask for a ticket (no donation actually necessary for the ticket per state law).
To make a special event even more special, Elder Ford is stepping things up again by providing a $200.00 voucher for service or parts at Elder Ford as well! You can use that voucher like cash at Elder Ford for any vehicle service or purchase in the state of the art parts store.
Specials at our Watch Parties
When we are at our Winghouse, the Elder Ford team will be selling raffle tickets for 5.00 a piece with the proceeds going to What the Buc Really Matters Foundation and the charity of that month. We will use their great gifts in conjunction with some of our raffle items to really spice up the affair!