Boy d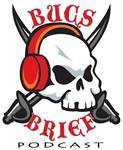 o we have a surprise for you! As an old person and someone who is horrible with dates, I always used to think that Thanksgiving came on the 25th of November. The concept of being on the fourth Thursday was always very confusing. Since that is a simple thing to screw up and speak to how dumb I was a young person I thought what more appropriate thing to do and talk about the box on the 25th. Since I was in attendance in Chicago for this last loss and there were an equal number of stupid things done the need to be discussed I knew the show had to happen this Thanksgiving week. Many of you know the affinity I have for the Bucsbrief podcast. I have spoken about it many times over the last 6 to 9 months (those dates may be off as I still have the debilitating injury of not understanding dates). In working on the logistics for show this week Spent came up with the idea of potentially doing a joint broadcast with Feesh from Bucsbrief. Like many of her ideas it was brilliant and I decided to take it and run with it as if it were my own. So tonight you will see on camera both myself and Feesh as we break down the latest miserable installment in the season and maybe even have some special guests like Mark Cook from Pewter Report.
We are actively trying to figure out how to simulcast the show on both streams and will be posting the podcast to both RSS feeds. We have not come up with a great answer for unified chat room so you may end up with two separate chat rooms unless we have a heated match of Rochambeau and put out announcement.
Please make sure you follow BucsBrief on Twitter @Bucsbrief and bring plenty to drink before this broadcast. While there were certainly things to be proud of on the defensive side of the ball, the offense was simply offensive once again and has sent the fan base into yet another tailspin.
WARNING: Spent usually make sure that I'm not too aggressive or over the top with my opinions and how I handle the opinions of our listeners and/or readers. My filter is wearing off. There are some things that I think are completely stupid from a football perspective that many of our fans are saying. Yes, I know that you all have the right to your opinions. Everyone has the right to their opinion. That said opinions can be wrong. We will discuss many of those tonight.
Big thanks to Feesh for agreeing to do this joint broadcast and we will see you tonight at 9 o'clock!