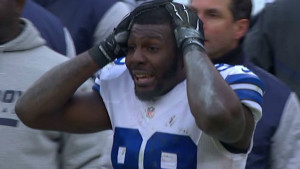 Fire the cannons! While the Tampa Bay Buccaneers played far from their best football, the defense came through in the end to help them pull out a 10-6 stunner against a struggling injury-ridden version of the once threatening Dallas Cowboys. It wasn't pretty, and there are plenty of issues that need to be fixed to make the magic of consecutive wins happen, but for now the Bucs can hold their heads high for the fourth time this season.
---
The Offensive Struggle: Can I get some help over here?
Nothing has been more evident in recent weeks than how much the offense must miss Vincent Jackson, Austin Seferian-Jenkins, and even Louis Murphy. That's not to say that the players using this opportunity to step into those roles are causing problems, but there's just no comparison. Young Bucs like Humphries, Shepard, Dye, and Brate are making respectable strides, but it's not the same as having the ever-present threats that ASJ and V-Jax bring.
While Jameis Winston is constantly improving, and this week was still a step in the right direction, Winston is far from perfect. He's still got some rookie in him, and he had a few throws that could've been better. It may seem like Mike Evans isn't doing anything other than dropping the ball (several times a game), but Evans finished with 8 receptions for 126 yards out of 13 targets. Let's do a little comparison. Dez Bryant, arguably the best receiver in football, finished the game with 5 receptions for 45 yards out of 12 targets.
So if Evans isn't the problem, what is? The issue on offense is collective. Evans is the only constant threat, and defenses know that well enough to keep him from breaking away on huge plays. While Dallas didn't have a perfect defensive game, they kept the passing attack under control in the redzone. The second ASJ is back as a redzone threat, that could change. The offense made some positive strides, but still needs to consistently take advantage of their opportunities. Costly tipped balls by young receivers that turn into interceptions (whether they were Winston's fault or not) don't help that.
---
The Defensive Stand: Siege the Cassel
When I previewed the game, I said that the x-factor could turn out to be Lavonte David. He was eager to move on from last week's performance, as I'm sure much of Tampa Bay was. Well, I'm happy to say that a performance consisting of 12 combined tackles, a sack, a tackle for loss, a quarterback hit, and a defended pass is sufficient enough for David to have put last week behind him. While he didn't get a turnover, David was on fire through much of the game, and he was key in completely neutralizing the Dallas run game.
Darren McFadden had 17 rushing attempts in the game, but he only finished with 32 yards and a his longest run was just 7 yards. David lived up to the 'C' on his uniform and led the charge, but he wasn't alone. Jude Adjei-Barimah finished with six tackles, Bradley McDougald with five, and four each for Chris Conte, Kwon Alexander, and Sterling Moore. Kwon also managed a sack, a tackle for loss, and a quarterback hit. George Johnson registered a forced fumble, while Bradley McDougald got Tampa Bay's only takeaway for the day.
These are just some of the raw numbers, but the scoreboard speaks for itself. Even with their injuries, if you hold the Dallas Cowboys (with a healthy Dez Bryant) without a touchdown, you've done your job for the day. They were short on takeaways, but the defense made their moments matter and came dangerously close to scoring a safety at one point in the game. They held, and it made up for the struggling offense and let Jameis Winston seal the deal at the end.
---
TBvsDALcoachesfilm.gif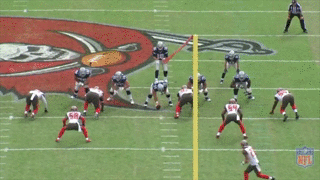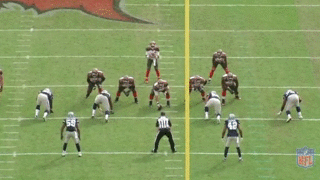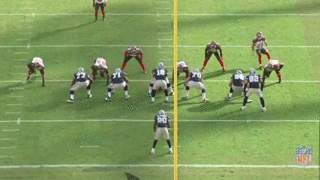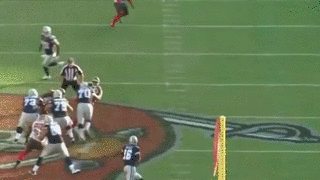 Per the NFL Rulebook: Rule 8, Section 5, Article 2, Subsection G. "Initiating contact with an opponent by shoving or pushing off, thus creating a separation in an attempt to catch a pass." Then, below that, there's this. "Note: If there is any question whether player contact is incidental, the ruling should be no interference." Look, I'm no expert. It looks like it could be incidental, but let's also keep in mind that Dez Bryant doesn't even TRY to catch the ball. He's too busy yelling at referees. This might have been a valid pass interference call, and this angle certainly looks like there's a slight push, but Dallas should know by now not to let a game be decided by a penalty or lack thereof. Too bad, so sad. Fire the cannons!
---
Verdict
There are a lot of reasons why the Buccaneers shouldn't have won this game, but they came through in the end. The two things most responsible for the victory were defensive consistency and Jameis Winston. While he had his struggles, Winston scored the rushing touchdown (and had a spectacular try just before it) to put the Bucs in the lead for the first time on the day and ultimately give them the win.
The defense held together against a team that was still dangerous despite Tony Romo's absence. For comparison, the lowest scoring outings Dallas had earlier this season were against the Patriots and the Seahawks. They only scored six points on the Patriots and 12 against the Seahawks. I'm not saying the Buccaneers are going to the Super Bowl, but when your defense starts to intermingle in sentences with both of last year's Super Bowl participants, something is going right for a change.
---
Sword: Lavonte David
There was a ton of criticism on Lavonte David after last week's performance, and it was all completely valid. He had a horrible game, and it didn't make sense coming from a player that we all know can perform. David didn't dwell, and instead played lights out and helped set the tone to hold Dallas in check all game long.
Skull: Donovan Smith
Rookie lineman Donovan Smith has had glimpses of becoming a long-term protector of Jameis Winston, but he generally didn't get the job done this week. The line was struggling with the absence of Ali Marpet, and Winston faced pressure often. On top of this, Smith committed three false start penalties which made up nearly half of Tampa's seven penalties on the day.
---
All stats courtesy of NFL.com unless otherwise noted. All gifs created using footage from NFL Game Pass. Courtesy of NFL, yadda yadda.