I'm not even sure what to say after what I witnessed on Sunday. That was one of the most embarrassing and frustrating Buccaneers games that I've ever watched. As I sit here staring at my keyboard trying to figure out how to write this article without using an insane amount of profanity, I can't help but wonder how coaches and players in good conscience can accept their game checks after a game like that. Honestly, does Mike Smith feel guilty at all about stealing money from the organization every week? The entire team looked unprepared and overwhelmed, but the defense looked especially lost. Was it the fact that four of the five starters in the secondary were first or second year players? Maybe. Was it the inexperience of safety Isaiah Johnson who was starting for the injured rookie Jordan Whitehead, who was starting for the injured veteran Chris Conte? (Yeah, bet you guys are missing him right about now) Possibly. This Bucs defense should be improving every week. They have not. The pass rush should be getting better each week. It hasn't. The young secondary should be gaining experience and learning from their mistakes. Apparently, they're not. They're getting worse. It's all getting way worse. So, just how bad is this defense? Let's take a look into the statistics.
Prior to the Bears game, the Bucs defense was already statistically the worst in the league giving up 434 total yards, 363 passing yards and 30 points per game. Those numbers were almost forgivable considering they faced the likes of Drew Brees (37 of 45 for 439 yards and 3 touchdowns), Nick Foles (35 of 48 for 334 yards and 1 touchdown) and Ben Roethlisberger (30 of 38 for 353 yards and 3 touchdowns). Despite facing 131 pass attempts, this defense has only managed 1 interception and it was by safety Justin Evans against the Steelers. They had given up 24 points in the first half to the Saints and 30 points in the first half against the Steelers. Then comes the Bears game where they gave up 38 points in the first half to a team that was averaging 21 POINTS PER GAME so far this season. Hell, Chicago had only scored 30 points total in the first half in their first 3 games. They gave up 354 yards and 6 touchdowns to a quarterback that had been averaging less than 200 yards per game and only thrown 2 touchdowns in the first 3 games. Did you know that was the most touchdowns thrown by a Bears QB since Sid Luckman in 1943? WTF man?!? Mitchell Trubisky only had 7 touchdowns all of last season for God's sake. They gave up 483 total yards to a team averaging 293 total yards per game this year. They gave up 20 touches and 174 yards and 1 touchdown to running back Tarik Cohen (who coincidentally was my offensive "Playa 2 Watch") who had totaled 21 touches and 134 yards in the first 3 games. They gave up 2 catches for 86 yards to tight end Trey Burton who had totaled 9 catches for 90 yards in the first 3 games. They gave up 7 catches for 121 yards and 2 touchdowns (his first of the year)  to wide receiver Taylor Gabriel who had totaled 15 catches for 89 yards in the first 3 games. They gave up 1 catch for 20 yards and 1 touchdown (his first of the year)  to wide receiver Josh Bellamy who had totaled 2 catches for 8 yards in the first 3 games. On the bright side, they did hold the Bears #1 receiver Allen Robinson to a season low 2 catches for 23 yards (even though he got his first touchdown of the year as well) and they held wide receiver Kevin White without a catch. But yes, three Bears receivers had their first scores of the season against this Bucs secondary. Sickening isn't it? Well, this is really gonna make you wanna vomit.
Together, Tarik Cohen and Taylor Gabriel had 14 catches on 15 targets for 225 yards and 3 touchdowns. The Bears were 4 for 4 scoring touchdowns in the redzone against the Bucs and opponents have scored 12 touchdowns in 13 trips inside the Bucs 20-yard line so far this year. Each one of the Bears scoring drives against the Bucs were less than 3 minutes and 34 seconds. In their game against the Bucs last year, the Bears did not have a single play over 20 yards. On Sunday, they had six plays over 30 yards IN THE FIRST HALF ALONE. Sunday was the 19th time in 36 games that Mike Smith's Buccaneers defense allowed more than 400 yards of offense. They were 4-15 in those games. Sunday was the 13th time in those 36 games that Mike Smith's Buccaneers defense gave up 30+ points. They were 1-12 in those games. They've allowed 30+ points in three of their four games this year so far. In comparison, the Buccaneers allowed 30+ points just three times in 48 games from the 2000 to 2002 seasons. They've given up 139 points in 4 games and are on pace for 556 points this season, which would be an NFL record. In Lovie Smith's last season before he was fired, the defense was giving up 340.4 yards per game. Since then, they were averaging 378.8 yards per game. This season, they're up to 445.8 yards per game. They are now 31st in total yards, 32nd in points allowed (34.8 ppg), 31st in passing defense (358 ypg), 32nd in completion percentage allowed (77%), 32nd in opponents passer rating (130.5 QBR), 32nd in touchdowns allowed (13), 21st in sacks (8, Bears are 1st with 18), 26th in interceptions (1, Dolphins are 1st with 9), 32nd in plays allowed of 20+ yards (20, tied with Chargers for the most) and 32nd in total points allowed (139, Raiders are next with 123 points). Yes folks, they are THAT bad.
So who's to blame? Is it Jason Licht? All he's done is fill this defensive roster with early round draft picks, Pro Bowlers and Super Bowl champs. I mean, 8 of the 11 starters in the Bucs nickel package (which is what they primarily run)  on Sunday were first or second round picks. The only exceptions were linebacker Kwon Alexander who was a fourth rounder, safety Isaiah Johnson who was an undrafted free agent (filling in for fourth round pick Jordan Whitehead who was filling in for third round pick Chris Conte) and cornerback Brent Grimes who was undrafted but has been a Pro Bowler during his career. He also brought in proven winners in free agency like Jason Pierre-Paul, Vinny Curry and Beau Allen who all have Super Bowl rings. JPP already has 4 sacks this season on pace for 16 sacks which would be the most by a Buccaneer player since Simeon Rice had 15.5 sacks in the 2002 season. The franchise record is 16.5 sacks held by Warren Sapp in the 2000 season. Curry hasn't played bad totaling 1.5 sacks which is tied with Gerald McCoy for second on the team. No, I don't think that we can blame Mr. Licht here. Who else is there?
Maybe it's injuries. The Bucs have been hit pretty bad by the bug early this season, especially at defensive tackle and defensive back. Rookie Vita Vea finally saw his first action of the year against the Bears, but didn't register any measurable stats. Free agent Mitch Unrein has been in concussion protocol since training camp and is now on IR with no signs of coming back anytime soon. Starting SAM linebacker Kendell Beckwith has been injured since his offseason car crash. He's still on IR and won't be back until Week 6 at the earliest. Starting cornerback Vernon Hargreaves is out on IR for the rest of the season. Defensive tackle Beau Allen has been injured since the Philly game. Starting safety Chris Conte is out on IR after being sent there by a Vance McDonald stiff arm. Starting corner Brent Grimes missed all of preseason and the first 3 games with a groin injury. Rookie safety Jordan Whitehead missed the Bears game with a hamstring injury. Rookie cornerback Carlton Davis left the Bears game with a groin injury. The injuries have been mounting so we'll see if the bye week will help out in that department. Injuries are a pretty good excuse, but it doesn't necessarily explain all of the issues with this defense. What's next?
Maybe it's on head coach Dirk Koetter. After all, he's the one who brought Mike Smith to Tampa in the first place. And now he's apparently the one who's refusing to fire him. In a day after press conference, Koetter was asked about making a change at defensive coordinator and his response to that was "Then what?". "We just need to coach better and that starts from the top with me" said Dirk. He again reiterated that "Mike Smith wasn't out there missing tackles or blowing assignments or having miscommunication on the field". But at what point do these "professional"  players stop getting coddled? Do they really need to be constantly coached up on a game that they've been playing for 15 or 20 years? Maybe Smith should be able to go out on the field and physically place his players in the right positions before every snap like they do in peewee football? Maybe the blame should fall on Dirk since he's refusing to make the necessary personnel changes to help the team be better? The ultimate blame may land at his feet, but we all know what the real issue is which leads us to the root of the defenses problems…Mike Smith himself.
Maybe it's the scheme? What is Mike Smith's defensive scheme anyway? Well, it's an old (some would say antiquated) base 4-3 stack system that utilizes a lot of soft, zone coverages with one or two high safeties and is predicated on getting pressure on the quarterback with the front four. It's a passive defense that doesn't blitz often and when he does it's somewhat predictable. It clogs interior gaps but can be exposed on the outside with sweeps, stretch plays and screens. It struggles defending athletic tight ends and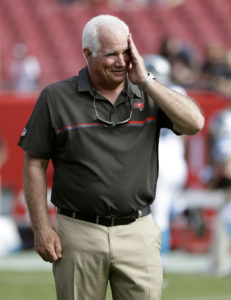 speedy slot receivers because it usually leaves them single covered with linebackers or safeties. It's supposed to be a "bend don't break"  defense, except they've been "breaking"  an awful lot this season. Another problem is that Smith doesn't typically make adjustments throughout the game or even at halftime. He tends to stick with his scheme no matter what is happening or what the opposing offense is doing (remember the Julio Jones show in Atlanta last season?). Is his scheme outdated? He's been running it since 2003 when he became the Jacksonville Jaguars defensive coordinator under then head coach Jack Del Rio. He had success with it there. It even worked in Atlanta when he went there as the head coach. So why isn't it working in Tampa? Maybe offensive coordinators have figured out the weak points in the scheme like they eventually did with the Tampa 2 defense? Maybe they know how to beat his "complicated"  and "confusing"  system after all these years? Whatever it is, it clearly doesn't work anymore. I mean at all. And this Bears game was a perfect example of that fact. I remember after the 2016 season when the defense finished the year so strong and all of us Bucs fans were losing our minds worrying about Smith taking a head coaching position somewhere. I remember how happy everyone was that he was staying in Tampa and now all of us are trying to run him out of town. It's justified as far as I'm concerned. This Bucs defense was bad last year and they're worse this year. I don't even understand how that happens after they added so much talent to the roster. It defies the laws of physics. It defies logic. How does a team get better and worse at the same time? It's baffling.
Remember, this defense still has to play Matt Ryan twice, Cam Newton twice, Andy Dalton, Alex Smith, Eli Manning, Joe Flacco and Drew Brees one more time. That's a bunch of pretty damn good quarterbacks. If the Bucs offense doesn't score at least 35 points every week, then this team will end up losing a lot more games. This bye week couldn't have come at a better time for them. After a loss like this one to the Bears, they could use the time to reset and refocus on things. I don't know if that will help or not. Maybe something more substantial is required. Drastic times call for drastic measures, right? Maybe a personnel change is in order at this point. The #FireMikeSmith  movement is blowing up social media once again and this time, I'm on board. What happened in Chicago was simply inexcusable. I don't want to hear "I've gotta do a better job of calling it"  or "I've gotta put those guys in a better position to succeed"  or even "We had a great week of practice" (Lovie Smith reference).  If Mike Smith is still the DC for Week 6 in Atlanta, things could really get ugly against Matt Ryan, Julio Jones and the rest of that offense. The Bucs may want to take a long, hard look at this whole situation during this off week and get their shit together. If not, this is going to be a long, hard season for Bucs fans. And it's going to be a long, hard day against theFalcons in two weeks.
Until then, as always…GO BUCS!!!