If you were watching the Bucs play the Chargers on TV last Sunday, you probably couldn't help but notice the vast sea of red jerseys that blanketed Qualcomm Stadium. It was a phenomenal turnout of Buccaneers fans, especially for an away game 3,000 miles away from Tampa. Well, the krewe responsible for taking over the Chargers home field and cheering our team to a win was the group that calls themselves the "BUCCAHOLICS".
The "BUCCAHOLICS"  is the brain child of founding member Art "AO-Train" Oropeza, a Los Angeles native and longtime Bucs fan. I asked him how a guy born and raised in L.A. came to be a Tampa Bay fan and he said "Growing up, I liked Mike Alstott a lot as a player and just became a HUGE Bucs fan from there". Oropeza decided that the west coast needed a Buccaneers fan group, so along with 8 of his close friends, who were also Tampa Bay fans, they became known as the "First 9" (Yeah, I thought of Sons of Anarchy too!). The "First 9" consisted of Oropeza, Vance Enriquez, Jake Lucy, Adrian Rodriguez, Julius Yadao, George Morones, Steven Anderson, Art Paredes and Jay McElroy. The "BUCCAHOLICS", as Jinie Arranda  (girlfriend of founding member Jake Lucy and one of the first members) later named it, were born on Christmas Eve of 2015…and these nine friends had no idea what would happen in the next year.
This group BLEW UP  from that "First 9" to over 800 members in less than a year. They have chapters, not just on the west coast, but all over the United States including California, Arizona, Nevada, New Mexico, Hawaii and Colorado. They even have members from Mississippi and Pennsylvania. They've even spread across the borders to Mexico and Canada and overseas to Scotland and Germany! Their first tailgate party ever was in Phoenix, Arizona for the Bucs vs. Cardinals game and they hosted about 100 people. During this last tailgate in San Diego for the Bucs vs. Chargers, they were invaded by around 400 Bucs fans from all over the country, including Alaska. "It's crazy!" says Oropeza. "Never in our wildest dreams did we think it would turn out to be anything like this!".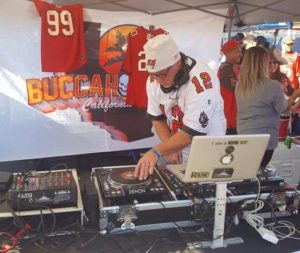 Now don't let the newness of this group fool you. The "BUCCAHOLICS"  may be in their rookie season, but they know how to party like seasoned vets. They have two live DJ's spinning music and keeping everyone entertained in Andreas Robinson, aka DJ San Andreas and Jose' Franko, aka DJ RUKO. They have two chefs in charge of feeding the masses in Vance Enriquez and Adrian Rodriguez, both members of the "First 9". For the first tailgate in Arizona, Enriquez (who's also a professional caterer) decided that the easiest thing to make for a group this size would be tacos. The meal choice was such a success that they stuck with it for the other two parties as well and the taco tradition was born. Jay McElroy, another one of the "First 9", said "Since we don't have an actual "home base",  it's better to keep the menu simple so that we can travel light". Well whatever the reason, the taco bar seems to be a big hit with party go'ers!
This group is definitely making it's presence felt at these Buccaneer road games. Head Coach Dirk Koetter noticed the support during the game and mentioned it during his postgame press conference. General Manager Jason Licht tweeted about the amount of red jerseys in the stands at Qualcomm. Legendary Bucs play-by-play man Gene Deckerhoff mentioned the "BUCCAHOLICS"  by name during his postgame show. And the COO (Chief Operations Officer) of the Buccaneers Brian Ford sent the "BUCCAHOLICS"  a personal email thanking them for their awesome showing in San Diego and their continued support. This group is already a force to be reckoned with on the road…and they're just getting started!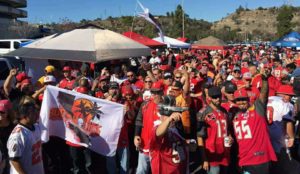 Though they only had 3 games this season at which to tailgate, they did organize watch parties at various venues for all the other Bucs games. Unfortunately next season, they will only have one west coast game to attend when the Bucs travel cross country to play one of the NFC West teams, either the L.A. Rams or the Seattle Seahawks most likely. However, they do have plans in the works to invade Tampa Bay for the home opener. There's also rumors that some of them are planning a road trip to Lambeau Field when the Bucs play the Packers in Green Bay (A trip that this Bucs fan is also planning!).
These "BUCCAHOLICS"  are growing fast. It's an epidemic. Bucs Fever is spreading quickly all over the west coast thanks to this group of fans. They're on Facebook, Instagram and now Twitter. Oropeza says there's plans to launch a "BUCCAHOLICS"  podcast in the very near future. They have jersey patches, t-shirts and even flags, all designed by founding members Jake Lucy, Steven Anderson and Vance Enriquez and all are available for purchase by anyone interested in repping the group. They do all of this without any sponsors. It's completely funded by the members and whatever they make from selling merchandise.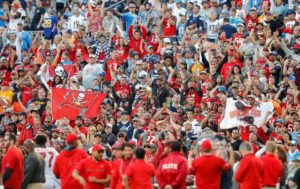 Founding member Jay McElroy admits that "This thing blew up so quickly that we have only recently started discussing charity work". He adds that "This Chargers game made us realize that we are already getting big enough to be able to start giving back". They are looking into various charitable organizations that they can associate themselves with to make an impact on their communities. This is a very tight knit group. They consider themselves a family, which McElroy says is funny because "family" has become such a big theme for the Bucs team this season. "We really try hard to make everyone who attends our watch parties or tailgates feel like a member of this family. Many of our guests have never been to RayJay and may never get to go there, so we try to give them the best Bucs tailgate party that they can possibly get 3,000 miles away from Tampa."
I'll say this, there's NOTHING  quite like partying for a few hours at a WTB Tailgate before walking into Raymond James Stadium to see our Tampa Bay Buccaneers take the field for a home game…but I have a feeling that these "BUCCAHOLICS"  are giving fans on the other side of the country the closest feeling to it that they may ever get to experience. Hopefully next season, I'll be able to see for myself. Keep up the great work out there "BUCCAHOLICS"!
Until then, it's time to Defend the Bay and Siege the Day against the New Orleans Saints and as always…GO BUCS!