After only a week and a half or so of training camp, the Bucs have released their first "unofficial" depth chart of the season. With the first preseason game fast approaching, the team was required to do so. And even though there are no big surprises, fans shouldn't read a whole lot into it. This depth chart is going to change multiple times before Week 1 gets here, but for now let's take a closer look at this early version and see what sticks out.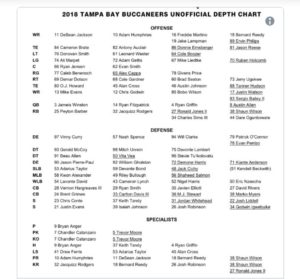 The first thing that caught my eye was that DeSean Jackson was still listed as a starting wide receiver alongside Mike Evans. Not because it's surprising, but because there have been stories all over social media recently stating that second-year player Chris Godwin had taken over his spot as the starter. I have no doubts that Godwin will get substantially more playing time than he did in his rookie year, but I'm not convinced that he's going to beat out D-Jax for that starting role just yet. I think this will be more like a 1A/1B type starting position depending on the weekly matchups, but you never know.
Something else about the wide receiver group is that free agent acquisition Jake Lampman is ahead of both Bernard Reedy and fifth-round draft pick Justin Watson on this initial depth chart. I expect that to change eventually as Watson has come on strong as of late after his slow start.
The next thing that struck me was that rookie running back Ronald Jones was third on the depth chart behind Peyton Barber and Jacquizz Rodgers. He has struggled just a tad in camp so far, especially with ball security, pass catching and pass protection. While he's been dealing with typical rookie issues, Rodgers is proving to be the reliable veteran that he's been for years and he's having a solid camp. However, this is one of those scenarios that will likely change before the start of the season. I expect Barber and Jones to be the running back by committee members to open the season.
The only other thing that caught my eye on offense was that Adam Gettis was ahead of Mike Liedtke to back up Ali Marpet at left guard. I would've thought the opposite, but maybe Gettis is having a better camp so far. The depth at offensive line will probably be shuffled around quite a bit as players display their versatility to play different positions throughout camp.
The only position that popped out at me on defense was at safety. And no, it wasn't because Chris Conte is listed as a starter. In fact, I'm one of those "crazy" Chris Conte supporters. It was that Isaiah Johnson was listed as the backup free safety behind Justin Evans. I also thought it was interesting that Josh Robinson was listed third on the free safety depth chart behind Evans and Johnson. He's just listed as a defensive back on the team's official roster, but here they have him listed with the safeties. Something else that caught me a little off guard was that rookie Jordan Whitehead is third on the chart behind Conte and Keith Tandy. It's not necessarily a shocker because those other two guys are proven vets in this league, but Whitehead has had a great camp so far. If he continues to improve, it wouldn't surprise me to see this safety depth change around a little bit. The other rookie safety Godwin Igwebuike is all the way back at fourth behind Evans, Johnson, and Robinson. This could be an interesting cut down when the time comes. I suspect that the Bucs will do what most teams do and keep ten defensive backs (6 corners, 4 safeties OR 5 corners, 5 safeties). I do expect both of those rookies to climb up the depth chart. I'm sure Whitehead will make the 53-man while Igwebuike could end up on the Bucs practice squad if he's not snatched up off of waivers first.
Well, there you have it. The first 2018 Bucs depth chart of the season in all its glory. It will change a little bit every week until the end of the preseason, but probably not much. As I said before, take it with a grain of salt for right now. It means nothing this early on. It's merely a formality. The ONLY depth chart that really matters, is the one for the Saints game in Week 1. Until then, as always…
GO BUCS!!!