The first free agent acquisition of the 2018 offseason was a bit of a surprise. When the news came out that the Buccaneers had signed former Eagles defensive tackle Beau Allen, my first reaction was…"WHO???".  However, after Googling him, I found that the 26-year-old Allen fits into the Bucs new blue-collar mauler philosophy for their trenches and after understanding that you begin to understand why they signed him.
Beau Christian Allen was born on November 14, 1991, in Minnetonka, Minnesota. His dad, Matt Allen, was a Vikings fan. His mom, Susie Allen, was a Packers fan. I'm sure that made for an interesting family dynamic around the house on Sundays. When Beau was 12 years-old, Susie was diagnosed with breast cancer but survived. In fact, he credits his Fabio-like hairstyle to his mother's ordeal saying "It's a reminder of what she went through"  meaning the loss of her hair during chemotherapy. It started in college when he saw some of his teammates growing their hair out until it was long enough to cut and donate to cancer patients. Beau decided to follow suit and he's only had a few "trims"  since then.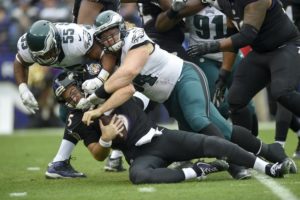 Beau is 6'3″ and weighs 327lbs. Size and athleticism run in his family. Susie's dad, his maternal grandfather, was 6'4″ and a three-time NCAA swimming champion at the University of Wisconsin. Matt, his dad, was "the runt"  in his family at 6′ tall. His paternal grandfather was 6'4″ and his uncle was 6'5″ tall. He went to Minnetonka High School where he was the only player in school history to be a four-year starter. He played well enough to earn interests from several major universities including Notre Dame, Stanford, Michigan, and UCLA but chose the University of Wisconsin, his family's alma mater. In his four years with the Badgers, he totaled 94 tackles, 15 tackles for loss and 8 sacks while winning three Big 10 championships. While in college, he was given the nickname "Polar Bear".  Not sure about the story behind that. But a funny side story is that the "Polar Bear" dressed up in an elephant costume for Halloween one year. As a joke, he took a picture and created a Bumble dating app account using it as his profile pic where he met his present girlfriend.
After school, he entered the 2014 NFL Draft where he was a 7th round pick of the Philadelphia Eagles and signed a four-year deal. He only missed one game in Philly due to injury and totaled 87 tackles and 2 sacks. Not big numbers, but the disruption that he causes in the middle of the offensive line is immeasurable and his locker room presence is contagious. He was a huge part of an Eagles defensive line who finished 1st in rushing defense (only giving up 79.2 yards per game) and 15th in sacks with 38 for the season. Oh, and he's also a Super Bowl champion.
Allen became a 2018 free agent after winning that Super Bowl. The Eagles weren't able to re-sign him due to salary cap restraints although they wanted to, he was drawing interests from a number of other teams including the Lions and Chargers. He decided to sign with the Buccaneers for three years/$15 million passing up more money in higher offers from other teams to do so. There were a number of reasons that he decided to go with Tampa Bay. The scheme was similar to what they ran in Philly, the chance to be a full-time starter and the excitement of playing next to an elite player like Gerald McCoy seemed to be a few of the biggest though. He also said that he likes the direction that this franchise is headed with Jameis Winston and the rest of the young nucleus.
Allen is a worker. A lunch pail kind of guy. He's been to the "big dance"  and understands how and what it takes to get there. Those are all things that the Bucs didn't get from last year's free agent defensive tackle signee Chris Baker. That's why Baker is no longer here. That's why Beau Allen is. This defense and this team are in desperate need of the brand of nasty attitude and relentless work ethic that Allen brings to the table. The Bucs 2018 first round draft pick defensive tackle Vita Vea may change Allen's role in this d-line a little bit, but Bucs fans can expect Allen to come to work every day and do his job whatever it ends up being. I can't wait to see what his addition will do for this defense that finished dead last in almost every statistical category last season.
Until then, as always…GO BUCS!!!