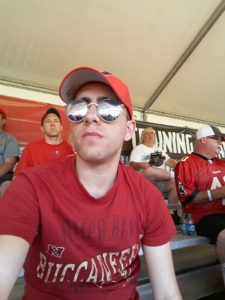 As time passes, people come and go. We are very fortunate to have had some amazing people work with us over the years. As we continue to grow and expand we would like to welcome a long time friend to a more formal role here within the site. We envision Alberto being a regular contributor here on the site and a doorway to a large new fanbase. Meet, Alberto:
I'm an avid Bucs fan born and raised in Mexico City. My connection to the Bucs started in the early 2000's, as my grandparents owned a small place in St. Petersburg so I would visit during summer vacations for a week or two. Coming from a soccer family, I never had the chance to visit Raymond James Stadium until 2007. It was a surreal experience – not only as it was a dream come true but also because I was able to watch and meet Jeff Garcia, one of my favorite Buc players ever. His passion for the game was truly unique and I do my very best every day to be like that in my personal life.
I recall watching WTB videos since 2008-2009. I started following the site and could not stop wondering how epic would it be attend a tailgate. I finally did in 2010 – a rainy Tampa afternoon where the Bucs destroyed the Seahawks. I met Derek that day and we've been in contact ever since.
Six years later, I've traveled to attend the tailgate about a dozen times. Not only that, but I also attend training camp every summer for about two weeks, allowing me to get to know more of the WTB crew during and after practice. Fantastic people I'd say.
Recently, I was fortunate enough to be asked to become a part of team. While I may not be the biggest FA sign, I will try to bring you Bucs content a different perspective: one from a diehard Bucs fan living about 1,900 miles away from North Dale Mabry Highway.
Go Bucs!