A few days have passed, and now we arrive at the unfortunate reality of facing exactly what the hell happened in Raymond James Stadium on Sunday. The short answer is that the Tennessee Titans embarrassed the Tampa Bay Buccaneers to the tune of a 42-14 loss.
If you haven't already drank your sorrows away, please go finish that and come back. Got it out of your system? Good, because there were a lot of things that went into the outcome of the game, and very few of them were good.
It's time to dig deep and see what went wrong. First, I'll be looking at some of the numbers and what they can tell us about where everything fell apart. Then, for anyone who likes a different look at things, the first edition of "Coaches Film.gif" will be up to look at a few important plays from the game.
---
Offensive Numbers & What They Mean
Jameis Winston completed 16 of 33 passes for 210 yards, two touchdowns, and two interceptions, but some of those yards came in garbage time.
In the first half alone, Winston completed only six of 12 passing attempts for 70 yards. He managed one touchdown, but both interceptions (one of which being the pick six) came in the first half. All of this contributed to Winston's 56.2 first half passer rating.
As he tried to recover in the second half, Winston managed to avoid another interception but was sacked four times for 29 yards. According to PFF, Winston was hurried 11 times throughout the game. Combine all of that with the fact that six of the 12 penalties on the Buccaneers were due to the offensive line, and that unit is clearly still a work in progress.
While Demar Dotson is being sorely missed, ASJ's presence is being greatly appreciated. Winston's few bright moments mainly went to Austin Seferian-Jenkins, who finished the game with two receiving touchdowns as a bit of a silver lining to the mess.
The Titans had a minor leg up on time of possession in the first half, but Tampa Bay ran only one less offensive play than Tennessee. Doug Martin managed 48 yards in his 10 first half rushing attempts, and Jameis Winston rushed six times for only 18 yards. While Martin finished with only 52 yards, he averaged 4.7 yards per attempt.
Doug was solid, but the rushing attack fell apart quickly as the deficit on the scoreboard worsened. He was the only offensive player to have a positive grade on PFF, despite the fact that not a single lineman showed a positive score in run blocking.
While the course of the game didn't let it happen for long, Martin still showed that he can be a competent back when the lights are on bright. The offense had some flashes, but weren't able to handle catching up from the early deficit. It will be key to see how they fare as the season progresses.
---
Defensive Numbers & What They Mean
The numbers of the defensive failure are plastered across the final scoreboard. One score came at the hands of a Jameis Winston interception, but the other 35 points against Tampa Bay were entirely the fault of the Bucs' defense.
Marcus Mariota looked like a seasoned veteran as he surgically passed his way to four touchdowns and a 158.3 quarterback rating. For anyone who didn't know, 158.3 is literally the highest possible rating.
Meanwhile, Bishop Sankey rushed for 74 yards, one touchdown, and averaged 6.2 yards per carry. One indicator of how the defense would be tackles. The defense finished with 40 tackles, but showed to have 10 missed tackles. Missing 20% of their tackles is just the tip of the iceberg, as all fears of the Buccaneers pass rush came to life.
Mariota was hurried only three times throughout the game. He was sacked twice, but only one came in the abysmal first half. It's hard to see how everything consistently fell apart, but it looked like Lovie was completely outmatched.
Ken Whisenhunt had Smith's number, especially on this side of the ball. Mariota was given an excellent gameplan that highlighted his strengths, and it was executed perfectly. The Buccaneers defense had a few brief flashes, but could never bring the threat of a pass rush and allowed for large yardage too often.
How well Mariota does in future games will be an effective indicator as to just how much this was the defense's failure rather than Mariota's success. Regardless, the defense completely dropped the ball in this game. The 42-14 final score is only half as bad as it should have been based on early play.
One silver lining away from the offense came on special teams, as the returns and coverage looked less horrendous than they have. This could have simply been because the rest of the game distracted from it, but they appeared to at least sort of know what they were doing.
---
WeekOneTBvsTENCoachesFilm.gif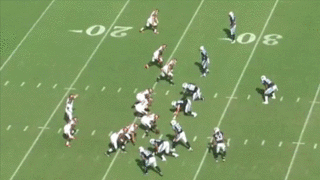 Here we see the dreaded interception that was returned for a touchdown. Winston's decision looks bad here, and he appears to be putting faith in Humphries to make the play. When the ball is released, Humphries is wrapped up with the defender. By the time it's halfway to him, Sensabaugh is perfectly in line to pick it off and does so easily.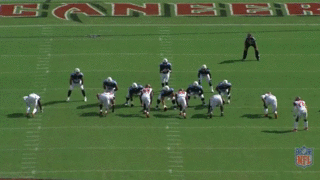 This is Mariota's very first completion, and it comes on a third and 10. The rush, or lack thereof, leaves Mariota with plenty of time to make a decision. David plays the ball and goes for an interception, but Mariota gets a dart to Delanie Walker.
One play later, Mariota delivers a quick pass and Kendal Wright burns past Bradley McDougald and Chris Conte for a 52 yard touchdown. The defense looks relatively clueless to how it even happened.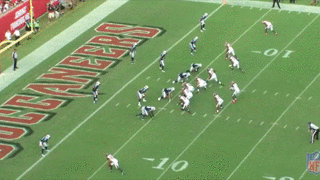 In the first, and in some ways the last, real glimmer of hope provided for the Buccaneers fans, Winston finds Austin Seferian-Jenkins for the first touchdown pass of his young career. The Titans bring four, but Winston is able to get out of the pocket and deliver a solid pass to seal the touchdown.
---
The Verdict
This is all just a brief look into how badly things went against the Titans. If you're feeling like inflicting pain on yourself, invest in NFL Game Pass and go through the film again with fresh eyes. The fact is that the Buccaneers were outplayed, out-passed, out-rushed, out-defended, out-coached, and completely overwhelmed by everything the Titans brought to the table.
Calling for Winston to be cut or Lovie to be fired is extremely short-sighted, but trying to deny how badly this went is downright insanity. This is one game, and there is plenty of football left to be played, but the Buccaneers are in dire need of a comeback right now.
They'll go on the road against the Saints next week, and we'll get to see if they've learned anything from this embarrassment. Meanwhile, do your best to wash the taste of this game out of your mouth. The only thing we can do now is try to move on from it.
All stats courtesy of NFL.com or Pro Football Focus. All gifs created using footage from NFL Game Pass. Copyright NFL/CBS, yadda yadda.