What's the tailgate like?
We like to say the tailgate is like a family reunion. It is a fun, laid back environment that, while drinking goes on, is also family friendly and quite often has plenty of young people playing sports. Brian, the owner of the lot, has a nice set of Men's and Women's restrooms on site for our use as well as an outdoor bar/kitchen with games on if you are interested in other activities. It is also a very unique spot as we have as the property Brian's house sits on is 1.3 acres so there's plenty of spots for parking and the tailgating. It also sits directly across Ohio Ave from the backside of One Buc Place and we always see the huge Bucs flag flying in the distance.
We are lined up on the fence with the regalia provided by the Krewe. I am Capt. Rino the originator of the tailgate which I started almost two decades ago, but it has grown beyond my wildest imagination to say the least. It is all due to hooking up with "What the Buc" 6 years ago as they're the hardest working group I have ever been a part of who had the same passion for tailgating and the Bucs they I have. I remember the time I used to always refer to it as my tailgate, but seriously I cannot do that anymore, because it is a lot bigger than just me now. There is No way to pull off what we do before every Bucs home game without the help of 30 plus people with the same passion
The food is always top notch with everyone pitching in and with the help of our Platinum sponsor Steakhouse Elite. Besides eating, drinking and being merry (Who is Mary anyway? that joke works better when said as opposed to in writing) we have a pretty serious Corn hole tournament that goes own with our own Corn hole Commish (and a Championship belt!).
Net/net, if you come to our tailgate you will have a great time, get some great food and meet even greater people! Like we said before this is like a family reunion we actually look forward to before ever Bucs home game with family coming from all walks of life and Yes even family who are fans of opposing teams as we embrace all types who have a Love of football and tailgating. The biggest word out of peeps who attend one of our tailgates for the first time is "WOW".
As a kid and an avid NFL and College football fan I used to see the tailgaters they would show in the backgrounds on the broadcasts and I always said I wanted to do that one day. I never could have dreamed that I would be a part of one so huge and so great. Probably the one thing we are most proud of is the participation we get from the Bucs organization themselves as we had the Bucs GM come to our kickoff parties before and we have the families of past and current Bucs players involved with our tailgate and the "What the Buc" organization along with past and current Bucs players. This is why we have No hesitation in saying this IS the Bucs authentic Tailgate party and that IS the "What the Buc" tailgate party!
As a special treat this coming season we have our sister krewe "The Krewe of Blackbeards Revenge" that I Capt. Rino am very proud to also be a member of joing us with their fantastic Pirate Ship replica float on hand at all but one of our tailgates as it's always a huge hit for tremendous photo ops. We at KBR are one of the leading floats in all Gasparilla parades.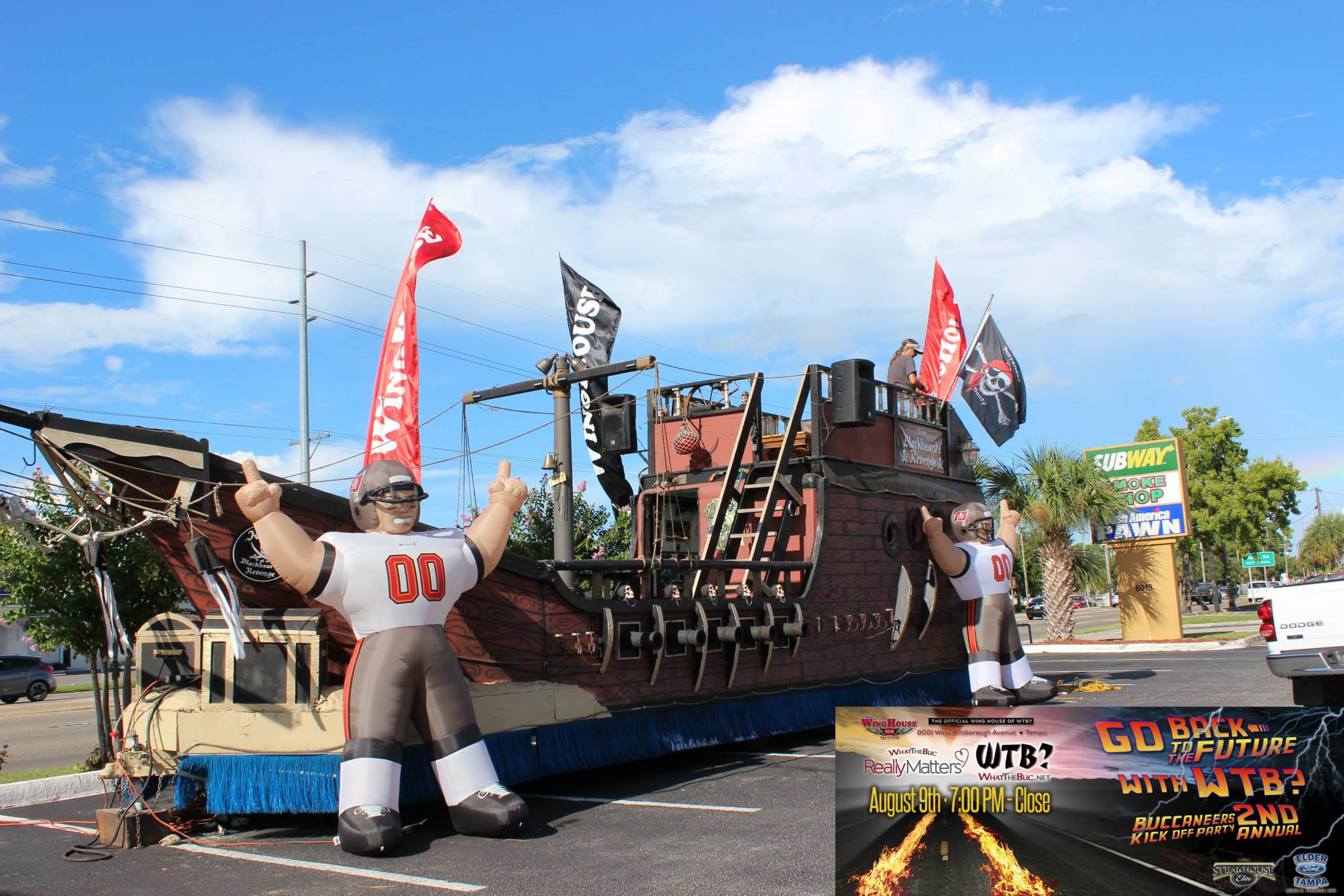 NOTE:
This is a tailgate that is sponsored via donation. We are not a business and we do not run this as such though we have filed for our 501c3 status so that our donations can grow). We tie to local charities and donate the proceeds (and announce that every week.) We make EVERY EFFORT to have plenty of food and drink but your donations are not tickets. We serve until we run out and have, in years, only run out of a few things. So before you guys get pissy about coming at 12:15 for a 1:00 kickoff only to have limited food or beer left, use your head. Luckily this has not been a real problem yet but we don't want it to start to become one either. If this model is unacceptable, you are welcome not to attend. Most folks get it and have No problem.