Mike James came into last season as Doug Martin's backup and with low expectations. Martin was to be the workhorse, bellcow type of guy and was sure to get well in excess of 70% of the total running back snaps. The rest would be given principally to Brian Leonard, with James picking up any remaining scraps. The shoulder injury to Doug Martin in week 7 against the Atlanta Falcons changed matters significantly. James would finish that game as the primary ball carrier and start the next three games. With the drafting of Charles Sims and Bobby Rainey, James has been lost in the shuffle, in my opinion. He showed some nice touches during his all too brief game moments and I feel he can be a great contributor to the football team.
When James entered the league from the University of Miami, he was expected to be a contributor on special teams. According to Snap Count Data available from Football Outsiders, special teams accounted for about 11.4% of James' total snaps. In the final three weeks of his season, James only had eight special teams snaps, but this could be a key area for him to contribute to this year. During his tenure in college, he even served as a fullback. While there is little indication that the Bucs plan on using him as such, it does show he is quite versatile. Using some images from some of the games he took part in I want to highlight what I see as James' best assets: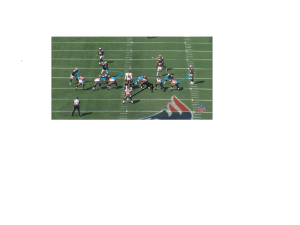 James took his first NFL regular season offensive snap against the New England Patriots, a notable game that ended in another defeat and the end of the Josh Freeman era in Tampa. Out of a two tight end set, James is in the backfield. The blocking assignments and direction of James (black arrow) are illustrated above. There is little room for James to operate in as Brandon Spikes comes in, the attempt of Jeremy Zuttah knocks him off kilter a small bit but he does make contact on James. A very nice pirouette allows James to allude the defender and scamper through the hole for a 5 yard gain. James showed good poise to maintain his balance to gain yards out of nothing before being hauled down by Rob Ninkovich (black arrow illustrates Ninkovich's path to James.)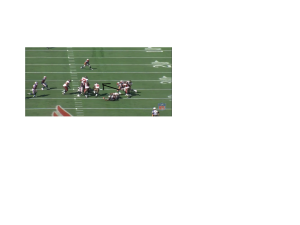 James only had two offensive snaps in the Cardinals game, but they briefly highlighted James's good reactions and athleticism. A tipped Mike Glennon pass saw James scamper to gather the ball. It was unlikely to be intercepted but it showed nice commitment and awareness from James if nothing else (not to mention a nice jump which we of course would see in Seattle around a month later.)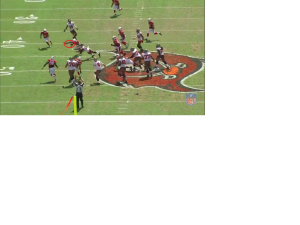 James' role in the team was growing by the week, with the Philadelphia Eagles game giving him a total of 19 snaps, 12 of those being on offense. Perhaps we learn a lot about the Bucs' struggles on the offensive line that James' great contribution to the game was negated by a holding penalty. In a designed halfback cutback run, the Bucs block to the left hoping to create a gap on the strong side as shown in the diagram below.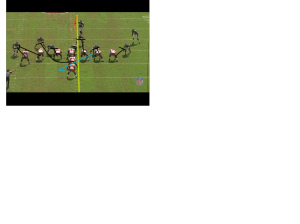 Unfortunately, Davin Joseph wasn't able to hold his block on Demeco Ryans and James jukes Ryans before being hauled down two or three yards after initial contact. The 14 yard run was negated by a holding penalty. James showed some other glimpses of talent in the game, often being used in the passing game as a receiving option.  He wasn't used by Glennon as he was mainly a checkdown or a swing pass option. James wasn't really trusted as a pass blocker or on third down (Brian Leonard or Doug Martin were the go to guys here) but his growing involvement in the team was encouraging from his own point of view. Even on limited plays, he certainly showed some great footwork and other traits.
The aforementioned Falcons game saw James become the main ball carrier for the team, it also saw James pass protect for the the first time, although unfortunately it didn't go too well. James wasn't asked to pass protect too often in his rookie season, few running backs are, but he was often used run option routes over the middle or checkdowns into the flat. I have no experience in blocking from the running back position but what I feel is important is leverage. The running back will be lighter than the oncoming linebacker or end. If the running back tries to go toe to toe they will be bludgeoned, to put it mildly. I feel that they have to get low and strike first. If the rusher has momentum on a running back then the offense is already in a compromised position. The running back has to try and quickly disrupt the rusher, and to initiate the contact to try to buy a few valuable seconds for his QB. Fast footwork and quick jabs or strikes at the rusher can be key. Getting low is crucial, and James did show some positive moments in pass blocking in some later games (he had few opportunities to be fair to him, with Leonard trusted more in pass protection) but this was not good. I do wonder if there was some form of miscommunication on the play, Donald Penn shows very little effort in blocking Jonathan Massaquoi (96), believing that Jeremy Zuttah needs greater help dealing with Corey Peters (91). To his credit, James did show one or two decent moments when blocking Thomas Davis in some parts of the Carolina Panthers game. He certainly improved in this area through experience and with coaching he will improve for sure.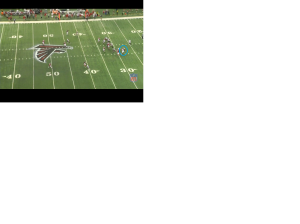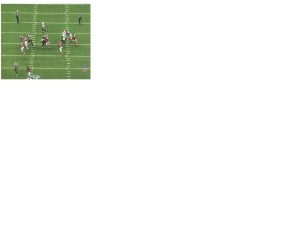 Massaquoi gets right under James pads and that initial drive and burst from Massaquoi is enough with James failing to corral him. The play ended with Massaquoi sharing a sack with Joplo Bartu. Largely due to an inconsistent offensive line, James had few holes to work with but made the most out of the holes he got. However, in the fourth quarter we did see one of the more impressive sides of his game.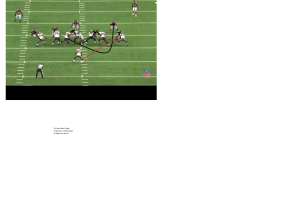 Jeremy Zuttah, the left guard, is on the move to the right side of the formation out of a two tight end set. He is to take out number 55 Paul Worrilow circled (in blue) in the second image. A large hole is created for James to run into. Thomas Decoud, the safety (green circle), comes down and drags him down, with William Moore also helping out. Perhaps the most impressive thing about Mike James is that he rarely goes down on first contact and always searches for more yards. Despite the initial contact coming at the 20 yard line, he is eventually hauled down at the 16 yard line. He showed decent explosion again, and while he may not seem like it, he is something of a powerful runner. He had a couple of bright moments in the game, showing some potential behind a poor offensive line and, as we know, a generally terrible offense.
The Carolina game was one of two primetime games the Bucs had last season, a heavy loss and another dire performance was the result (as you know already, this was pretty much the theme of the season). We saw some of James' ability as a passing threat in the game, aided by a fortuitous slip by Luke Kuechly. James runs an angle route over the middle, and with pressure in his face, Mike Glennon throws it to his running back, who gains a nice 20 yards. James is hauled down by Kuechly, who recovered well on the play. It was James' longest reception of the season and second longest play of his season. He only caught 10 balls all year, often for dumpoffs and checkdowns, but he does seem to have decent pass catching abilities.  (Kuechly circled in light blue, James' route in black, from backfield)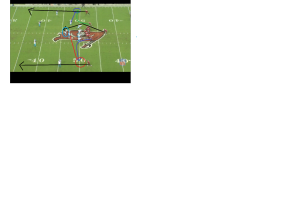 There were some other positive moments from the Carolina game for James, this 15 yard run in particular. The Bucs are in their three receiver set with Erik Lorig in the backfield with James. The intended design of the play is laid out below.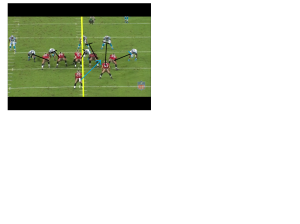 James shows decent footwork here that we have seen already. I also think he displayed decent vision here.  Out of shot is the Carolina left end Charles Johnson. It may seem like the gap to the right could earn him more yards but I think James took the right option in cutting back. The dogged nature of James is impressive – he goes down around 3-4 yards after initial contact for a solid gain of 15 yards.
I may be nitpicking with a further example from the Carolina game but I think it is an interesting note when analyzing running backs. Vision and seeing the field are often times linked with the position. Identifying the best gap and weak points in a defense is crucial in terms of compensating for an underperforming offensive line or simply turning a 5 yard gain into much more. The Bucs line up with 2 receivers, a tight end and a full back. The Bucs target the  B Gap between Zuttah (76) and Penn (70), with Lorig (41) taking the oncoming middle linebacker. The first shot is intended to show the blocking of Tom Crabtree on the outside and the path of the free safety to the ball. The two arrows around James in the backfield are intended to show his two potential running lanes which become clearer in the second shot. The first merely illustrates that perhaps there is plenty of room for James to attack if he were to choose the outside lane. He may not have gotten much more than the 7 yards he got by sticking to the inside lane, but I feel he took the incorrect lane here. It's not a bad play, a 7 yard play on 1st and ten is never a truly terrible play (at a time when they Bucs were within two scores and only midway through the second quarter anyway). There are perhaps more incidents of this in his games I could have missed but I thought this was an example of how James can certainly improve his vision at times. Here are two angles of his options, with the second one showing his chosen lane (red arrow)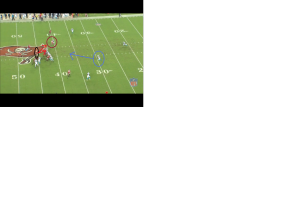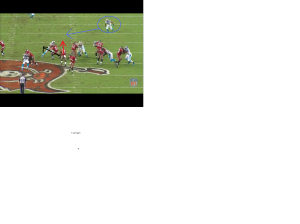 I'll conclude this series looking at James' breakout game against the Seattle Seahawks and the Miami Dolphins game, which saw a sad and premature end to his season. Hope you enjoyed it, feel free to give me your take,  and you can find me on twitter at @cphilpott95.