Well…what is there to say about the Buccaneers losing to the 2-7 Giants last week? Am I surprised? Nope. Not in the least. They suck. The offense can't stop turning the ball over and the defense can't stop anything. They let Eli Manning complete a career high percentage of passes (17 of 18). They let the Giants offense that was averaging 19 points a game score 31 points, and the team scored 38 points which their highest output in 3 years. They let rookie running back Saquon Barkley and my offensive "Playa 2 Watch"  run all over the place on 27 carries for 142 yards and 3 touchdowns. My defensive "Playa 2 Watch"  was safety Landon Collins who left the game injured at one point (I believe being assessed for a concussion) but came back in to finish with 11 tackles. In the end, the Bucs lost their seventh game of the season and their seventh in the last eight games.
They're now 3-7 and have the struggling 2-8 San Francisco 49ers coming to town for a battle between bad football teams. Do I think the Bucs will win this game? Absolutely not. I'm not sure that this team could beat Bama at this point so I refuse to say that they'll beat any actual NFL team. The Niners don't really have too much on offense that an average NFL defense would fear, but since the Bucs defense isn't good enough to be average so they should really be scared of everyone on that team. However, I've decided that my offensive "Playa 2 Watch"  for this game is going to be tight end George Kittle. My defensive "Playa 2 Watch"  is going to be defensive lineman DeForest Buckner. Now let's check out why I picked these two guys this week.
OFFENSE- TE GEORGE KITTLE #85
George Kittle is one of the lone bright spots on a Niners offense that's ranked 16th in the league averaging 356 yards and 22 points per game. While they do have the 4th ranked rushing attack in the NFL, despite not having a stud running back in the backfield, Kittle is by far the team's leading receiver with 50 catches for 775 yards and 3 touchdowns. This following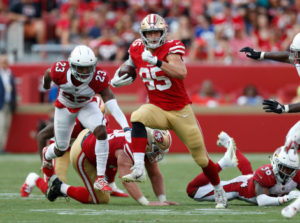 a rookie campaign where he finished with 43 catches for 515 yards and 2 touchdowns. He's had 75+ yards in seven of their ten games this season which shows that he's a mismatch for teams every week. The 6'4″/250lb tight end has become a focal point of Kyle Shanahan's offense. The 49ers team captain leads all NFL tight ends in yards gained per route and yards after catch despite being the ninth tight end selected in the 2017 draft. OJ Howard, Evan Engram, David Njoku, Gerald Everett, Adam Shaheen, Jonnu Smith, Michael Roberts and Jake Butt were all taken before Kittle at the 146th pick in the fifth round, but he's already being considered one of the best tight ends in football. Among tight ends with at least 20 catches, Kittle is tied with OJ Howard averaging nearly 17 yards per catch, he's third in catches trailing just the Chiefs Travis Kelce and the Eagles Zach Ertz and he leads all of them in first down catches. The difference is that those other guys are playing with quarterbacks like Patrick Mahomes and Carson Wentz. Kittle has been playing a majority of this season with guys like CJ Beathard and Nick Mullens. He's actually on pace for 70 catches for 1,240 yards which would make him just the second Niners tight end to reach 70 receptions and the first to eclipse the 1,000 yard mark. Vernon Davis is the only one to come close with 965 yards in 2009. The 1,240 yards would be the most by a Niners pass catcher since Terrell Owens had 1,300 yards in 2002. He also happens to be the 3rd ranked run blocker among all tight ends according to ProFootball Focus. Conclusion…the 49ers got themselves one of the better all around tight ends in the entire NFL for a steal in the fifth round of the draft. We're talking about a team with players like Dwight Clark, Brent Jones and Vernon Davis playing the position. That's pretty good company and a pretty good reason that the Bucs should keep an eye on him. Especially with a second level that consist of reserve linebackers.
DEFENSE- DE DeFOREST BUCKNER #99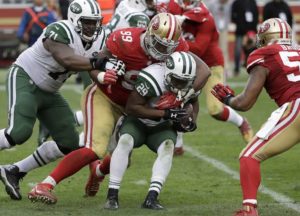 I was really hoping that DeForest Buckner would fall to the Bucs at #9 in the 2016 draft, but instead the 49ers took him at #7 and the Bucs traded out of that #9 spot with the Bears back to #11 where they picked cornerback Vernon Hargreaves. Now the 6'7″/300lb defensive lineman is one of the best pass rushers in the NFL. He ranked third in rushing the passer in 2017 only behind Aaron Donald and Fletcher Cox and first in QB hits among players in his position. He leads a Niners defense that's currently ranks 10th in the league giving up just 344 yards and 20 points per game. They rank 15th against the pass and 13th against the run. In his first two seasons, he's totaled 134 tackles and 9 sacks. In 2018, he already has 34 tackles and 6 sacks. The Niners do a good job of moving Buckner around along the d-line playing him on both sides of the interior in their 4-3 fronts and playing outside at defensive end in their 3-4 fronts. He's part of a defensive front that consists of players like Solomon Thomas, Sheldon Day and Arik Armstead who has 25 sacks this season but make no mistake about it, Buckner is the one that makes that unit click. The Bucs o-line will need to keep him away from Jameis Winston if they want a chance at winning this game. If not, Jameis could be picking himself up off the turf a lot on Sunday.
Even though this Buccaneers season is pretty much over with and some fans are hoping that the team loses all their remaining games to get a better draft position, a win sure would feel nice even if it is against a struggling Niners team. This may be their best and last shot at a winnable game for the rest of this season. After this, they have the Panthers and Saints coming to Tampa, then they travel to the Ravens and the Cowboys before hosting the Falcons for their final game of this year. If they haven't already, Bucs fans should be preparing themselves for this team to finish 3-13 because it's a real possibility. I'm not saying that a "W"  this week should give any of us hope, but it would make leaving the stadium tomorrow afternoon a little more bearable at least for one more time in this long season. I know that 4-12 doesn't sound much better than 3-13, but if you were as depressed as I was walking out of Ray Jay after the Redskins game then you probably don't care about their record at this point either. A win is a win no matter who it comes against or what it means for the draft. And if the Bucs still actually want to win this game, they'll have to keep an eye on my two "Playaz 2 Watch"  on Sunday.
Until then, as always…GO BUCS!!!