Well, my picks for the Steelers game last week were tight end Jesse James and outside linebacker TJ Watt, Neither of them had much of an impact on the game. Offensively I got the position correct, but the player wrong as the "Conte Killer"  Vance McDonald finished with 4 catches for 112 yards and 1 touchdown. James had just 1 catch for 7 yards. Defensively, the Bucs were able to neutralize Watt who only had 2 tackles in the game. This week, Tampa travels to Chicago to play an interesting Bears team who is now 2-1 on the season. After losing by just 1 point to Green Bay in Week 1, they have won two in a row beating the Seahawks 24-17 in Week 2 and winning in Arizona 16-14 last week. For my picks this week, I'm going with one obvious choice and one not so obvious choice. Defensively, my player to watch will of course be outside linebacker Khalil Mack. Offensively, I've chosen running back Tarik Cohen. So let's see what led me to picking these two players.
DEFENSE- KHALIL MACK
For reasons still being pondered by football fans and analysts everywhere, Jon Gruden and the Oakland Raiders traded Khalil Mack to the Chicago Bears just before the regular season began. The Bears received Mack, a 2020 second round pick and a conditional 2020 fifth round pick. They gave up a 2019 first round pick, a 2020 first round pick, a 2020 third round pick and a 2019 sixth round pick. It's rare that a team decides to just trade not only their best player, but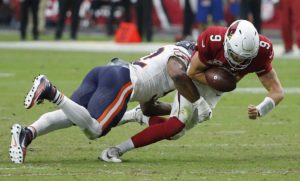 what might be the best defensive player in football. In any case, he is now in Chicago and the Buccaneers will be facing him and much improved, very opportunistic defense this Sunday. Mack is a 6'3″/252 lb edge rusher who already has 4 sacks, 3 forced fumbles and 1 interception this season. He's had 40.5 sacks and 9 forced fumbles in his short four year career with the Raiders, including double digit sacks in each of the last three years. He signed a 6-year/$141 million contract with the Bears, $90 million of it guaranteed, and has instantly legitimized their defense. Mack didn't even start playing football until his senior year of high school and the only college to recruit him coming out was Liberty University. He was "undersized"  and considered a defensive "tweener"  because he was too big for linebacker and too small for defensive end. The University of Buffalo threw their hat into the ring last minute and that's where he would play his college ball. Interestingly enough, he chose to wear #46 because that was the rating a video game gave him as a player…46 out of 100. Before signing Mack, the Bears odds of winning a Super Bowl were 80 to 1. Now, they're about 33 to 1. How's that for impact? He rushes primarily from the left side, which means Bucs right tackle Demar Dotson will have to deal with him on Sunday. He does occasionally play on the right or the blind side, but he's far more productive from the left. If Dot is on his game, which he'd better be, this could be a fun matchup to watch. If he's not, this could be a long afternoon for Ryan Fitzpatrick.
OFFENSIVE- TARIK COHEN
This kid right here worries me. He hasn't been a focal point of the Bears offense this year so far, but he's a touchdown waiting to happen every time he touches the football. At 5'6″/180lbs, he plays a role similar to the Saints Alvin Kamara in New Orleans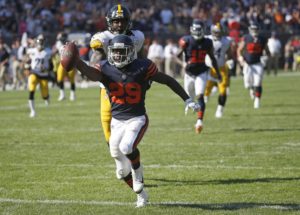 or the Eagles Darren Sproles in Philly. He has speed, agility and explosiveness which is why the Bears line him up all over the place, the backfield, the slot, out wide, returning kicks and punts…the 23 year-old does it all. He finished 2017 with 140 touches for 723 yards and 4 touchdowns as a rookie. That's 5.2 yards every time he touches it on offense. He also had 855 yards in returns as well. Players like this have given the Bucs defense fits so far this season. In Week 1 versus the Saints, it was Kamara who finished with 17 touches for 141 yards and 3 touchdowns. In Week 2 versus the Eagles, it was running back Corey Clement who finished with 11 touches for 85 yards and 1 touchdown. So far this season, Cohen only has 21 touches for 134 yards and no scores, but the Bucs defense had better keep a close eye on him this Sunday or he's going to have an impact on the outcome of this football game.
Well, there you have it. Khalil Mack and Tarik Cohen are my "Playaz 2 Watch"  for this week's game between the Tampa Bay Buccaneers and the Chicago Bears. It appears that "FitzMagic"  is still alive and well as far as the Bucs are concerned because he has been given the starting nod despite Jameis Winston being back from suspension. No real surprise there as it is a short week and they have a bye next week. Hopefully that "magic"  continues for one more week and the 2-1 Bucs can steal one on the road against a pretty good NFC opponent to remain at the top of the NFC South division.
But until then, as always…GO BUCS!!!