So Week 7 is in the books and the Buccaneers were able to beat the Cleveland Browns with a 59-yard field goal with about two-minutes left in overtime to get to an even 3-3 record on the season. My "Playaz 2 Watch"  from that game were running back Duke Johnson on offense and defensive end Myles Garrett on defense. The Bucs defense stepped up for their new coordinator Mark Duffner and was able to hold Johnson to 1 rush for -4 yards rushing and 4 catches for 23 yards. They were able to limit the Browns offense to 23 points and 305 total yards, as well as 17 first downs in 13 drives. The Browns only managed 4.9 yards per play and were only 3 of 14 on third downs. The only members of their offense to actually do any damage was wide receiver Jarvis Landry (who finished with 10 catches for 97 yards and 1 touchdown) and rookie running back Nick Chubb (who finished with 18 carries for 80 yards and 1 touchdown). Garrett, one of the best young pass rushers in the NFL today, was held in check nicely by Bucs left tackle Dovovan Smith but still ended up 2 sacks, 4 QB hits and 1 tackle for loss. That sounds like a pretty productive day until you consider that Jameis Winston threw 52 passes and dropped back 56 times. Regardless, a win is a win and I'll take em any way that they can get em right now.
Week 8 brings a new team and a new challenge. The Bucs are going on the road to play the Cincinnati Bengals who currently have the 25th ranked offense (averaging 26 points and 336 yards per game) and the 31st ranked defense (giving up 29 points and 435 yards per game). The Bucs enter Week 8 with the top ranked offense in the league (averaging 28 points and 450 yards per game) and the 29th ranked defense (giving up 33 points and 418 yards per game). Thanks to the 10 point implosion in Chicago, there are seven other teams averaging more points than them but nobody is averaging more yards per game. With last week's defensive resurgence, the team has moved up a little bit in the rankings. They're still giving up the most points per game in the league, but there are now three other teams giving up more yards per game than them and the Bengals are one of them. This week, my "Playaz 2 Watch"  are two obvious choices. On offense, I'm going with wide receiver AJ Green. On defense, I'm rolling with defensive tackle Geno Atkins. Let's check out why.
OFFENSE- WR A.J. GREEN
Believe it or not, Green is in his 8th season with the Bengals. He's averaged 1,173 yards per season and totaled 57 touchdowns over his career. This year, he already has 40 catches for 611 yards and 5 touchdowns. Even at 30-years old,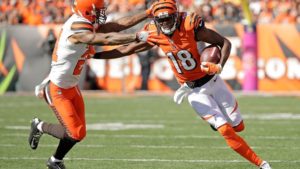 the 6'4″/210lb Green is still one of the best and most complete receivers in the game today. Whether it's the veteran Brent Grimes or the rookie Carlton Davis, whoever is covering him will have to be on their game. If it's Grimes, then he'll need to use his experience, speed and athleticism to outplay him. If it's Davis, then he needs to get up in his face and press him. He needs to use his 6'1″/206lb frame to get physical with him just like he did with the Browns Jarvis Landry last week.
The Bengals deep threat John Ross is out for this week, so Tyler Boyd should have a much bigger role in their offense. Still, I think Green is the guy to worry about and focus on for the Buccaneers defense. The Bengals are ranked 28th in rushing offense, just ahead of the Buccaneers at 29th, so the Bucs 6th ranked run defense should be able to hold Joe Mixon and company in check. Green will likely get his touches, especially if the Bucs can jump out to an early lead. But if they can limit his production with those touches, then they should be able to pull out a win on the road.
DEFENSE- DT GENO ATKINS
In August, the Bengals signed Atkins to a 4-year/$65.3 million extension keeping him in Cincy through the 2022 season. At
30-years old, the 6'1″/300lb Atkins is into his 9th season and is second among DT's so far with 6 sacks this season trailing only the Rams Aaron Donald who has 8 sacks and leads the league. In fact since entering the league in 2010, Atkins leads all active DT's with 67.5 sacks. He can be a game wrecker if you let him. Unfortunately he typically plays on the left side, which means that the Bucs "alternating"  right guards Caleb Benenoch and Evan Smith will be tasked with keeping Atkins as far away from Jameis Winston as possible. That's no small task for any NFL guard, but these two have been struggling all season to stop anybody. Now they're facing one of the most dominant and productive QB hunters in the league and they'll have their hands full all day. There's no doubt that the Bucs will have to help out on that right side whether it's with an inline tight end or by sliding a running back over to help with pass protection. If they can keep him and defensive end Carlos Dunlap from hassling Winston, then the Bucs should be able to put enough points on the board to steal a win in Cincy. If not, it might be a long day for a Buccaneers offense that hasn't exactly been clicking since Jameis came off of his suspension.
The Bucs are 3-3 and in need of a win to keep up with the rest of the NFC South. The division leading Saints are 5-1 and going to Minnesota to play the 4-2-1 Vikings. The second place Panthers are 4-2 and facing the 4-3 Ravens at home in Bank of America Stadium. The bottom dwelling Falcons are 3-4 and on a bye so they probably won't lose this week. The Bucs play three of their next four games on the road. After Cincy, they head to Carolina for a pivotal, divisional matchup with the Panthers, then head home to play the Redskins before traveling to New York to play the struggling Giants. The good news is that they play four of their final six games at Raymond James Stadium. If they can get through this next stretch of games without completely shitting the bed, they could have a chance to make a run to end the regular season and just maybe make a push for the playoffs.
Until then, as always…GO BUCS!!!