Another week down and another Buccaneers loss. The Bengals jumped out to a 27-9 halftime lead after two first half interceptions by Jameis Winston. Things got even worse after halftime when he threw two more interceptions in the third quarter, one for a pick six, and suddenly the Bucs found themselves down 34-16 going into the fourth quarter and their starting "franchise"  quarterback had been replaced by backup QB Ryan Fitzpatrick. Fitz did provide a spark and led the team back to tie the game up 34-34 with 18 fourth quarter points and the help of the defense who only gave up 3 points in the second half. Unfortunately, those 3 points came from the game winning field goal as time expired.
My "Playaz 2 Watch"  last week in Cincy were wide receiver AJ Green and DT Geno Atkins. Neither of them were the top performers for the Bengals. Their leading receiver ended up being Tyler Boyd who had 9 catches for 138 yards and 1 touchdown. I was really close to picking him over Green with Boyd being thrust into the #2 receiver role while John Ross was out injured, but I didn't and he blew up. Running back Joe Mixon also had a bigger impact on the game than I thought he would with 21 rushes for 123 yards and 2 touchdowns. Apparently the Bucs defensive line struggled against the run with Gerald McCoy and Vinny Curry out of the lineup. As for my picks,  Atkins almost had a blank stat line had it not been for an assist on a tackle. Other than that, he had zero sacks and only effected the quarterback a few times on a day where the Bengals had it's way with the Bucs offensive line and totaled 6 sacks on the day. Green was held in check for most of the game right up until it really counted. He finished with 5 catches for 76 yards and 1 touchdown for the day, but had 2 catches for 39 yards in the final drive that helped the Bengals get into field goal range to win the game.
This week, the Bucs face one of their NFC South rivals the Carolina Panthers. It sounds absurd in Week 9, but in my opinion this is a "must win"  game for Tampa. They currently sit at the bottom of the division and are looking up at the Saints who lead the pack at 6-1 and play the undefeated LA Rams in New Orleans this week, the Panthers who are in second at 5-2 and the Falcons who are also 3-4 but play the 5-2 Redskins on the road this week. This is a chance for the Bucs to gain ground in the division and they need to take advantage of it. Now for my picks for this week.
OFFENSE- RB CHRISTIAN McCAFFREY
The Panthers have a number of players on both sides of the ball that could have an effect on their games every week. On offense, there were obvious choices like Cam Newton, Greg Olsen, Devin Funchess or Curtis Samuel. I decided to go with a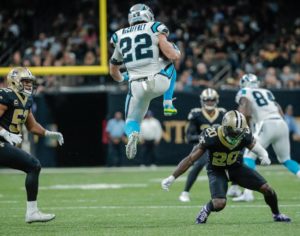 position that has been giving the Bucs defense fits all year which is the dual threat running back. Christian McCaffrey is in his second NFL season and proving to be a very good all-around back in this league. At 5'11″/205lbs, the knock on him coming out of college was that he wasn't an every down, between the tackles kind of back. He has proven his critics wrong. Last year, he finished his rookie campaign with 117 rushes for 435 yards and 2 touchdowns, as well as 80 catches for 651 yards and 5 touchdowns essentially averaging 6 yards every time he touched the football. This season, he's had more of an impact on the Panthers run game with 92 rushes for 423 yards and 1 touchdown averaging 4.6 yards per attempt. He's also added 44 catches for 300 yards and 2 touchdowns in the passing game averaging 6.8 yards per catch. Once again, he's averaging nearly 6 yards per touch and is a homerun threat anytime he gets the ball in the open field. He's had a 184 yard rushing game against the Bengals and a 102 yard receiving game against the Falcons this season so his versatility is something to keep any eye on this week. If the Bucs defense doesn't do that, McCaffrey could be a real game wrecker.
DEFENSE- DT KA'WAAN SHORT
My defensive pick was even harder. The obvious choice would've been to go with their middle linebacker Luke Kuechly as he is the best player on their defense and one of the best linebackers in the game today. Despite the effect that Kuechly has on every game that he plays in, I've decided to go another direction. I'm going with what I consider to be a matchup problem for the Bucs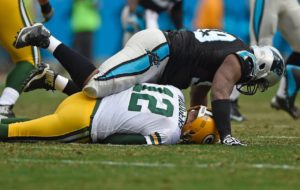 between right guard Caleb Benenoch and pretty much anybody. This week, Evan Smith is out with an injury which means Benenoch will likely be playing the entire game all by himself with no rotation (unless the Bucs dress rookie Alex Cappa and rotate him in) and he'll be working against two of the better interior d-linemen in the NFL in DT's Kawaan Short and Dontari Poe. Between those two players, Short is the bigger threat to the Buccaneers offense. At 6'3″/315lbs he's only got 2 sacks this year, but he's had 24.5 sacks in the last 3 years including 11 sacks in the 2015 season. Carolina re-signed Short last year to a 5-yr/$80 million contract making him the third highest paid 4-3 defensive tackle in the league behind Ndamukong Suh and Fletcher Cox and according to Pro Football Focus  he was the No.3 ranked defensive tackle in 2016 behind Suh and Aaron Donald. The Bucs did a good job blocking against the Bengals premiere defensive tackle Geno Atkins (even though Cincy moved him around a lot throughout the game playing him on both sides)  by using double teams from either the tackle Demar Dotson or center Ryan Jensen and I have a feeling the same approach will be used by them this week versus Short. If he's not held in check, he could be in the backfield harassing Fitz all game long.
Well, there you have it. My "Playaz 2 Watch"  for the Bucs vs Panthers matchup this week. I wouldn't be surprised if other players like Luke Kuechly or Curtis Samuel have a big impact as well. But I'm rolling with McCaffrey and Short for good reasons. They're both playmakers and both have favorable matchups with the Bucs which doesn't bode well for Tampa. Hopefully, I'm wrong once again and none of the Panthers players have an impact on this game and the Bucs leave Charlotte with another division road win. We shall see on Sunday!
Until then, as always…GO BUCS!!!