I assume that by now, you've all heard the news about Doug Martin and his personal issues with substance abuse. I would also assume that most, if not all of you have seen the varied responses towards Doug over said issues. This article is an educated and factual based response to any of the self proclaimed "football experts"  that claim how much Doug Martin "sucks"  and how the Bucs need to trade him on draft day or even release him immediately. So, here we go…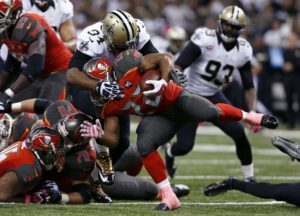 I've seen a number of posts and comments on social media stating that the Bucs should just cut ties with Doug Martin and roll with journeyman running back Jacquizz Rodgers as the #1 back next season. The ONLY  reason given almost every time was the yards per carry average. Rodgers has averaged 4.3 yards this season while Martin has only averaged 2.9 yards. As I stated in the debates, stats don't always tell the whole story. What those simple numbers don't tell is that in the first game of the season against Atlanta, Doug Martin rushed the ball 18 times for 62 yards for a 3.4 yard average. In Week 2 against a good Arizona run defense, Martin rushed 7 times for 23 yards for a 3.3 yard average before injuring his hamstring. In that same game, Rodgers rushed 2 times for 29 yards, but one of those runs was a 24 yard break away. Rodgers didn't assume full time responsibilities until Week 5 in Carolina where he rushed a whopping 30 times for 101 yards, averaging 3.4 yards per attempt. Pretty good numbers until you research further and discover that the Carolina defense at the time was allowing 4.0 yards per attempt to ball carriers, one of the highest in the league. The next game, Week 7 in San Francisco, Rodgers once again was the primary back for the Bucs and he once again performed well rushing 26 times for 154 yards for an impressive 5.9 yards per carry. Once again though, the numbers are misleading. Yes, he had 154 yards but 45 of them came on one run. Take that one run away and he averaged 4.3 yards. Still pretty good until you find out that the 49ers had the worst rushing defense in the league this year allowing 5 yards per attempt. In comparison, rookie running back Peyton Barber, who shared some of the workload in that game, ran 12 times for 84 yards, or 7 yards per attempt. However, he had one run of 44 yards. As I said, the yards per carry average doesn't always tell the whole story.
Now don't get this twisted. I love having Jacquizz Rodgers on this team as a backup running back. He obviously has skills that thrill. However, what most of you either don't know or simply don't care about is that he has been a sparingly used backup for his entire 5 year career prior to his arrival in Tampa. In Atlanta from 2011-2014, he played in 63 of 64 games, averaging 76 carries for 280 yards, or 17.8 yards per game and 3.6 yards per attempt in each season. Even under Dirk Koetter in Atlanta, he was never used as a feature back. He's always been a good backup running back…that's what he is.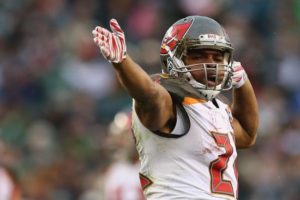 On the other hand, Doug Martin IS  a feature back…one of the few true ones left in a league full of "running back by committee"  teams. Though he's only had two full seasons out of these first five, those two healthy seasons were extremely productive. In his rookie year of 2012, he played all 16 games rushing 319 times for 1,454 yards averaging 91 yards per game and 4.6 yards per attempt. He also added another 49 receptions for 472 yards making him one of the best all purpose backs in the NFL. The 2013 and 2014 seasons were injury plagued. He only played in 17 of the 32 games rushing 262 times for 950 yards averaging 56 yards per game and 3.6 yards per carry. In 2015, he came back strong playing in all 16 games while rushing 288 times for 1,402 yards averaging 88 yards per game and 4.9 yards per attempt. He also added 271 yards receiving giving him 1,673 total yards from scrimmage. Oh and did I mention that he finished only 83 yards behind Adrian Peterson for the NFL rushing title? Yeah, he has proven that when healthy, he's one of the best running backs in the league. Has he had injury problems? Some. But he's also proven that he can be reliable and durable while playing the role of primary ball carrier.
Now back to this season. Doug Martin returned to service in Week 10 against Chicago. He played sparingly only rushing 16 times for 33 yards. The next week in Kansas City, he took over the primary role again rushing 24 times for 63 yards against a decent Chiefs rushing defense. That was also the first week that the offensive line began to have injury issues when starting right guard Kevin Pamphile was unable to play due to concussion. The next week against Seattle, Martin played better rushing 23 times for 87 yards averaging 3.8 yards per against a Seahawks defense allowing a league best 3.4 yards per attempt. This was also the second week in a row that Pamphile missed at right guard while backup center/guard Evan Smith and blocking tight end/lead blocking fullback Luke Stocker were also out. Evan Smith was out the next week against the Chargers when Martin was limited to just 17 carries for 45 yards due to the Buccaneers falling behind 14-0 early. O-line injuries were an issue once again in Week 14 at home against the Saints and in Week 15 against the Cowboys when starting left tackle Demar Dotson was unable to play due to a concussion. That injury caused movements not only at right tackle but at left guard as well. Now keep this in mind…yes, he "only"  averaged 3 yards per carry this year. BUT, he averaged those 3 yards per carry behind an injury-plagued o-line and without his regular lead blocker while battling a nagging hamstring injury and fighting a drug addiction. Hmmm…
There are many variables that factor into a running backs yards per carry average besides the talent or skill level of that player. Offensive line play and injuries, the defenses ability to stop the run, long break away runs…it all matters. In the same way that I've seen some fans complaining about the supposed high number of interceptions that Jameis Winston has thrown during his first two years in the league. There are other factors that may cause those interceptions. Deflected passes, wrong routes by the receivers, a well-thrown ball bouncing off of a receivers hands, the quarterback being hit while throwing, hail mary passes at the end of the half…they all factor into Winston's INT total but they're not all because of bad throws or poor decisions.
My point is this…anyone who says Doug Martin isn't a good running back or that he's past his prime, or says that the Bucs should just move on from him by releasing him or trading him on draft day should do all of us a favor and just STOP.  Educate yourselves. Do some real research. Study some game tape. Look past the superficial stats and misconstrued numbers. If you do, then I'm sure you'll begin to see Doug Martin the same way that Jason Licht saw him this last offseason when he signed him for 5 more years…as one of the absolute best pure feature running backs in this league. And when he returns next season, after beating this addiction and serving his 4 game suspension, he'll be better and stronger than ever. He'll be back…and the Bucs will be a better team for it.
In the meantime, he's still a person. He's still a player on this Buccaneer football team. And as Buccaneers fans, we should be pulling for him and supporting him in any and every way that we can, no matter what the circumstances.
Now let's get Raymond James rockin' one last time this Sunday and send the Panthers back to Carolina with their tails tucked between their legs and as always…GO BUCS!!!