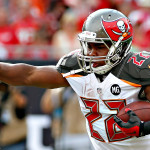 It's gameday, baby! After a victory over the Dallas Cowboys, the Buccaneers are looking to do something that hasn't happened in nearly two years. The last time Tampa Bay won two-straight was all the way back on November 24th, 2013. Today, the Bucs are traveling to hostile territory in an attempt to topple the 4-5 Philadelphia Ducks Eagles. Let's take a look at what to expect today.
---
Offensive Outlook: Release the Dougernaut
In order to control the time of possession and keep the game at their own pace, the Bucs will have to turn to ol' reliable in running back Doug Martin. While he hasn't had a 100-yard rushing game in the last few weeks, Martin remains consistent and will be key in slowing the game down against Chip Kelly's trademark up-tempo offense.
The Bucs need to feed Martin more than 20 times, and Mike Evans needs to do even more than he's done.It's unfortunate that Evans is pretty much the only serious threat at receiver, as this opens him up to strong coverage. For as great as his numbers have been, he needs to find consistency with catches both difficult and easy this week to help put a dent in the Eagles.
While Jameis Winston has been good at being safe with the ball in recent weeks, despite a few tipped-ball interceptions last week, this will be key against an Eagles defense that has had a knack for turnovers this season. Winston will need to be extra careful in this game.
---
Defensive Outlook: Force the Butt-Fumble
After an impressive defensive stand against the Cowboys last week, the Tampa Bay defense will be looking for consistency against Philadelphia. Lavonte David went from one of his worst games to one of his best, and the efficient tackling kept the Cowboys, and Dez Bryant, from any big-yardage plays. While Philadelphia will put heavy emphasis on the run-game, even with starting back Ryan Mathews out for the week due to injury.
On top of that, starting quarterback Sam Bradford is out with a concussion. That leaves Mark Sanchez, who is well known for being a 3-time Rose Bowl Champion with USC back in his college days and isn't remembered for any good or bad moments in the NFL. Not buying it? Good.
While the defense has done good to control the run in recent weeks and gotten stronger against the pass, the difference here will be in the turnover ratio. If the Bucs can create pressure and force Sanchez to make a spectacular mistake, especially if offensive tackle Jason Peters doesn't start, they can turn the tide in an instant.
---
Dealin' With Tha' X-Factor (Oh, I know you hate the X-Factor, but you ain't gotta look at me like that) 
After veteran Lavonte David had one of his best games in recent memory, I'll be looking to another veteran to set the tone against Philadelphia. Gerald McCoy needs to wreak havoc against the Eagles, and he needs to do this all game long. A factor in the line-integrity for Philadelphia will be whether or not they get Jason Peters to start, who is currently listed as questionable. If out, this will be a key weakness to focus on. If he's in, Peters is still struggling with a back injury and that could still make him a target. Look for McCoy to either force a sack-fumble, or create the pressure for someone else to.
---
Predictive MVPs: Gerald McCoy, Doug Martin
Score Prediction: Buccaneers win, 30-20