The Tampa Bay Buccaneers are making the cross country trek to San Diego for yet another West Coast road trip, their third of the season. They split the other two trips with a lopsided 40-7 loss to the 4-6-1 Cardinals in Week 2, and then a convincing 34-17 win against the 1-10 Niners in Week 7. The Bucs have a very impressive 4-1 record on the road this year and they enter this game as one of the hottest teams in the NFL having won their last 3 games and 5 of their last 7 overall. Now that they have fought themselves back into playoff relevance, this will be their most important trip out West yet. So, let's talk about how this team can keep this win streak alive and bring another "W"   back to Tampa.
The easy thing for me to say would be to just continue doing what they've been doing lately. However, doing that this week against the Chargers may prove to be slightly more difficult. In the last 3 games, the Bucs defense hasn't faced an offense ranked higher than 16th in the league. The Chargers are currently ranked 8th in total offense. They have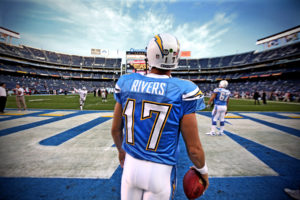 the 5th ranked passing offense thanks to future Hall of Fame QB Philip Rivers who has thrown for 3,128 yards, 23 TD's and 12 INT's this season. They're only ranked 20th in rushing offense, but their primary running back Melvin Gordon is currently 4th in the league in rushing with 908 yards and 9 TD's in just his second year in the league. The Bucs defense will have their hands full with this Chargers offense averaging 28 points and 370 yards per game, but there is a possible chink in the armor. Their o-line has given up 26 sacks in 11 games this year. So if the Bucs can continue the pressure on the QB that's produced 10 sacks and 5 INT's in the last 3 games, they should be able to slow down this Chargers passing attack.
As for the offense, they have faced defenses ranked 7th, 11th and 28th in the last three weeks. The Chargers are currently ranked 19th in this category. Ideally, the Bucs would like to establish their run game to take time off the clock and to keep Philip Rivers off the field. That's easier said than done since their run defense is ranked 6th in the NFL. I'm sure that won't keep Dirk Koetter from trying though. The o-line is back together and playing well, Doug Martin is back and seemingly healthy and they could be getting Jacquizz Rodgers back from injury as well. This should be an interesting battle to watch on Sunday.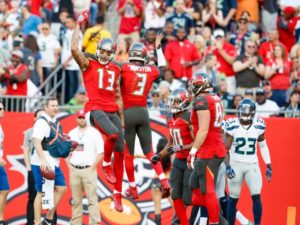 Jameis Winston and the passing attack could have a field day against the 26th ranked pass defense in the league, but he'll have to be careful with his throws. Even though the Chargers secondary has allowed 270 yards per game and 16 TD's, they're also responsible for 14 INT's. In fact, defensive back Casey Hayward leads the entire league with 6 picks himself. They are vulnerable, but they've been making opposing QB's pay for inaccurate throws. San Diego's pass rush isn't too intimidating either, which explains opposing team's success throwing the ball. Rookie defensive end Joey Bosa is leading the defense with just 4.5 sacks. The o-line has been doing well keeping Jameis Winston clean and Demar Dotson and Donovan Smith should be able to handle their edge rushers. If Jameis can continue taking care of the football like he has been since Week 5, the Bucs should be able to put up some points with "Big Mike" and the boys.
Now don't let the Chargers 5-6 record fool you. This is a much better football team than that record indicates. They've lost their 6 games by a combined 29 points and haven't lost by more than 8 points all year. However, they have had issues winning at home this year. They're 2-4 in Qualcomm Stadium this season, allowing opposing offenses to score 27 points per game. This seems to point in favor of the Buccaneers who are 4-1 on the road this year. We shall see.
A Bucs win this Sunday against the Chargers, in San Diego, would not only propel them to 7-5 but would have to

finally sway the opinions of the NFL analysts and "experts"  about this team being playoff contenders. Apparently, they still haven't earned that respect just yet despite beating two of the top five teams in the NFL's power rankings in the last two weeks. Who knows, maybe a win in San Diego won't even do it. It's a shame that the Buccaneers have been bad for so long that even when they're playing good football, everyone including most Bucs fans is constantly waiting for the wheels to fall off. I'm even guilty of it myself. After the win against the Bears, I was saying "We'll see if this team is for real if they can win in Kansas City".  Then after beating the Chiefs, I still found myself saying "Well, that was a great win but we'll see if they're for real if they can beat the Seahawks".  Now after a win against Seattle, I'm definitely more excited and more optimistic…but I find myself still saying "If they go to San Diego and win, then they'll be for real".  As lifelong Bucs fans, we just can't help it. The lingering doubt is instilled in us. There is understandable pessimism after living through 33 losing seasons in 41 years of existence. We've been teased with glimmers of hope so many times, only to be slammed back down to Earth by reality. It's just become expected.
That being said, I think this time is different. This team is different. The fans are different. The feeling is different. There is an excitement in the air in Tampa Bay that's been missing since the late 90's and early 2000's. The "experts"  may not believe in this team yet, but the fans do. This team believes in itself. They believe in each other.
They've become a family. And not in the way most teams talk about "being a family". This team genuinely thinks of themselves as a family. Brothers who go into battle every Sunday and fight for each other and have each other's back. They've been talking since last season about changing the culture and the mindset of this franchise and this football team. I think they have…I can see the difference. And after they beat the Chargers this Sunday, the rest of the NFL will see it too!
And as always…..GO BUCS!!!