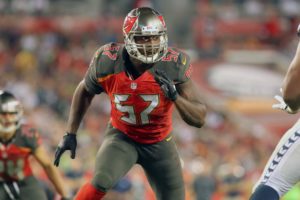 With the 39th overall pick in the 2016 NFL draft, the Tampa Bay Buccaneers used one of their two 2nd round picks to select Eastern Kentucky product Noah Spence. While Eastern Kentucky has not produced numerous NFL players, there was some high hopes that the 22 year old could provide some immediate production in the pass rich department. Spence played his 2012 college season as a true freshman for The Ohio State university. He also started his Sophomore year there too but it was cut short due to off the field issue. In 12 games that year, Spence managed to collect 8 sacks. After a repeat issue in the offseason, Noah was suspended indefinitely. After some short time off, Spence would eventually transfer to Eastern Kentucky where he would play just one season. During his short tenure at Ohio State, early projections were showing Spence as a possible 1st round pick. His off the field issues, which have been non existent since 2013, forced his draft stock to tumble a bit.
Spence got off to a bit of a slow start, with just one sack in the Buccaneers 1st 5 games of the season. Spence has found much more success in the teams last 7 games though, where he has a total of 4.5 sacks and 3 forced fumbles. This included what was perhaps the best game Spence added to his resume yet, when he had 5 tackles, 1.5 sacks and a forced fumble against Russell Wilson and the Seattle Seahawks. Now after his first 12 games, Spence has tallied up 5.5 sacks, good enough for 2nd among all rookies behind only Jacksonville's Yannick Ngakoue. Spence and his 3 forced fumbles is tied for 1st with Ngakoue and Falcons safety Keanu Neal.
Spence recent improvement in play, may perhaps be a product of fellow lineman Gerald Mccoy and Robert Ayers return to the lineup from injury. Proven veterans like Mccoy and Ayers both command double teams from the opposition on a almost regular basses. Noah Spence has certainly taken advantage of this. With no rookie having more than 2 interceptions at this time, it would seem like if Spence is able to manage just one more sack than Ngakoue over the last 4 games, he would have a legit shot at claiming the rookie of the year honors.