Mike Glennon's time as a Buccaneer is coming to an end. He's set to become an unrestricted free agent on March 9th when free agency begins. He reportedly turned down an offer from the Bucs for around $7-8 million a year to continue holding the clipboard as Winston's backup. As it turns out, that could be a smart move on Mike's part. According to various sources around the league, Glennon could be in for a big payday with a new team. He is supposed to command a contract in the $15 million range as a starter after making a total of about $4 million with the Buccaneers. I personally think it's well deserved, but I've noticed that some Bucs fans don't share the same opinion. There seems to be a select group amongst Bucs Nation that feel as though he's not worth it and who think he's not a very good quarterback at all. Well, I'm here to attempt to change the mindset of that group even though it may not matter since he's headed out the door. So, here's my argument in favor of Mike Glennon, aka "Beaker",  aka "Napolean"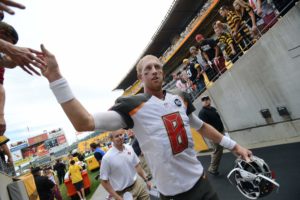 In his four years in Tampa, he has 18 career starts, most of which occurred during the 2013 season when he replaced struggling starting quarterback Josh Freeman. In those 18 starts, he accumulated a 5-13 record. No, his win/loss record is not very good. However, there's more to winning football games than just decent quarterback play. After all, it is the ultimate team sport. Unfortunately, Glennon's opportunity to take over as the starter came along with a pretty bad football team. It was Schiano's second year as an NFL head coach. Doug Martin ended up on the I.R. midway through the season along with Mike James and Michael Smith which made Bobby Rainey the starting running back to finish the year. Vincent Jackson was literally the only legitimate receiver on the team after Mike Williams went to injured reserve. Tim Wright was the starting tight end once Luke Stocker went to the I.R. along with Tom Crabtree. Yeah, the offense was pretty anemic. They would've been tough conditions for any QB to win games let alone a rookie. He won 4 of his 13 starts that year.
Despite his limited offensive weapons, Mike threw for 2,608 yards, 19 touchdowns and only 9 interceptions while completing 59% of his passes in 13 games. In 2014, during a short stint where Lovie Smith allowed him to start in place of the injured Josh McCown, Mike threw for another 1,417 yards, 10 touchdowns and 6 interceptions while completing 58% of his passes in 6 games. In comparison, the prolific passer McCown himself threw for 2,206 yards, 11 touchdowns and 14 interceptions while completing 56% of his passes in 11 games. Yet, the Glennon haters insist that he "lost"  the starting job because "he sucks"  and that it had nothing to do with McCown being Lovie's golden boy from Chicago turned big mistake.
Those who say Glennon isn't worth a big starting QB contract obviously haven't been paying attention to the NFL free agent quarterback market lately. His 4,100 yards in 18 starts was way better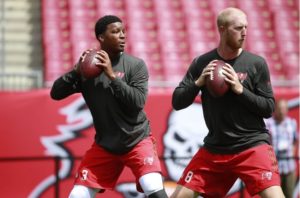 than Brock Osweiler's 2,126 yards in 7 starts when he got his 4yr/$72 million contract from the Texans. It was even more than the 3,234 yards and 13 starts that Tyrod Taylor had when he was offered his 5yr/$90 million contract by the Bills. Glennon also has the best TD:INT ratio of his draft class. His 29 td/15 int ratio is better than E.J. Manuel's 19 td/15 int and Geno Smith's 28 td/36 int ratios. His 19 touchdowns as a rookie was good enough for 10th all time just behind Dan Marino's 20 touchdowns and only 6 behind Peyton Manning's record of 26 touchdowns and his were in 13 games.
He held the NFL record, before Jameis Winston broke it, for most consecutive games with a touchdown to start a career with 8 games. I've heard everything from "all he does is throw check downs"  to "he can't throw the deep ball"  and from "he can't read defenses or handle pressure"  to "he's a statue in the pocket."  So, allow me to compare his first year numbers to Winston's just for the hell of it…
Jameis Winston: First 16 games- 312 for 535, 58% completions, 4,042 yards, 22 touchdowns, 15 interceptions, 7.5 yards per attempt
Mike Glennon: First 16 games- 311 for 534, 58% completions, 3,473 yards, 25 touchdowns, 12 interceptions, 6.7 yards per attempt
Now, I am in no way comparing them as football players. There is no comparison. Jameis is the real deal. His leadership, competitiveness, and his football I.Q. are second to none. He's the franchise QB that we've all been longing for in Tampa for over 40 years. Glennon is not and probably will never be the face of anyone's franchise. However, what I am saying is GIVE THE MAN SOME CREDIT! He produced very similar first-year numbers to the QB with the most successful first two years in NFL history. He deserves some kudos. He's a good quarterback and he deserves the chance to be a full-time starter and the big ass contract that will come with it. There have already been multiple teams linked to him including the Bears, Jets, Niners, Texans and Browns. He'll get his shot, it's just a matter of where he wants to play and how much money he wants to make.
All that said, I wish that he would remain here as the backup but I'm certainly happy for him and hope that he goes into a situation with a team that will allow him to prove all of the naysayers wrong. Thanks for the last 4 years, Mike and good luck in your NFL future!