After the research that I've done for my other free agency articles so far this offseason, I've come up with a scenario of how I would love to see the Bucs free agency period turn out. In no way does this reflect the opinions or the plans of the Tampa Bay Buccaneers organization or any members of it. This is simply a die hard fan's idea of the ideal offseason for his team. It's a realistic yet improbable version of some moves the Bucs could make in the next couple of months to really put this team over the top. It may look unrealistic, but the numbers should be pretty close. In no way do I see them spending this much in free agency, but it's kind of fun to see how far over $80 million in cap space can go in this market. Now, they will have to leave approximately $10 million to sign their draft picks and some random free agents here and there. And they'll need to keep their future contracts in mind such as Jameis Winston, Mike Evans and Kwon Alexander, but I have chosen to ignore this aspect for simplification purposes. With that said, let the fun begin…
As I said, the Bucs are starting with a ton of cap space already with just over $62 million. With a few moves, they could easily
take that number closer to $85 million. The first of those moves would be to void the Doug Martin contract which would free up almost $7 million. I know, I like Dougie too, but the Bucs may not sit around and wait for that situation to unfold not knowing what the outcome might be. If he comes back from rehab and the suspension with his mind right and ready to play football, then great. Bring him back on a one year prove it deal for $2 million. If not, then move on. The Bucs need to re-sign Jacquizz Rodgers for about $3 million/two year deal to ensure that he's at least here as a backup next season. They do still have Charles Sims and Peyton Barber to help with the workload and they could draft another running back too to add more depth. If the Bucs can fix the o-line issues, this group could still do some damage in the rushing attack even without Martin.
Next would be the release of cornerback Alterraun Verner (Already happened.  My editor is too slow to make this current) which would free up another $6.5 million. As much as I like him as a player, the Bucs can't justify paying a reserve corner/special teamer that much money. They could try to renegotiate his contract, but a release would make more sense. Should the Bucs feel the need to replace him, cornerback Logan Ryan of the Patriots could be an option. He played for $1.8 million last season so the Bucs may be able to lure him to Tampa with $3.5 million a year contract. He could permanently fill in that slot corner spot that is currently being tossed back and forth between Jude Adjei-Barimah and Javien Elliott. In addition, they would have to re-sign cornerback and special teams beast Josh Robinson, but it shouldn't cost more than about $2.5 million to keep him in Tampa after playing for $2 million last season.
The offensive line needs an overhaul and that starts with the release of backup center/guard Evan Smith which would free up $4.5 million. The Bucs would like to keep starting center Joe Hawley and he seems to share the same feelings. It would be nice if he would re-sign with the team at his 2016 salary of $3.5 million but it may cost them a little extra to keep him here. Last year's free agent signing guard J.R. Sweezy is supposed to be ready to go for training camp so if he is, he'll be the starter at left guard. Last year's starting Kevin Pamphile would return to his role as a reserve guard/tackle along with Caleb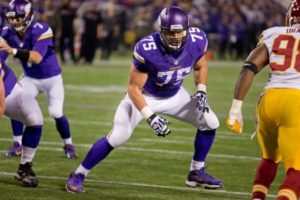 Benenoch. They could release right tackle Demar Dotson, which would free up another $4.5 million of cap space and move starting current left tackle Donovan Smith over to that right side where he may be a better fit. Then they could fill that starting left tackle spot with Cincinnati Bengals veteran Andrew Whitworth who they could possibly sign for about $10 million. Yes I know it's a big chunk of money, but the Bucs have to do something drastic to ensure the health of their franchise QB and that starts with protecting his blindside. Even at 35 years old, he's still one of the best in the game and could give the Bucs a couple more seasons to find another solution at left tackle for the future. If the Bucs really want to break out the wallet to improve the o-line, they could move Marpet to center and sign either the Bengals Kevin Zeitler or the Panthers Andrew Norwell to play right guard. Zeitler would be the more expensive option at around $11 million, but Norwell is a restricted free agent meaning Carolina could match any offer made to him by another team. The Bucs could possibly get him for anywhere between $6-8 million. These two moves would be costly but they would seriously solidify this offensive line and put the Bucs offense over the top.
The defensive line could use some amping up as well. They have already begun negotiations to re-sign unrestricted free agent defensive end Will Gholston and hopefully they can do so for about $4 million a year. They also need to re-sign unrestricted free agent defensive tackle Akeem Spence, although it's not as high of a priority, and they should be able to do that for about $1.5 million. The next step would be to decide the fate of restricted free agent defensive end Jacquies Smith. I don't know if there will be any outside interest in him, but if not then the Bucs could re-sign him for about $1 million on a one year prove it type of deal. After that, they move on to re-signing their exclusive rights free agents like defensive ends Howard Jones and Ryan Russell, each of them at about $550k. As much as I'd love to see them sign a big name defensive end like Jason Pierre-Paul or Calais Campbell, I think that defensive tackle is a bigger need. The Chiefs Dontari Poe is an option at around $9 million or t
hey could then sign the Ravens Brandon Williams at about $8.5 million. Either one of these guys would form a destructive duo in the middle with Gerald McCoy. With the Bucs retaining defensive tackles Akeem Spence and Clinton McDonald along with re-signing unrestricted free agent defensive tackle Sealver Siliga for about $400k, it should give them a formidable rotation in the middle. The defensive end rotation would consist of Ayers, Gholston, N. Spence, Smith, Jones and Russell. Very solid!
Next is the linebackers. With strongside linebacker Daryl Smith becoming an unrestricted free agent, he's not likely to return to Tampa. Last year's draft pick linebacker Devante Bond is still unproven after spending all of 2016 on the I.R. so he could use another season to develop. However, the Bucs could decide to save some money here and roll with him. He's athletic, fast and a good pass rusher from that position so they may feel like he's ready to take over. Should they go the free agent route, the Bucs could sign the Falcons outside linebacker Courtney Upshaw to replace Smith for about the same money at $2.5 million. Not only could he fill the SAM linebacker role, but he also gives them a proven pass rusher from that position too. Backup linebackers Adarius Glanton and Cameron Lynch are exclusive rights free agents and should be re-signed for minimal cost of $500-600k each to wrap up the linebacking corps. They will likely add more linebacker depth through the draft as well.
Safety has been a position of interest for a while, especially with fans, and could stand to be upgraded. Free safety Chris Conte is an unrestricted free agent and may not be returning to Tampa. Bradley McDougald is also an unrestricted free agent and could be re-signed for about $3 million. Even though Keith Tandy played well at the end of last season, they still need to up the competition factor in that back end. That's where the Jaguars strong safety John Cyprien comes in. If they can avoid a bidding war for his services, he could possibly be
had for about $4.5 million and would give them a run stopping tackling machine at that position.
The wide receiver position is where the Bucs could spend a big chunk of money. Veteran Vincent Jackson is an unrestricted free agent and not likely to be back in Tampa. However, they do have a couple of receivers they do need to re-sign. Adam Humphries is an exclusive rights free agent and will be re-signed at a minimal cost of about $500k. Also Russell Shepard is an unrestricted free agent and could cost a little more money to keep at around $1.75 million. The Bucs have got to add more weapons for Jameis Winston and that starts with the wide receiver position. At first, I wanted the Browns Terrelle Pryor but after he's stated the desire to stay in Cleveland and the fact that the Browns have over $100 million in cap space, I expect him to stay put. Since he probably won't be an option, I think the Bucs should sign the Redskins speedster DeSean Jackson for about $8 million. Even at 30 years old, he led the league in plays of 20 yards or more and averaged 18 yards per catch. He still has the wheels to stretch the field and could also assume punt returner duties. Once they get their speed, they should add some more size. I like the Rams Kenny Britt at about $6 million. He had a 1,000 yard season in a terrible offense last season and his 6'3″/225lb frame could add that size. These moves would drastically improve the receiving corps and should open things up in the run game as well.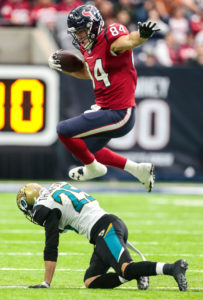 At tight end, the Bucs are in decent shape but could use a little help. That help could come via the draft, but it could also come through free agency. Current tight end Cameron Brate is an exclusive rights free agent and will be re-signed for slightly more than his 2016 salary of $600k. Backup tight end Brandon Myers is an unrestricted free agent and I don't see the Bucs bringing him back. However, he still needs to be replaced. They could use their first round pick on Alabama's stud tight end O.J. Howard if he's still available or they could go with a proven commodity like the Texans Ryan Griffin. The 2016 breakout star could possibly be signed for about $3 million after making just $700k last season in Houston.
Last but not least, is the kicker position. As we all know way too well, 2016 draft pick Roberto "Ya Never Know"  Aguayo struggled throughout his rookie season only making 71% of his field goal attempts. Jason Licht has already said he's not afraid to admit his mistake and move on from last year's 2nd round pick saying "He needs to have a great camp in 2017"  and Dirk Koetter even said that "He's not a lock to make the roster right now".  They could bring in newly released Steven Hauschka from the Seahawks to kick start the competition. He's a big dude for a kicker at 6'4″/210lbs making just over $3.5 million in Seattle last year. He had a "down year"  for him only making 89% of his field goals and just 83% of his extra points which is the lowest of his career. The 31-year old averaged an 89% field goal percentage and a 95% extra point percentage over his 6 years with the Seahawks. This is a no-brainer to me.
These moves would give the Bucs a pre-draft roster that looks something like this:
QB- Jameis Winston, Ryan Griffin
RB- Jacquizz Rodgers, Charles Sims, Peyton Barber, possibly Doug Martin
WR- Mike Evans, DeSean Jackson, Kenny Britt, Adam Humphries, Russell Shepard, Freddie Martino
TE- Cameron Brate, Luke Stocker, Alan Cross
OT- Donovan Smith, Andrew Whitworth, Caleb Benenoch
G/C- Ali Marpet, J.R. Sweezy, Kevin Zeitler, Joe Hawley, Kevin Pamphile, Ben Gottschalk
DT- Gerald McCoy, Dontari Poe, Clinton McDonald, Akeem Spence, Sealver Siliga
DE- Robert Ayers, Will Gholston, Noah Spence, Jacquies Smith, Howard Jones
LB- Lavonte David, Kwon Alexander, Devante Bond, Adarius Glanton, Cameron Lynch
CB- Brent Grimes, Vernon Hargreaves, Jude Adjei-Barimah, Javien Elliott, Ryan Smith, Josh Robinson
S- Bradley McDougald, John Cyprien, Keith Tandy
ST- Andrew DePaola, Bryan Anger, Steven Hauschka/Roberto Aguayo
I know what you're thinking…that's a bunch of free agent signings, right? Yeah, I suppose it would be. But like I said at the beginning of the article, this is my "fantasy free agent wish list". I just wanted to show you how much fun Bucs GM Jason Licht could have with all of this money to spend. Besides even with signing all of these free agents and keeping about $10 million aside to sign their draft picks and a few other possible future free agent signings, this scenario still leaves them roughly $15 million in cap space. They may not go this big, but they'll have to spend some money in free agency. The o-line needs to be younger and stronger. They need to add some receiving weapons on offense. They need to add depth at the linebacker. They need to add depth at running back. They need to replace Myers and get younger at tight end. They need to replace Verner at cornerback. They need to figure out the backup quarterback situation. The Bucs will have a busy offseason and it should be exciting for us Bucs fans to watch so stay tuned. Until then, as usual…..GO BUCS!!!