The Buccaneers have a solid young nucleus on offense with franchise QB Jameis Winston, superstar WR Mike Evans and young o-linemen Ali Marpet and Donovan Smith. However, there are some question marks heading into this 2017 offseason with the backup quarterback position and the running back situation being the two major ones. This article will focus on those two areas as well as hit on the current tight end group. I'll take a look at the players on the roster right now and some possible free agent acquisitions to fill whatever holes there may be. Let's start with the Bucs current players first…
CURRENT PLAYERS
QB Jameis Winston (23) At 6'4″/230lbs, the Bucs have FINALLY  found their franchise QB in the former Florida State Seminole. He the only QB in NFL history to start his career with back-to-back 4,000 yard seasons and he's the fastest and youngest QB in NFL history to 40 and 50 touchdowns. He also set an NFL record for consecutive games with a touchdown to start a career. If there is a knock against him, it's the interceptions. He's thrown 33 picks in his first two years but if he can get a handle on that, the sky is the limit. His rookie contract has him locked up until 2020 and he's set to make almost $7 million in 2017 and just over $8 million the year after. With the players already in place and some key additions, he could easily end up as a top 10 quarterback next season.
QB Mike Glennon (27) Let's face it, he's gone. The 6'6″/225lb backup made about $1.8 million last year and is set to be an unrestricted free agent. Rumor is that the Jets are already planning on making a major play for him and could be looking to spend upwards of $13-15 million to get him. Glennon has actually mentioned that he'd love to play in Arizona. The Bucs would obviously love to be able to keep him at his current role, but I don't see it happening. There's a microscopic chance that he prefers the "backup life"  in Tampa and I'm sure he'd get a decent pay increase should he stay…but I seriously doubt it. He's shown some promising potential in the limited starts he's had here and it should payoff for him this offseason when he hits the free agent lottery.
QB Ryan Griffin (27) He's been in Tampa for two seasons after starting his career in New Orleans. Coach Koetter has said that the 6'5″/210lb QB has the talent to be a solid NFL backup. So that poses the question, what should the Bucs do if/when they lose Glennon to free agency? As the 3rd string QB for both seasons, he's familiar with Koetter's system. He's an exclusive rights free agent which means the Bucs can retain his services at an inexpensive price tag. He only made $600k last season, so he could be getting a pay increase should he end up as the new backup to Winston. However, the benefits of having exclusive rights is that the player basically has to sign any contract extended by his current team. That would enable the Bucs to get off cheap and save some money, until next year at least. He is the most likely option for the Bucs after Glennon's departure.
It sounds as though Dirk Koetter would be satisfied to stick with Griffin as his potential backup. But just in case that's not the case, here's some free agent QB's that the Bucs could bring in to replace Glennon.
FREE AGENT QUARTERBACKS
QB Geno Smith (26) He's coming off of ACL surgery but is supposed to be ready for training camp. The former 2nd round pick
from the 2013 draft has had a disappointing career throwing 28 touchdowns to 36 interceptions in 33 games. He made $1.7 million last year in New York and I can't see him making much more than that as a backup anywhere else. The plus side is that he's still young and he has starting experience. The 6'3″/220lb Smith will most likely be in another uniform for 2017…could it be in Tampa?
QB E.J. Manuel (26) The former Florida State Seminole has had a seriously disappointing career since being drafted 18th overall in the 1st round of the 2013 draft. He just finished up his rookie contract that paid him about $2.8 million last year. It's safe to assume that the Bills have no interest in picking up his 5th year option so he'll hit the open market as an unrestricted free agent. At 6'4″/235lbs, he's played sparingly with 28 starts through his first 4 seasons while throwing for 3,502 yards, 19 touchdowns and 15 interceptions. Again he's still young and does have some starting experience so he could be an option.
QB Blaine Gabbert (27) The former #10 overall pick of the 2011 draft has had an up and down career, mostly as a backup. At 6'4″/235lbs, he's thrown for 7,351 yards, 38 touchdowns and 37 interceptions. He made $2.3 million in San Francisco last year so he could come as a cheap option for the Bucs backup, but not as cheap as sticking with Griffin. The upside once again, is that he's young with starting experience. That's one thing they can't say about Griffin.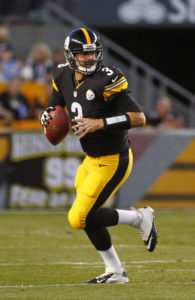 QB Landry Jones (27) The Steelers backup QB is an unrestricted free agent. At 6'4″/225lbs, he's had 15 games worth of experience in two seasons since being picked in the 4th round of the 2013 draft. It wouldn't surprise me to see him stay in Pittsburgh where he made $785k last year, but he could hit the open market. If he does and the Bucs are looking, he could be a potential free agent signing.
Yes, this group of 2017 free agent QB's is not real impressive and potentially too expensive. That is what leads me to believe that the Bucs will either stick with Ryan Griffin as their backup or draft a QB this year when Mike Glennon leaves. Griffin isn't the worst case scenario. And if Dirk Koetter believes he's worthy of the job, then that's good enough for this Bucs fan. Now let's talk about the current RB's on the roster…
CURRENT RUNNING BACKS
RB Doug Martin (28) It's still up in the air whether the Bucs will ride this situation out or move on from the 5'9″/225lb running back. His recent failed drug test basically nullifies his new contract he signed last year which means the Bucs could get out of his deal without it costing them anything. He's had two solid seasons out of five rushing for over 1,400 yards in both. It's disappointing for this Bucs fan. I've always liked him as a player and a person so it would be sad to see him go. Ths is a difficult position the Bucs are in with Martin. They could wait until he gets done with rehab to see where his heads at and what his mindset is going into next season, but they'll still be without him for the first 3 games of the season even if they do keep him around. So far, all signs from the Bucs are pointing in that direction.
RB Charles Sims (26) His rookie contract keeps him in Tampa until 2018 when he becomes an unrestricted free agent. He's only had one healthy, full, 16-game season out of three but it was an impressive one. He finished with 529 rushing yards and 561 receiving yards while leading the entire league in yards per touch in a somewhat limited role in the offense. If the Bucs can keep him on the field then he's a real asset to this offense. If he continues to have injury issues in 2017, then the Bucs could choose to move on from him after his rookie contract expires. He's set to make $950k next year.
RB Jacquizz Rodgers (27) He's an unrestricted free agent and the Bucs should seriously consider re-signing him. In 2016. the 5'6″/205lb scat back showed what he could do as a starter when he was thrust into that role in place of the injured Doug Martin.
In his 5 starts, he had games of 101, 154, 69, 63 and 75 yards rushing the ball averaging 4.3 yards per carry. At the very least, he's a more than capable backup. Even though that's been his primary role during his 6 year career with Atlanta, Chicago and now Tampa, I'm curious to see what he could possibly do as a team's feature back. He's still young and has played limited snaps over his career so his mileage is still low. He made $715k last season with the Buccaneers and both sides have expressed interest in extending his time in Tampa. I think he'll be back either in a reserve role or possibly even as the primary back for Koetter's offense.
RB Peyton Barber (22) Signed as an undrafted free agent in 2016, he played sparingly in 15 games rushing 55 times for 223 yards for a 4.1 yard average. At 5'11″/225lbs, he's under contract through 2018 when he'll become a restricted free agent. He will make $540k in 2017 as a Bucs reserve back. He showed flashes last year and has potential, but that won't stop the Bucs from signing another free agent or drafting another running back.
RB Russell Hansbrough (23) He was brought up from the Bucs practice squad for 2 games last season but saw no action. He is an exclusive rights free agent which means he'll be back with the Bucs if they extend him an offer. The Bucs seem to like the 5'9″/196lb RB so it seems probable that he'll be back on the practice squad for Tampa.
RB Antone Smith (31) He has yet to play a full 16-game season in 7 years. He's injury prone. He's an unrestricted free agent. He made $340k for rushing 10 times for 47 yards in 3 games. He won't be back in Tampa. Period. End of story.
RB Blake Sims (25) If you're thinking that name sounds familiar then you're right. Sims is the former quarterback at Alabama and went undrafted in 2015 and has since tried out for the Packers and the Redskins as a running back without being offered a contract. The Bucs recently signed him to a 2 year deal at about $500k per. The 6'0″/220lb former QB rushed for 705 yards in his four years in Alabama and ran a 4.57 40yd at the NFL Combine. We'll see how the experiment works out in training camp.
Well, that concludes the players currently on the Bucs roster. I know, question marks galore. Will Martin be back? Will Rodgers re-sign? Will the Bucs sign a free agent RB? Will they draft a RB? Nonetheless, should the Bucs decide to sign a free agent whether it's as a starter or for depth, here's a list of possible candidates for the job.
FREE AGENT RUNNING BACKS
RB Le'Veon Bell (24) Ok all you Madden fans, here's your "dream roster"  RB. He wants to stay in Pittsburgh and they'd be CRAZY not to do everything they can to re-sign him. He just finished his rookie contract where he made $1.2 million last year. With a market value of $10.5 million, he's in for a big payday. Should the Steelers place their 2017 franchise tag on him, it'll cost them north of $12 million for next season. The 6'1″/225lb all-purpose back had 1,268 yards rushing, 616 yards receiving and 9 combined touchdowns in just 12 games. As of right now, his 128 total yards per game average is #1 in NFL history. He's dynamic to say the least and I'd love to see him in Tampa…but it's not happening.
RB Eddie Lacy (26) The 5'11″/235lb back is set to be an unrestricted free agent. He suffered a serious ankle injury in 2016, but was averaging over 5 yards per carry in the 5 games he did play. He's never averaged less than 4 yards per carry for a season in his 4 years with the Packers. They could offer him a one year prove it deal to stay in Green Bay. Whether he hits the open market or not, he's in for a raise. After making $1 million last season, he has a market value of over $5 million. It'll be interesting to see what happens with him this offseason. Should he hit that open market, he could be on the Bucs radar.
RB Isaiah Crowell (24) If not for the "cop killer picture"  incident last year, he would definitely be one of my top free agent running
backs. Even though he's a restricted free agent, rumor is that he and the Browns have reached a stalemate in their negotiations so he could possibly hit the open market. He hasn't missed a game in 3 seasons while averaging over 4 yards per carry during his career. His numbers have improved each season and it is intriguing to possibly see what he could do as a team's feature back behind a decent o-line. He made $600k last season so he'll be up for a significant pay raise no matter where he signs.
RB Latavius Murray (27) At 6'3″/230lbs, he's an upright runner who's been fairly productive over his first 3 years since being drafted in the 6th round of the 2013 draft totaling 2,278 rushing yards, 639 receiving yards and 20 touchdowns while averaging over 4 yards per carry. He just finished up his rookie contract making $700k last year. He has a similar running style to Bucs current running back Charles Sims so it's not likely that he's on their radar, but you never know.
RB Brandon Bolden (27) The unrestricted free agent from the Super Bowl champs has been a pretty consistent dual threat backup for the Pats for 5 years. At 5'11″/220lbs, he not only serves as a change of pace back but also pulls special teams duties as well. He made almost $1.3 million last season so should he hit the open market, he could be in store for a slight pay raise with the right team. However, my bet is that he stays with the Pats.
RB Andre Ellington (28) The 5'9″/200lb RB is a dual threat in the running and passing game. Though his touches have been limited since David Johnson's arrival in Arizona, he's averaged 5 yards per carry over his four year career. He's also averaging over 9 yards per catch. He made $1.7 million last year, the final one of his rookie contract. Should the Cardinals let him hit the open market, there could be quite a bit of interest in him. Signing him could give the Bucs a 4-headed monster in the backfield along with Rodgers, Sims and Barber.
That wraps up the running back situation as it sits right now, but a lot could change over the next few months. It's a waiting game at this point. Waiting to see if the Bucs keep or release Martin. Waiting to see if Rodgers re-signs with the team. Waiting to see…
Now we can discuss the Bucs current tight ends…
CURRENT TIGHT ENDS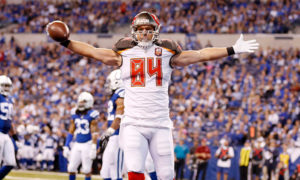 TE Cameron Brate (25) He finished 2016 as a top 12 TE after totaling 660 yards and 8 touchdowns last year. Luckily for the Bucs, he's an exclusive rights free agent which means he'll be back with them next season at a bargain price after making $600k last season. The 6'5″/235lb rising star averaged almost 14 yards per catch over his 3 years in Tampa. He had his breakout year in 2016 after forming a nice connection with franchise QB Jameis Winston. He should be the Bucs primary pass catching TE going into next season barring some surprising free agent signing.
TE Luke Stocker (28) At 6'5″/255lbs, he's a big boy. He's been primarily used as a blocking tight end during his 6 years in Tampa and he'll likely continue in that role as he's under contract through next season. He's set to make $1.7 million for the 2017 season.
TE Alan Cross (23) At 6'1″/235lbs, he might be the closest thing to a dual threat tight end that the Bucs have on the roster. He may not have put up the numbers but he's shown the ability although his primary role is a blocking back. He's under contract until 2019 when he'll become a restricted free agent and he's set to make $630k next season.
TE Brandon Myers (31) I have a feeling that he's played his last down in Tampa. The 6'3″/255lb veteran is an unrestricted free agent and it's hard to imagine the Bucs bringing him back after he made about $2 million last season. Despite playing in all 16 games last season, he only finished with 7 catches for 59 yards as the Bucs primary blocking tight end. He was already competing for the final tight end spot in training camp last year and I have a feeling the Bucs will move on with a younger, cheaper player either through free agency or the draft.
TE Tevin Westbrook (23) The former Florida Gator signed with the Bucs last year and spent almost the entire 2016 season on the practice squad. He's under contract for about $500k a year until 2019 when he becomes an exclusive rights free agent. At 6'5″/255lbs, he has good size and decent speed but he'll likely remain a member of the practice squad, unless the Bucs have injury issues at tight end.
TE Kivon Cartwright (24) The 6'4″/245lb former Colorado State Ram was signed to the Bucs practice squad last year and is still there. Like Westbrook, he's under contract for about $500k a year until 2019 when he also becomes a restricted free agent.
FREE AGENT TIGHT ENDS
TE Jack Doyle (26) The 6'6″/265lb Colt's tight end hasn't missed a game in his 4 seasons with Indianapolis. Like the Bucs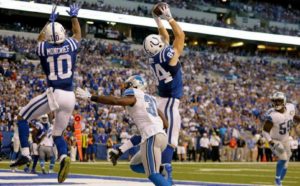 Cameron Brate, he had a breakout year in 2016 with 59 catches for 584 yards and 5 touchdowns. He's an unrestricted free agent and is expected to hit the open market. He made $1.7 million last season after signing a one year deal. He had a 79% catch percentage which was good enough for 9th in the league and 1st among tight ends. He's a legitimate dual threat tight end showing the ability to block and catch and finished the season as PFF's 15th ranked tight end in the NFL last year. He has expressed that he'd like to stay in Indy and the Colts seem to want him back. The question is, will they have the money to re-sign him? He could cost upwards of $5 million a year, but he's young and entering his prime. Imagine the formidable duo that he and Brate could form in Koetter's offense…could be exciting!
TE Gavin Escobar (26) The Cowboys aren't likely to re-sign the 6'6″/260lb unrestricted free agent. The former 2nd round pick from the 2013 draft hasn't produced eye-popping numbers in Dallas, but he's been durable only missing 2 games in 4 years. He made $1.3 million last year and could offer a cheaper alternative for the Bucs if Doyle isn't available. His game has been compared to Kellen Winslow Jr. due to his athletic ability as a receiver but lack of physicality as a blocker. With Stocker and Cross on the roster, he could fit in as the Bucs second pass-catching tight end.
TE Levine Toilol (25) He was the Falcon's 4th round pick of the 2013 draft and has been somewhat of a disappointment. At 6'8″/265lbs, he used his size to overwhelm college defenses in the redzone for Stanford. He hasn't had as much success in the NFL. Although he had his best season in 2016 averaging over 20 yards per catch, he's still the third string tight end for Atlanta. He has the potential to be a legitimate redzone weapon, but his lack of route running technique and sometimes awkwardness due to his frame have kept him from reaching it. He's at the end of his rookie contract where he made $1.75 million last year. His real value comes as a blocker where he's a monster. He could be an interesting addition to the Bucs offense. And BONUS, they'd be taking him away from a division rival.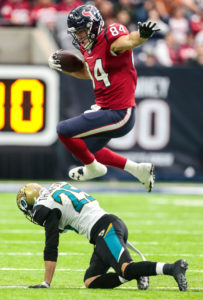 TE Ryan Griffin (27) He emerged as a legitimate pass-catching threat in 2016 when he amassed 50 catches for 442 yards for the Texans. At 6'6″/265lbs, he has great size and finished with the third-most receptions on the team despite only starting 5 games. He's now an unrestricted free agent that made about $700k last season with Houston. He could make for a nice compliment to Brate as they have similar playing styles and would create a tough matchup for defenses with their two tight end sets.
That pretty much sums up the free agent tight end market. I know, it's thin. Despite the quantity of good tight ends out there, the quality of a few is there. Any of these four would be significant additions to the Bucs offense, but they could decide to go another route. The draft is fairly deep at the tight end position, so it's a good possibility that they could use one of their seven picks on one. My upcoming article on the Buccaneers possible draft prospects will be coming up sometime after the NFL Combine which is from Feb. 28th through March 6th. Stay tuned for more and until then, as always…..GO BUCS!!!