The Tampa Bay Buccaneers have one of the best young linebacker duos in football with Lavonte David and Kwon Alexander. Unfortunately, there's not much to the LB corps behind them. They have no choice but to add some depth whether it's through free agency or the draft or even both. This article will focus on the linebackers currently on the Bucs roster and a list some free agents that I feel could come in and really contribute in Mike Smith's system. With that being said, let's get started…
WLB Lavonte David (27) It's hard to believe that he's already been in Tampa for 5 years. After being drafted #58 overall in the 2nd round of the 2012 draft, David hasn't disappointed totaling an astounding 663 tackles, 17 sacks, 10 interceptions, 12 forced fumbles and 33 passes defended in his first 5 seasons. In 2015, the Bucs signed him to a 5-yr/$50 million contract that keeps him in Tampa through the 2020 season. He did have a "down year"  in 2016 with the lowest tackle total (87) of his career, but he also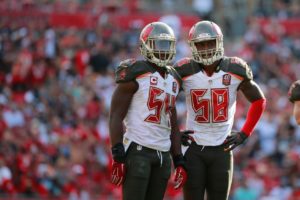 had 5 sacks and caused 5 turnovers. His "lack of production",  as some would call it, can be attributed to Mike Smith's new system. In Lovie Smith's "Tampa 2"  defense the WLB, or Will LB, is given more opportunities to make tackles around the line of scrimmage. In Mike Smith's system that's not necessarily the case. He typically has more coverage responsibilities and more blitzing assignments. So, fans shouldn't read too much into the numbers. He's still one of the best outside linebackers in the game today.
MLB Kwon Alexander (22) He was a STEAL as the 124th pick in the 4th round of the 2015 draft. In his first two seasons, he's totaled 239 tackles, 6 sacks, 3 interceptions, 3 forced fumbles and 17 passes defended. His rookie contract keeps him in a Bucs uniform through the 2018 season so he's still going to be making plays in Tampa for a while. The crazy thing is…he's only 22-years old! He's almost too young to be this good already. Stay tuned Bucs fans, the best is yet to come with this kid.
SLB Daryl Smith (34) The veteran has been durable over his long 13 year career playing in all 16 games in nine of those seasons. However, he had the least productive year of that career in 2016 when he finished with only 35 tackles and 1 interception. He made $2.5 million for his very limited play in 2016 as the SLB in Mike Smith's system. He's an unrestricted free agent now and it's hard for me to imagine the Bucs bringing him back for another season, especially at that price.
OLB Adarius Glanton (26) He's an unrestricted free agent this year. He made $600k last year playing sparingly totaling 14 tackles in 16 games. He also contributed with decent play on special teams. I can see the Bucs bringing him back since he's familiar with the system, but only for the right price.
LB Davante Bond (23) He was drafted to possibly be the eventual starter at the SAM LB position in Mike Smith's defense. The Bucs like his athleticism and his ability to rush the passer. Veteran Daryl Smith was brought in last year to possibly allow Bond to ease into that spot, but an early season ending injury ended that chance. His rookie contract has him locked up until 2020 and apparently, the Bucs are still interested in continuing his development since he's still around. Unless they make a surprising move in free agency or the draft, it looks like Bond could be the starter at SAM LB next season.
LB Cameron Lynch (23) He's an exclusive rights free agent which means he'll be back with the Bucs should they decide to bring him back. He was primarily a special teams player in 2016, so his future in Tampa is unclear. He could be brought back simply because of familiarity with the system, but if he is it will strictly be for LB depth since there is none.
As you can see there is literally no depth in the Bucs LB corps behind their pro bowl starters. It's safe to say they'll have to add players in both free agency and the draft. After some research, I've come up with a list of players that could come in and play well in Mike Smith's fast moving defense. So, here's who I came found…
FREE AGENT LINEBACKERS 
ILB Malcolm Smith (27) After four unimpressive seasons in Seattle, Smith has had a rebirth of his career in Oakland totaling
226 tackles and 4 sacks in two seasons. He's also pretty good at creating turnovers with 5 interceptions and 9 forced fumbles to go along with 16 passes defended over his 6 year career. I said his time with the Seahawks was "unimpressive", but that's not entirely accurate. He was actually named the MVP of Super Bowl 48 after recovering a fumble and returning an interception 69 yards for a touchdown. At 6'0″/225lbs, he played a reserve role in Seattle but it's understandable considering he was playing behind linebackers Bruce Irvin, K.J. Wright and Bobby Wagner. He ran a 4.44 coming out of college and he still plays fast. He made $3 million last year with the Raiders, so if the Bucs are interested it would cost them some money, especially for a backup inside linebacker. However, if they cut ties with Daryl Smith the money saved could help pay for this signing.
LB Paul Worrilow (26) He had some success as the Falcons starting middle and strongside linebacker playing in all but one game during his first three seasons and totaling 367 tackles and 4 interceptions. For some reason in 2016, he was put in a reserve LB role and primarily contributed on special teams recording only 21 tackles. He made $2.5 million last season and probably won't see that much on the free agent market. At 6'0″/230lbs, he could be an inexpensive option to add depth and versatility to the LB corps. And bonus, the Bucs would be taking a player away from a division rival.
ILB Sean Spence (26) He was a 3rd round draft pick in 2012, but a significant knee injury kept him from playing in the 2012 and 2013 seasons. Since then, the 5'11″/230lb LB has bounced back from his setback missing only two games from 2014-16 and racking up 144 tackles and 5 sacks in a reserve role with the Steelers and Titans. He could end up sticking with Dick LeBeau, the coach who originally drafted him in Pittsburgh, but should he hit the open market he could be a good addition to the Bucs LB corps and special teams unit at a relatively inexpensive price. He made about $2.5 million with Tennessee last season.
OLB Dont'a Hightower (26) At 6'3″/265lbs, the former 1st round pick of the 2012 draft has had a decent career in New England totaling 372 tackles, 17 sacks, 2 forced fumbles and 12 passes defended in his first five seasons. The downside is that he's also missed 13 games over that span. He would also cost a fortune with a market value of about $10 million. That would be a ton of money to spend for a starting SLB who plays limited snaps in Mike Smith's system.
OLB Courtney Upshaw (27) After 4 seasons with the Ravens where he never missed a game, he was signed by Atlanta to a one year deal for $1.4 million and played SLB for the Falcons. He's a run stuffer who's also recorded 7 career sacks. At 6'2″/270lbs, he could be a relatively inexpensive option as a starting SAM LB and reserve DE for Tampa plus there's the added bonus of stealing him from the Falcons.
ILB Kevin Minter (26) After two slow seasons in Arizona, he's put together two solid seasons as one of the starting inside LB's for the Cardinals totaling 175 tackles and 4 sacks. At 6'0″/245lbs, he's pretty strong against the run but lacks some ability in pass coverage. He only cost the Cards $1.4 million last year so he could be another cost effective option to add depth to the LB corps and special teams.
ILB Kiko Alonso (26) He's a restricted free agent which means he'll probably end up back in Miami. However should he hit the open market, he could make an interesting addition to the Bucs. He's been a tackling machine in his two healthy seasons. In 2014 with the Bills, he finished with 159 tackles, 2 sacks, 4 interceptions, 1 forced fumble, 2 fumble
recoveries and 5 passes defended in 16 games. He spent 2015 in Philadelphia where he only played in 11 games. Then last year in Miami, he recorded 115 tackles, 2 interceptions, 1 forced fumble, 4 fumble recoveries and 4 passes defended in 15 games playing through a thumb injury for most of the year. At 6'3″/240lbs, he could be an interesting prospect for the Bucs at SAM LB. And since he only cost the Dolphins $1 million last season, he could be relatively inexpensive should the Bucs make an offer that the Fins aren't willing to match.
ILB Jon Bostic (25) The former Florida Gator might enjoy coming back to play in the Sunshine State again after spending his first four seasons in Chicago, New England and Detroit…BURRR! At 6'1″/245lbs, he's been a solid reserve LB and a core special teamer everywhere he's gone. He did miss all of 2016 with a broken foot and he's had injury issues in two of his other three seasons as well. At less than $1 million, the 2nd round pick in the 2013 draft could add depth and help on special teams for a decent price.
ILB Gerald Hodges (26) At 6'2″/235lbs, he's been productive when on the field totaling 218 tackles over his last 3 seasons in Minnesota and San Francisco. He made $1.7 million with the 49ers last year, so he may be just a tad too expensive for a backup linebacker. However, for the right price, he could add some much-needed depth to a severely shallow LB group.
OLB Jelani Jenkins (24) At 6'0″/240lbs, he's has shown flashes of productivity throughout his short four-year career in
Miami. In 2014, his second year in the league, he had 110 tackles and 3.5 sacks in 15 games. Since then, he's only recorded 100 tackles and no sacks in 22 of 32 possible games. He's coming off of a knee injury and could be costly since he made close to $1.8 million last season. The former Gator is certainly an option should he hit the open market.
As you can clearly see, the Bucs are in desperate need of linebacker help. The good news is that there are plenty of decent options out there in free agency. The Bucs really do NEED to do something about their depth. They could add through the draft, but it would shock me if they don't sign at least one free-agent linebacker. They have plenty to choose from and plenty of money to spend so why wouldn't they do a little shopping?
That's it for the linebacker group. Stay tuned for my next article where I'll break down the Bucs group of cornerbacks and list some possible free agents that could be in Tampa next year. Until then…..GO BUCS!!!