The safety position for the Tampa Bay Buccaneers might be the most criticized of any position on the team, especially by most of the fans. However, there's still a small percentage of the Bucs fan base that understands there's more to the "poor performance"  of the Bucs safeties than meets the eye. Whether it's a lack of pressure from the d-line or simply miscommunication in the secondary about assignments, it doesn't matter to most Bucs fans who only see Chris Conte getting beat over the top for a touchdown. NFL safeties catch a bad wrap sometimes. As the "last line of defense" of the defense, they can often be the hero or the scapegoat. As we all saw last year, when the d-line plays better it makes the rest of the defenses jobs much easier. Ok, soapbox rant is over. Let's move on to the 3 players currently on the Bucs roster, shall we…
CURRENT SAFETIES
FS Chris Conte (28) A year ago, Conte was PFF's #27 ranked safety out of 88 players in pass coverage. He may not have had as good a year in 2016, but he was still solid in run support and teammates say he's one of the most athletic guys on the team. He's had 149 tackles, 4 interceptions and 2 forced fumbles in his two seasons in Tampa. From what Bucs GM Jason Licht has said recently, he would like to re-sign the 6'2″/205lb veteran "if it's right for both sides".  Translation…the unrestricted free agent could be back in Tampa if the price is right, which I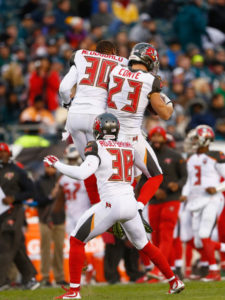 would assume would be less than the $3 million he made last season. I say less because IF he is brought back, it could be in a backup safety role.
FS Bradley McDougald (26) He had the best year of his career in 2016 totaling 91 tackles and 2 interceptions. He's a solid all-around safety that's only allowed 3 touchdowns in his 4 year career and has a catches allowed percentage that's dropped every year. He's actually ranked in PFF's top 10 "under the radar" free agents for 2017, which could mean other teams may be interested in the unrestricted free agent. Hopefully, the Bucs are able to retain his services for a few more years. He made about $2.5 million last season so he could be getting a pay raise no matter where he plays next year.
FS Keith Tandy (27) He's been in Tampa for five seasons but had his best one last year after totaling 58 tackles, 4 interceptions and 9 passes defended. He's still under contract through the 2017 season so that's not an issue. The question is, will he continue to be the starting safety next year? There's still plenty of uncertainty with Conte's and McDougald's contracts and the Bucs could, or maybe should sign a safety in free agency. He did fill in nicely when Conte was out with his chest injury, and even after, for the last 5 or so weeks of the season when he had 45 tackles and 4 picks. He'll be in the fold fighting for a starting spot once again in training camp.
FREE AGENT SAFETIES
FS Eric Berry (28) He's at the top of anyone and everyone's free agent list, including the Chiefs and almost every Bucs fan. He's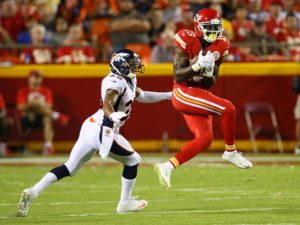 THE priority for KC this offseason so I seriously doubt if he hits the open market. Kansas City is willing to let DT Dontari Poe walk in free agency just to be able to afford to keep Berry, so it must be pretty important to them. He's had 138 tackles, 4 interceptions and 9 passes defended in the last two years since his 2014 battle with cancer. He's stated that he WILL NOT play under another franchise tag, so for the Chiefs to keep him they'll need to break out the big boy checkbook. He has a market value of close to $10 million but his new contract will be more than that considering his 2016 salary was almost $11 million. I wouldn't be mad if the Bucs were able to sign him, but I'd rather see them spend that kind of money on the d-line rather than the back end of the defense.
SS Tony Jefferson (25) He's about to get paid. After earning a mere $1.7 million in 2016, he has a free agent market value of over $6 million a year. He's only missed one game in 4 seasons with Arizona so he's shown durability. He is a tackling machine from the safety position totaling 251 tackles over the last 3 seasons. He's also had 5 sacks, 2 interceptions and 6 forced fumbles in that time frame.
SS John Cyprien (26) Speaking of "tackling machine safeties",  Cyprien has been precisely that for the Jaguars. In his four years in Jacksonville, he's only missed 4 games while amassing an insane 452 tackles, 2 sacks, 2 interceptions and 4 forced fumbles. He's the textbook definition of a "box safety"  so that may limit his marketability with some teams. None the less, he'll test the free agent market to see who's willing to pay him much more than the $1.8 million he made last year.
DB Micah Hyde (26) He began the 2016 season at strong safety for the Packers but eventually moved up to play the nickel/slot corner position. He may be slightly undersized to play strong safety at 6'0″/197lbs, but it does show his versatility. As a defensive back in Green Bay, he's totaled 228 tackles, 4 sacks, 8 interceptions, 1 forced fumble and 24 passes defended over his short 4 year career. Plus he's durable only missing one game in four seasons. It'll be interesting to see what the Packers do this offseason. They have a number of key free agents to re-sign including RT Don Barclay, TE Jared Cook, RB Eddie Lacy, RB Christine Michael, OLB Julius Peppers and DE Nick Perry so Hyde could very well slip into the open market. If he does, I'd love to see Tampa sign him. He only made $1.7 million last season so he'll be getting a nice pay raise whether he stays in Green Bay or goes elsewhere. Either way, he could be an inexpensive but productive addition to the Bucs secondary.
FS J.J. Wilcox (25) He was the Cowboys 3rd round selection out of Georgia Southern in the 2013 draft and he hasn't disappointed. At 6'0″/212lbs, he's totaled 215 tackles, 5 interceptions, 3 forced fumbles and 15 passes defended in his 4 seasons with Dallas. He's only missed 6 games in those four seasons so he's durable and he's relatively inexpensive. He played for $1.8 million last season so he could be a cost-effective addition to the Bucs DB group.
DB Michael Thomas (26) Another affordable option that could add depth to the Bucs secondary, the 5'11″/195 lb free safety/nickel back is not only a versatile defensive back but a pro bowl special teamer. In his last two seasons with the Dolphins, he's played in all 32 games totaling 143 tackles, 1 sack, 2 forced fumbles and 3 passes defended. He could come cheap as he only made about $675k last season. Not only would he add depth in the secondary, but he would give a significant boost to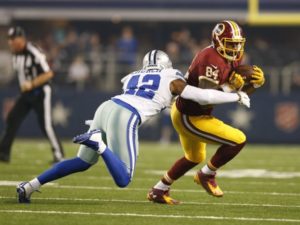 special teams kick coverage.
SS Barry Church (28) The Cowboys will most likely make him an offseason priority. Should he hit the open market, he could cash in. He made $4.75 million last season in Dallas where he's been for 7 seasons. He's only missed 5 games in the last four years (including 4 games last season) but he's still managed to amass 434 tackles, 5 interceptions, 6 forced fumbles and 16 passes defended. Should the Cowboys tackling machine make it to free agency, he'll command a price closer to the $6 million mark.
The Bucs safety position isn't as "bleak"  as some fans have made it out to be, but it could be improved. Any of the players that I mentioned could help that improvement out, it's just a matter of how much the Bucs are willing to spend for that improvement. With only three safeties on the active roster and two of them hitting free agency, there's a lot that can happen over the next couple of months. We'll have to wait and see how it plays out in March. Stay tuned for my next installment when I break down the Bucs current linebacking corps and list some players that could come in and flourish in Mike Smith's system.
Until then…..GO BUCS!!!