The cornerback group of the 2017 Tampa Bay Buccaneers could be the deepest position on the team. Their mix of youth and experience makes for good balance. However as good as the group COULD be, there's always room for improvement. I wouldn't classify corner as a "need" for this team, but it could be depending on some of the moves the team makes during this offseason. This article will focus on the corners currently on the Bucs roster and some possible free agents that they could bring in to fill potential holes. So without further adieu, let's get started.
CURRENT CORNERBACKS
CB Brent Grimes (33) The oldest of the group is still one of the best in the game. In his 10th season, he had one of the best
overall seasons of his career posting 57 tackles, 4 interceptions and a league-leading 24 passes defended for the Bucs. With 30 career picks and 123 passes defended, he's built up a pretty strong resume' for an "undersized" corner at 5'10″/185lbs. He's under contract through next season at a 2017 price tag of $6.5 million. Still not a bad price for a #1 corner, especially one that's only missed one game in the last four seasons.
CB Alterraun Verner (28) He may be the biggest question mark in the Bucs secondary right now. Verner is set to make $6.5 million in 2017 after totaling 16 tackles and 1 interception in 16 games last year. His CB play was limited for most of the year and he was mostly on the field for special teams kick coverage. During his 7 year career, he's shown the ability to be productive when given the playing time however, the 2016 season was by far his worst statistically. Quite disappointing for a corner with 434 career tackles and 15 career interceptions. He's also been very durable missing only 2 games in his 7 seasons. The Bucs will have a decision to make whether they want to pay the 5'10″/190lb reserve corner/special teamer that much or release him which would free up that $6.5 million in cap space. ***UPDATE*** As suspected, Verner was released by the Buccaneers.
CB Vernon Hargreaves (21) The Bucs 11th pick of the 1st round in the 2016 draft lived up to his billing as the top corner coming out of college. He's locked up through the 2020 season so he'll be a playmaker in Tampa for years. At 5'10″/205lbs, he finished his rookie year with 76 tackles, 1 interception and 9 passes defended. He's earned the starting CB spot opposite Grimes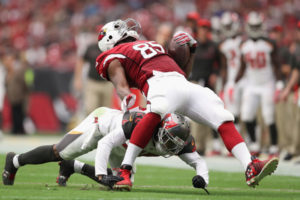 for the foreseeable future.
CB Jude Adjei-Barimah (24) At 5'11″/200lbs, he worked his way to be the starting slot/nickel corner for the Bucs last season until he was suspended for 4 games for a PED violation. He's an exclusive rights free agent who earned $400k last year which means he should be back with the team battling for that nickelback position again.
CB Javien Elliott (23) He was brought up from the Bucs practice squad to replace Adjei-Barimah at nickel during his suspension late last season, and he didn't disappoint. Coach Koetter called the 5'11″/175lb undrafted free agent a "pesky playmaker"  because he picks off their quarterbacks three times a day in practice. He's set to make $540k next year and under contract until 2018 when he becomes an exclusive rights free agent, so he could be the Bucs starting nickelback for years to come.
CB Josh Robinson (26) This guy right here should be near the top of the Bucs offseason priority list. He's set to be an unrestricted free agent so it's a possibility that the Bucs could lose him. In his first 3 seasons with the Vikings, he compiled 147 tackles, 5 interceptions and 15 passes defended. He was signed as a free agent in 2016 to a one-year deal at $2 million, so it may take a tad more to keep him in Tampa. Even if it does, it will be worth it. At 5'10″/200lbs, he's a decent reserve CB but he's a monster on special teams. Hopefully, they can lure him back with the possibility of getting to a Super Bowl soon.
DB Ryan Smith (23) The Bucs drafted him in the 4th round of the 2016 draft to play safety despite playing his final two years of college as a cornerback. At 6'0″/190lbs, he saw most of his action as a special teamer, but was moved from safety to corner towards the end of the season. His rookie contract locks him up until 2020 when he becomes an unrestricted free agent. He's set to make close to $700k for the 2017 season.
That wraps up the Bucs current cornerback situation. As you can see they're in pretty good shape as it stands right now, but depending on what they do with Verner and Robinson they could be shopping free agency for a new corner. Should that happen, I've come up with a list of a few corners that I wouldn't mind seeing in red and pewter next year. So, let's take a look at them…
FREE AGENT CORNERS
CB Trumaine Johnson (27) This is a very expensive longshot. The Rams could use their 2017 franchise tag on him which would cost them almost $17 million this year. After finishing with 71 tackles, 7 interceptions and 17 passes defended in 2015, he was tagged and signed to a $14 million one-year deal last season. However in 2016, he wasn't quite as productive statistically totaling 58 tackles, 1 interception and 12 passes defended. That could be slightly misleading because teams probably didn't throw his way quite as much last year. Nonetheless, he's going to cost a pretty penny despite only having a market value of about $12.5 million according to www.spotrac.com. The 6'2″/210lb corner has 16 career picks in just 5 seasons so he might be worth the money since he's one of the top corners in the league. However, he could very well hit the open market should the Rams decide that he's not worth the money. The question is, do the Bucs think he's worth it? It's highly doubtful considering they have Grimes under contract for another year at a mere $6.5 million and Hargreaves on the other side playing under a rookie contract. Like I said it's a longshot, but realistically I don't see this happening at all.
CB Stephon Gilmore (26) This is another possibility, but not a probability. The Bills could very well place their 2017 franchise tag on the 6'1″/190lb corner which would keep him from hitting the free-agent market. He made $11 million in 2016 and didn't disappoint producing one of his best seasons so far. He finished the year with 48 tackles, 5 interceptions and 12 passes defended. He's got good size and speed to go along with his 14 career picks, but his durability comes into question missing 12 games in his 5 seasons.
CB Dre Kirkpatrick (27) The Bengals have some cap space, but they also have a number of important free agents to re-sign this offseason. The 6'2″/185lb corner being one of them. Despite his skinny frame, he's been pretty durable over the last 4 seasons only missing 3 games while totaling 169 tackles, 9 interceptions and 40 passes defended. His length and speed combined with some really good ball skills have convinced some to consider him a top 10 corner. He made $7.5 million last season but I would assume he'll make quite a bit more should he hit the free agent market. Yes, he's another possibility and not a probability, but I still wanted to list him because stranger things have happened.
CB A.J. Bouye (25) This kid is about to hit the jackpot in free agency. After a really solid season where he made $1.7 million and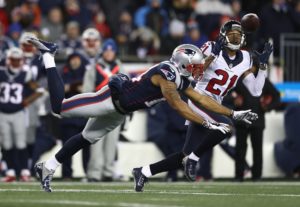 finished with 63 tackles, 1 interception and 16 passes defended, some experts expect the impending free agent to command "Janoris Jenkins"  kind of money. In case you don't recall, Jenkins signed with the Giants as a free agent in 2016 for $12.5 million a year and almost $30 million guaranteed making him the league's 7th highest paid corner. Bouye is even younger and will be one of the more sought-after players in free agency.
CB Logan Ryan (26) The 5'11″/196lb slot corner could be headed for the open market. Rumors are that he could be favoring the Lions if he does due to ties with their General Manager and because Detroit needs a nickelback. He played for $1.8 million last year and had his best season so far with 92 tackles, 2 interceptions and 11 passes defended. He hasn't missed a game in 4 seasons and has 13 career interceptions. He'll get a nice pay raise no matter where he goes should the Patriots decide not to bring him back. He could make a nice addition to the Bucs cornerback group and give them a proven starting slot corner instead of going back and
forth between Elliott and Adjei-Barimah.
CB Malcolm Butler (26) He's a restricted free agent which means the Pats have the option to match any offer from another team. They could slap a 1st round tender on the 5'11″/190lb corner in order to keep him, but that doesn't guarantee him staying. It's highly doubtful that the Bucs will break out the checkbook to sign him. PFF had him rated the #2 corner out of a possible 120 in the league last year so he'll be in high demand and highly paid. He could end up hitting the free agency equivalent of the powerball lottery seeing as how he only made $600k last season and he now has a market value of over $13 million.
CB Marcus Cooper (27) The 6'2″/195lb cornerback will hit the open market as an unrestricted free agent. The Cardinals have a bunch of higher priority free agents to worry about and not much cap space. He only made $675k last season on his one-year deal in Arizona but he had his best season yet finishing with 69 tackles, 4 interceptions and 11 passes defended. He could be an inexpensive addition to the Bucs secondary should they pull the trigger on a free agent corner.
That wraps it up for the cornerbacks. Like I said, CB is not necessarily a need for the Buccaneers this year. The market is full of good high priced free agents that the Bucs probably won't be willing to pay since they have a good set of starting corners that aren't costing them much money right now. There are plenty of other positions that they need to spend money on instead like the d-line and linebacker corps. However, it is a possibility so I felt like I should do some research for our readers.
My next installment will be a combination of the skill positions so I'll hit on the current situations regarding the quarterbacks, running backs and tight ends on the roster right now and some possible free agent options that could help fill the holes. Stay tuned for it, but until then as always…..GO BUCS!!!