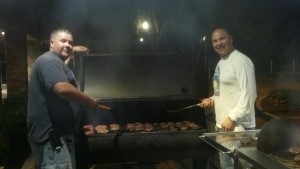 While nobody can truly replace our own Chef Red (Matt Worley), life often takes people many different directions. Work and some great opportunities forced our beloved Chef Red into retirement after last season and w knew he left some pretty big shoes to fill! We evaluated a number of alternatives from catering companies to competition teams but nothing felt particularly right for our unique tailgate.
As fate would have it, we ran into a young man that is clearly a kindred spirit. After mutiple conversations, an exhaustive background check, some blood work and a heated game of tiddly winks, we have made the call to welcome Pat "I do not have a cool Bucs themed name yet" Donahue to our Krewe as our new Tailgate Chef!
From Pat:
Pat Donahue: Born January 1978 (Dammit! IS everyone younger than me now!?)

Born in Michigan but born a bucs fan, I was wearing bucs clothes before I could walk! My older brothers referred to me as "Gator" as a young child because I crawled around in Bucs appareal and chewed on everything. I moved here as an adult in 1999 and have been here ever since. On top of being passionate about Bucs football, I'm passionate about cooking (and eating) good food!

I look forward to meeting everyone and cooking for you guys!
Oh yea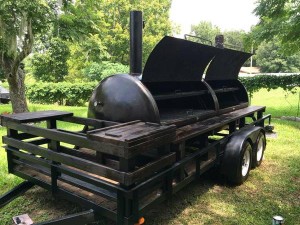 , one other thing. When Pat and I were talking we consulting with Chef Red on quantities, approaches and the logistics of being the Tailgate Chef for the only Hall of Fame Tailgate in Tampa. During these discussions Pat learned about Grillaneer. After seeing the majesty of this rig, Pat put his money where his mouth was people.
Grillaneer will be BACK! Pat purchased Grillaneer from Matt and will be cooing on it Sunday and throughout the season. He is going over to work with Matt to learn the idiosyncrasies of the smoker but our familiar pull behind beast will be back where she belongs. I am sure she will miss the loving spatula of Chef Red but we have every faith that Pat will make her his quickly!