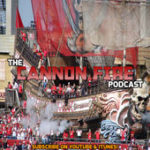 With a game on Thursday this week and our writer, Evan, working on a new podcast, it seemed logical to join the new Pod and talk Bucs with Evan and his Co-Host, Rhett. We had a great time talking about some of the WTB history as well as some good conversation about the state of the team, the Browns loss and the upcoming game with the Dolphins. Some brief talk about the roster was in order and a nice review of the Preseason Pillage at RayJay. The guys do good work in their Cannon Fire Podcast and are always looking for feedback.
Give the guys a follow on Twitter @CannonFirePod. They are doing good work. Also, drop them a note with feedback on the new Pod when you get a chance.
I'd like to thank them for having me on the show and for re-broadcasting it here on our channel. If you want to subscribe to them directly (on iTunes) click here.
Contact info for Rhett and Evan:
Evan Wanish
Twitter @Evan_WTB
Instagram @Ewan_920
Rhett Mathew Fail Jr
Twitter @Rhettakus
Instagram @Rhettakus
Podcast: Play in new window | Download | Embed