Big show this week folks. We had Steve White (@sgw94) call in to discuss the big improvement needed to continue the forward progress of the defense (Hint, his name is Dane Fletcher) and we also had Mark Cook (@MarkCook1970 or @PewterReport) on the line talking about the offensive line. To add to that we had a few chalkboard sessions that you will find TOTALLY useless in audio only so I will attach the image used and remind you that if you want to see the video segment I was bitching about toward the end of the show, subscribe to NFL Game Rewind, watch the Coaches film with 6:19 left in the first quarter. The behind QB view will make this obvious.
Skull from Steelers: Koenen (REALLY?)
Sword from Steelers: Glennon (Yes, really)
Predictive MVPs for the Saints Game:
Mark Cook
Offensive: ASJ
Defensive: McCoy
OldSchool
Offensive: Murphy
Defensive: David (I see Picks)
Mark sees a Bucs loss, 34-21 whereas I see another win, 24-21 and some momentum building!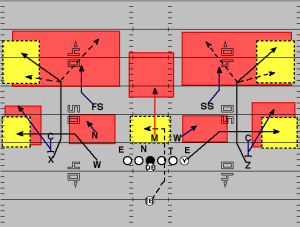 This image is from Matt Bowen's excellent work at http://www.nationalfootballpost.com/Inside-the-playbook-the-Tampa-2.html and http://www.nationalfootballpost.com/Inside-the-playbook-defeating-the-Tampa-2.html. If you are not following Matt on Twitter, do that now.
Podcast: Play in new window | Download | Embed