Recently, I've been guilty of writing some not so nice articles about the crowds at Raymond James Stadium and Buccaneers fans in general. While I still feel as though we have a pretty weak fan base in general here in Tampa, I must give credit where credit is due to the fans that rocked RayJay on Sunday. I haven't heard or felt an energy like that in that stadium in a very long time. IT WAS AWESOME!  If you weren't there, then you missed out on something special. It wasn't something you could've felt or seen through the TV, you had to experience it first hand. It was an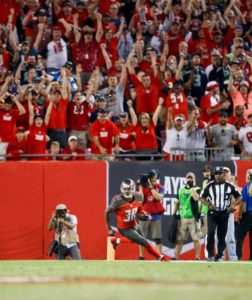 excitement about Bucs football that has long been missing from this city. There was a buzz in the crowd. It was louder than it's been in years. It was a reminder of a time long, long ago (or seemingly anyway) when Mike Alstott was running over linebackers at the goal line and Derrick Brooks was returning picks for touchdowns. It was…exhilarating.
After back to back wins against the Bears and the Chiefs, there was a renewed sense of hope and pride for this team that has been missing in previous years. Pride that this team is finally headed in the right direction and hope that their winning ways will continue towards the playoffs. There hasn't been "playoff talk" in Tampa Bay since 2010 and they haven't made an appearance in the tournament since the 2007 season. It's no wonder there's so much anticipation building for this team. Even after two convincing wins in a row, some were still waiting on this Seattle game to be the "true test" of where this team is right now…and I believe they answered that question.
The crowd in the stadium Sunday night was deafening on third downs. They were jumping up and screaming for every sack and each turnover. They were chanting <——–TAMPA ———>BAY. They were yelling "First down Tampa Bay!". They stayed until the end of the game and even a little bit after. People were high fiving walking through the tunnels towards the exits. That crowd on Sunday was the crowd that needs to show up for every single home game at Raymond James Stadium.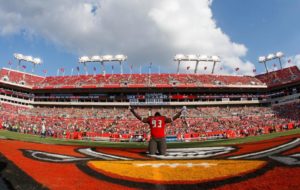 Adding to the crowd's energy was the brotherhood shown by the Buccaneers players as they rallied around one of their own, Alterraun Verner, after the unexpected passing of his father on Friday. Verner played inspired. The whole team played inspired. And it inspired that crowd to be the most frenzied fans that stadium has seen or heard in a very long time.
If the Bucs continue to win, then I fully expect this crowd to continue the outstanding job that they did on Sunday night. This team is coming together. The defense is clicking. Our young franchise QB is playing well and being a true leader. They're getting healthier every week (they may even get Charles Sims back in the next couple of weeks). The schedule that looked so daunting a few weeks ago has suddenly become much less intimidating. Mike Evans is unstoppable. Everyone in all three phases are contributing towards true team wins. Tampa Bay fans should be excited!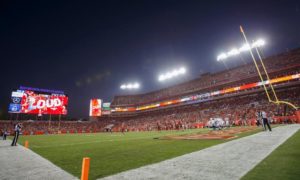 The coaches and players noticed how hyped the crowd was and showed their appreciation by beating (quite handily I might add) what most "experts" were calling "the best team in the NFL right now". There's only two home games left this season and they're both against division rivals. The next one is in two weeks against New Orleans and the other is the final game of the regular season against the Carolina Panthers. Both could have playoff implications. The Bucs have 5 games left and the crowd at Raymond James can help them win two of them. Buccaneers football is back and getting better every week. So, keep up the good work, Tampa Bay and let's keep RayJay rockin' for the rest of the season! And as always…..GO BUCS!!!