Well Bucs fans, the 2016 season is over. Sad I know, but true. However, we are entering the 2017 season on a positive note and with optimism after the Bucs first winning season in 6 years. The team is headed in the right direction and this offseason could be the key to them continuing the upward rise or starting the meteoric fall back to mediocrity and losing. The Bucs have an outstanding young, talented nucleus, both on offense and defense, and have a chance to add to it with over $80 million in salary cap space and a top 20 pick in this year's upcoming draft. This is the first part of my three-part offseason series. The second part will consist of team needs and possible free agency targets from around the league. The third part will be a draft preview focusing on the roster roles not filled by free agency, the best draft prospects to fill those roles and a possible mock draft. In this first part I will focus on all of the free agents on the Bucs roster right now and who they could or should re-sign out of those players.
For those unfamiliar with the whole free agent process, here's a quick tutorial. There are a few different types: restricted, unrestricted and exclusive rights. Unrestricted free agents are free to sign with any team that offers them a contract. Restricted free agents can test the waters of free agency, but their current team has the ability of matching any offers made to retain the rights to that player.  Exclusive rights free agents aren't really free at all. If their current team opts to re-sign them, then they must do so. The only way they can sign with another team is if their current team decides not to extend a contract offer. Now that we have that out of the way, let's get started with the unrestricted free agents.
The first player up is one of my favorite players and one of the nicest guys you will ever meet. Vincent Jackson (33), if he doesn't retire, will be entering his 13th season in the NFL. In each of his first 3 seasons with the Bucs, he played in all 16 games and had over 1,000 yards. However, in the last two seasons combined he's played in just 15 games and has 48 catches for 716 yards and 3 touchdowns. Disappointing for a player making just over $11 million a year. As much as I'd love to see him finish his career in Tampa, I just don't see it happening unless he's willing to take a serious pay cut.
Next up is right tackle Gosder Cherilus. The 32-year old offensive lineman with bad knees has played adequately over the past two seasons but he's played his last game in a Bucs uniform. His contract was paying him about $3.5 million a year and with the way both Caleb Benenoch (22) and Kevin Pamphile (26) have played this season, I just don't see them bringing the veteran back for another season.
Safety Chris Conte (27) has been the target of criticism from Bucs fans all season. I personally don't see the reason. Conte is strong in run support and was beginning to play well in coverage in Mike Smith's new system. In his two seasons with the Bucs, he compiled 148 tackles, 11 passes defended and 4 interceptions in 28 games. His coaches and fellow players claim he's the most athletic guy on the team but his $3 million a year contract may prove to be too rich for the Bucs. The emergence of Keith Tandy (27) and the improvement by Bradley McDougald (26)over the season could mean that IF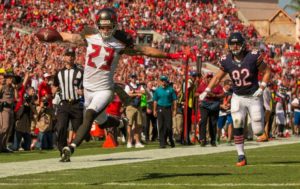 Conte returns it could be at a backup role. I would say for him to be a Buccaneer next year, he'll need to sign for about half of his 2016 pay.
Speaking of Bradley McDougald (26), he also enters the 2017 season as a free agent. In my opinion, he played well enough at free safety to earn a new contract as long as it's around the same $2.6 million a year. In his two seasons with the Bucs, he had 178 tackles, 14 passes defended and 4 interceptions playing in all 32 games. I'm not sure that he did enough to warrant a big free agent contract from another team, but he certainly played well enough to keep his starting job here in Tampa and maybe receive a slight pay raise.
Special teams were fun to watch this season. One major reason why was the stellar play of special teamer/cornerback Josh Robinson (25). He also becomes a free agent now as the Bucs only signed him to a one-year deal last offseason. I would think that he is one of the players the Bucs are considering a priority this offseason. Hopefully, they can get a deal done, but I'm sure it will be for a little more than the $2 million he made this year.
Another special teams star set to hit the open market is wide receiver Russell Shepard (26). His kick coverage ability combined with his return skills and his play at wide receiver this season should've earned him a new contract. If the Bucs are able to bring him back, it could be for more than the $1.7 million a year he was making.
The Bucs offensive line had it's share of injuries this season and starting center Joe Hawley (28) was one of the victims. Though he actually only missed one game this year, Hawley seemed to be laying down on the field in almost every game. I never heard if he was fighting any type of nagging injury all year, but it was an issue. At $1.7 million a year, I think he was a bargain. He's an intelligent player and a bulldozer when he's on his feet. It's just a matter of him staying on his feet instead of laying on the turf thriving in pain a couple of times a game. The o-line is a bit of a question mark right now. Will J.R. Sweezy ever play for the Bucs at left guard? If so, where does that leave Kevin Pamphile? Will Donovan Smith stay at left tackle or will they try to draft one? Will Ali Marpet stay at right guard or move to center? Will Caleb Benenoch move into the starting lineup somewhere? At this point, it's all a mystery and too much to speculate.
I think we all hope that running back Jacquizz Rodgers (26) returns to the Bucs after filling in nicely for the injured Doug Martin. There's plenty of questions surrounding that position too. Will Doug Martin be back? Will the Bucs try to go after a running back early in the draft? Can Rodgers be the feature back on an NFL football team for a full season? All of these questions will be answered soon enough. However, if the Bucs do want to bring him back and he's willing to come back, I'm sure it will be for more than his $760,000 price tag from this year.
The defensive line has a number of players becoming free agents in 2017, including two key ones. Defensive tackle Akeem Spence (25) has proven to be a solid player in the middle and will command a higher salary than his $660,000 contract. However, as a rotation guy I don't expect him to break the bank. At least not with the Bucs. He could very well end up in another uniform next season. It would be a loss, but I expect them to draft a defensive tackle this year anyway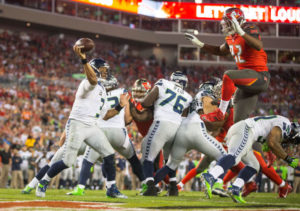 so it could end up being a wash. Will Gholston (25) could be their highest priority free agent on the team. He's been a solid run defender at the defensive end position and it will be crucial that they re-sign him. He could be a player that other teams are extremely interested in so the Bucs may be in for a bidding war if they are determined to bring him back. He was a steal at his old $640,000 salary, but it will cost them a lot more to keep him in Tampa. Hopefully, the Bucs can avoid another regrettable Michael Bennett situation.
There are other players who are set to be free agents such as linebacker Daryl Smith (34) and tight end Brandon Myers (31). At their ages, I just can't see the Bucs bringing either of them back at anything near their 2016 salaries. Smith made $2.5 million and Myers made $2.1 million so if either of them want to stay in Tampa, it will be for less money. Wide receiver Cecil Shorts (29) played decent in his limited action but a season and quite possibly career ending knee injury will probably be enough for the Bucs to move on from the journeyman wideout even though he only cost them about $1 million. Defensive tackle Sealver Siliga played well this season and could have earned himself another season. At $760,000, he'd be worth another one-year deal if he doesn't go elsewhere. Defensive lineman John Hughes (28) is also a free agent but I'm not sure that he did enough to earn another contract offer. The Bucs may choose to go a younger route rather than to re-sign him, especially since they would probably have to pay him more than the $760,000 he made this year.
Last, but certainly not least, we come to backup quarterback Mike Glennon. The 27-year-old will most likely be courted by multiple teams for a starting QB role this offseason. Unless he really enjoys the life of a career backup here in Tampa, he's gone. Stranger things have happened. If the young man decides to stay in Tampa, it'll have to be for much more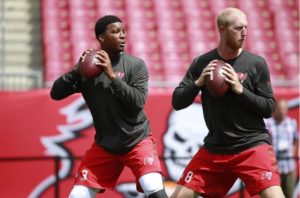 than the $775,000 a year rookie contract that he's been playing under. The question then will be if the Bucs think their backup QB is worth a multi-million dollar contract. It's been rumored that Glennon could be in for a huge payday thanks to the Texans "brilliant" contract offer to Brock Osweiler last season, although that turned out to be a big mistake. I for one like Mike and hope that he doesn't find the grass greener anywhere else.
That's the complete list of unrestricted free agents on the Buccaneers roster. Now we'll hit the restricted free agents.  Remember, these players are free to shop other teams, but if the Bucs match any offer made, then the player remains with the team.
First off, there's defensive end Jacquies Smith. The 26-year-old was on I.R. for the whole season, but he was set to be a valuable part of that d-line rotation. I see the Bucs bringing him back for another year unless another team offers him an insane contract. He's going to get a more than the $600,000 he was making, but I don't see it being so much more that it makes the Bucs not interested.
Another player that the Bucs seem to like and will most likely bring back is long snapper Andrew DePaola (29). He's only making $600,000 and he may also get a slight pay bump, but he will probably remain a Buccaneers special teamer. Backup linebacker Adarius Glanton (26) and third-string quarterback Ryan Griffin (27) were both making about $550,000 per year. I'm sure both will be back in pewter and red next year. Although Griffin could be getting a significant pay increase if Mike Glennon jumps ship which by default would make him the new backup QB. That is IF the Bucs choose to do so.
The list of exclusive rights free agents is an impressive one and I see the Bucs retaining the rights to most, if not all of these players. Tight end Cameron Brate (25) leads the list off and after making a mere $555,000 this season, he could be in for a nice pay raise as the team's #1 pass catching tight end. Another valuable member of the receiving corps is on the list as well. Wide receiver Adam Humphries (23) has proven himself to be THE  slot guy for this team and his $480,000 price tag is too good of a deal to give up. Wideouts Freddie Martino (25) and Donteea Dye (23) are both free agents. At $525,000, Martino may have earned himself another contract offer, but I'm not so sure about Dye who made $480,000 and was back and forth from the practice squad to the active roster multiple times this season.
The defense has a few valuable pieces up for renewal as well. Defensive end Howard Jones (26) could be brought back to compete for a spot in that d-line rotation at his $550,000 price tag. Before he was put on the I.R., he was set to be a key contributor this season. Another defensive end Ryan Russell (24) was brought in during the season to fill in when they got hit by injuries and played well. I can see the Bucs bringing him back to compete for a spot. Cornerback Jude Adjei-Barimah (24) will also be a free agent, but the Bucs will certainly be bringing him back at his bargain salary of $480,000 a year.
I know this list seems long, but it's really not. And it's not too overwhelming dollar wise either. The Buccaneers have a ton of cap space, over $80 million, to spend. With the exception of Will Gholston, no other player currently on the roster should really demand much more money this offseason. It will just be a matter of how many of them the Bucs wish to bring back.
That does it for Part 1  of my Buccaneers offseason series. Stay tuned for Part 2  which is where I'll dive into the rest of free agency and some of the players the Bucs could potentially lure to Tampa with their many millions of dollars.
Until then…GO BUCS!!!