In the 2015 season, Bucs offensive coordinator Dirk Koetter and rookie quarterback Jameis Winston took an offense that was ranked 30th in the league in 2014 to the 5th ranked in the league. That improvement was enough to convince Jason Licht to hire him as the new head coach after firing Lovie Smith. In his first year as a head coach, Koetter led the Bucs to their first winning season in 6 years. In fact, he is only the second Bucs coach to have a winning season in his first year along with Jon Gruden who did it in 2002 when they won 12 games on their way to a Super Bowl title. After winning Super Bowl 37, Gruden went on to have three more winning seasons before being fired in 2009 after two straight 9-7 seasons. Since then, the Bucs have had just one winning season in 2010 going 10-6 under Raheem Morris and have not been back to the playoffs. Conspiracy theorists refer to this as the "Gruden Curse"…and it's real.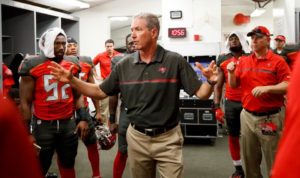 Coming into this season, we were all optimistic that this offense would take a big leap in it's second year in Koetter's system. That didn't happen. The offense actually regressed in some ways falling from the 5th ranked to the 18th ranked in the league. The passing offense did improve from 17th to 16th, but the rushing offense tanked dropping from 5th all the way to 24th in the NFL. Injuries had a ton to do with that collapse since the running back position got decimated and the offensive line dealt with a string of injuries later in the season.
Jameis Winston did have a more productive season than his rookie year. In 2015, he completed 58% of his passes for 4,042 yards, 22 touchdowns and 15 interceptions while being sacked 27 times. In 2016, he improved his numbers, completing 61% of his passes for 4,090 yards, 29 touchdowns and 18 interceptions while being sacked 35 times. Koetter had a lot to do with Winston's maturation as an NFL quarterback and he will only continue to grow under his tutelage.
Another area that the Bucs have gotten better at under Koetter is in penalties. The Bucs went from dead last in the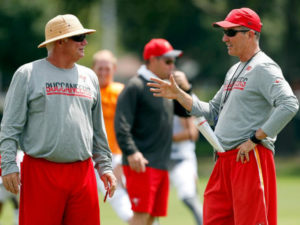 league with 143 for the year to 14th in the league with 109 penalties. Third down percentage improved for the offense going from 10th in the NFL at 42% to 44%, good enough for 6th in the league. The defense's third down percentage really got better going from 30th giving up 46% all the way to 1st only allowing 34% to opponents. Yes, defensive coordinator Mike Smith does deserve much of that credit. His defense improved dramatically as the season progressed. Unfortunately, that success has attracted the attention of multiple teams searching for a head coach and Smith's name ha been popping up all over the league. His status, along with the Doug Martin situation will be the biggest question marks entering this offseason. Hopefully, Smith returns to the Bucs. If he doesn't though, I have no doubt that Dirk will fill his position with a viable candidate who will keep this defense on the rise.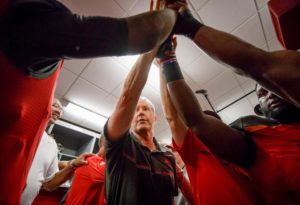 Dirk deserves a ton of credit for the turnaround of this team. Even more so considering the number of injuries sustained by them throughout the season. They had 5 valuable players on I.R. for the entire season including newly signed bulldozer guard J.R. Sweezy, wide receiver Louis Murphy, rookie strongside linebacker Devante Bond, backup running back Mike James and defensive end George Johnson. The Bucs actually had more players on I.R. (18) to finish the season than any other team with a winning record. The next closest team to them was the Seattle Seahawks with 15 players. In fact, injuries were such an issue that Buccaneer players missed a total of almost 200 games this season. It's no wonder that the Bucs rushing attack went from 5th in the league last year to 24th this year. At one point, the Bucs were on their fifth running back of the season. Doug Martin, Jacquizz Rodgers, Charles Sims, Mike James and Antone Smith all missed games this year along with their best blocking back/tight end Luke Stocker. The offensive line got hit hard with the bug as well starting in Week 10 when starting center Joe Hawley and starting left guard Kevin Pamphile were both out. The next week backup guard/center Evan Smith was out as well as Pamphile again. Smith was out for a few weeks and then starting right tackle Demar Dotson sustained a concussion in Week 13 and missed 3 games. The wide receiver corps also took a hit when veteran pro bowl wideout Vincent Jackson got injured in Week 6. In addition to Jackson, Cecil Shorts, Adam Humphries, Donteea Dye and Russell Shepard all missed games. The defensive end position was devastated this season. In addition to George Johnson, other key players such as Jacquies Smith and Howard Jones sustained season ending injuries.
With all of these injuries, Koetter was still able to lead this team to it's first winning season in 6 years and nearly a playoff berth while contending for an NFC South division title. In this fan's educated opinion, he deserves NFL Coach of the Year  mention at the very least. The fact that this team was able to accomplish what it did this season should be considered a miracle. He coached one of the youngest teams in football, averaging just over 25 years old, to a successful season. It was an impressive feat. They've already gone from a young team finding ways to lose games in 2015, to a young team learning how to win games in 2016. They went from an average 6-10 team last year to a legitimate playoff contender this year. The combination of talented youth, over $80 million in salary cap space and a top 20 pick in this year's upcoming draft could be just what Dirk needs to take this team to the next level.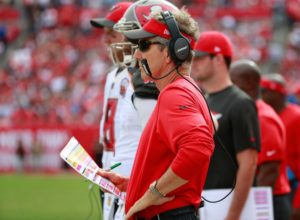 I fully expect the 2017 Tampa Bay Buccaneers to not only win the division and make the playoffs, but go deep into the playoffs. It's not an unrealistic expectation. It's the next step for a franchise building a winning program. It's not a question of whether Dirk Koetter and Jameis Winston can or will break the dreaded "Gruden Curse" and lead the Bucs back to another Super Bowl…..
It's just a question of WHEN?