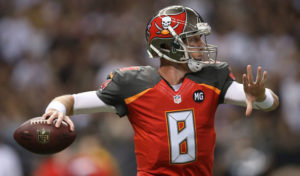 Imagine an NFL team with a solid and unquestioned young starting quarterback. Imagine that team has a backup quarterback with statistically solid numbers, but nothing overly impressive. Not great. Not bad. What you just imagined was the Bucs.
Now imagine an NFL team with a solid and unquestioned young starting quarterback. Imagine that team has no statistically solid backup. Imagine one play, at one practice, just like any other play. Now imagine that starting quarterback being loaded into an ambulance and taken off the field. What you just imagined was the Minnesota Vikings.
Almost immediately the chatter began about the opportunity to trade Mike Glennon to the Vikings. Teddy Bridgewater was barely off the field when the tweets began. Bucs fans began having sugarplum visions of first round draft picks. Not even a week earlier the same people were tweeting about Tony Romo and the Dallas Cowboy situation.
When a team's starting quarterback goes down the fans wanting to trade our backup QB seem to think "I bet they wish they had Glennon on their team now." Stop for a moment and realize what you are saying. What will you be wanting if Jameis gets dinged up? Each year statistically a little more than 50% of the quarterbacks that begin the year as the starter end up missing games due to injury. More than half! That means statistically the Buccaneers starting quarterback will likely miss games due to injury. Behind Glennon is absolutely zero NFL experience. If you believe that the Vikings are desperate with Shaun Hill than how desperate will the Buccaneers be with Ryan Griffin under center?
If the Buccaneers were to trade Glennon they would be putting themselves in the position of the teams that are scrambling for a quarterback right now. It will take one play in practice. Just like any other play. No contact necessary. All of a sudden the Bucs are scrambling and looking for Mike Vick's phone number. Is Collin Kaepernick available? Do you really want to be in that spot?
Realistically the fact is that Mike Glennon's contract is up at the end of the season. He will most likely be gone from the team. The Bucs will receive a compensatory pick upon his departure. Most likely that will be a 4th or 5th round selection. If any team were t trade for Glennon he would still be a free agent at the end of the season. Why would a team trade a high round pick for a player they will possibly lose at season's end? The most the Bucs could dream of receiving is most likely a third round pick in a trade. They are already going to get a 4th or 5th round pick so is it worth it to jump a round or two to trade him?
Every team is one practice snap away from quarterback disaster. Right now the Buccaneers have a small bit of security that costs them very little. My bet is that the same fans clambering for unrealistic trades of Glennon are the same ones that would screaming the loudest for the coach's head after one season if Ryan Griffin ended up being the quarterback. That's my view from the cheap seats.