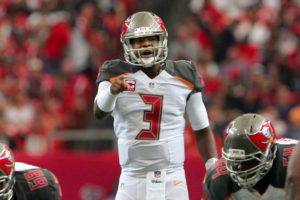 The Buccaneers will march into Arizona for a Week 2 match-up that prior to the season, nobody gave the Bucs a chance in. Suddenly, after a Cardinals loss at home to a Patriots team missing key players on its offense, and a strong showing by the Bucs in Atlanta, Tampa Bay seems to have a winnable game on their hands. It will certainly take a focused effort from the away team to give the Cardinals their second loss at home in as many weeks.
Buccaneers Offensive Keys to Victory
Control the line. The Cardinals Defensive line is banged up and young. Last week they had an incredibly poor outing against the Patriots and looked quite vulnerable. The Buccaneers have a very real chance to control that match-up and it could go a long way to helping QB Jameis Winston contend with a nasty Arizona secondary.
Improve the running game. Last week at Atlanta, RB Doug Martin never got going on the ground. This was in large part due to an obvious Atlanta gameplan to take him away. The Cardinals were much less effective against the run last week, so this may be a good chance to establish the 2016 Buccaneer run game.
Make good decisions at Quarterback. This game will be a big test for Jameis' accuracy and decision making. With CB Patrick Peterson and S Tyrann Mathieu flying around the defensive backfield, it can be alarmingly easy for opposing QBs to give footballs away like free samples at Costco. Jameis will need to be careful with the football if the Bucs stand a chance.
Buccaneers Defensive Keys to Victory
Win third down. Last week, the Cardinals struggled mightily with third downs on both sides of the ball. Conversely, the Bucs D did a fantastic job on third. This is a strong point for them, and a great way to twist the knife in the Cardinals' side. It's demoralizing for an offense to go three and out, and with the Cardinals punter playing on a bad ankle, the Bucs will benefit by keeping him on the field.
Continue letting Kwon be Kwon. Coach Smitty's scheme seems to be perfect for LB Kwon Alexander, who had 17 tackles and a sack last week. His ability to be where the play is will be huge for the Buccaneers this year, and it's up to the coaching staff to continue putting him in the right position to do what he does.
Force turnovers. It's likely that the Cardinals defense will turn the ball over themselves in this game, and it will be on the Bucs D to make up for it by taking the ball right back away again. Turnovers will loom large in this game. The Bucs need to get one or two, after failing to do so in Atlanta.
Players to Watch
CB Vernon Hargreaves III had a so-so game last week, and should rebound with a big one this week, if his college career is any indicator. He'll need to be very good while playing against the likes of WR Larry Fitzgerald, and the league-best deep passing attack of Arizona.
DE Robert Ayers had a big sack last week, and figures to cause havoc again on Sunday. He'll need to after the loss of DE Jacques Smith, which has definitely made Ayers a much more integral piece of the Buccaneer defensive line rotation.
TE Austin Seferian-Jenkins is likely to get plenty of balls thrown his way, as the Bucs will look to keep the throws towards the supremely talented defensive backs of the Cardinals limited. Also watch out for TE Cameron Brate to be involved with increased targets on Sunday.
Predictions
Last week's prediction of a 31-23 Buccaneer win was only one point off, as the Falcons finished with 24. The Buccaneers will need each and every point in this game, as Arizona figures to be pass heavy, and the Bucs figure to be run heavy.
The Bucs will shock the NFL and sneak one out of Arizona, 23-21. They just seem to be in better form early, and present a few match-up issues for a banged up Cardinal defense. It's the perfect time for the Bucs to play the Cardinals, as they will probably improve greatly by the end of the season.