Next up in my "Welcome Aboard"  series is a free agent signee from this 2017 offseason who was brought in to fill a hole left when safety Bradley McDougald decided the "grass was greener"  in Seattle. Back in March when free agency opened, the Bucs signed safety J.J. Wilcox from the Dallas Cowboys. Only time will tell how this free agent signing will turn out for the Bucs, but the addition of Wilcox does seem to be a solid one. The question now is, will he be the new starting strong safety or not?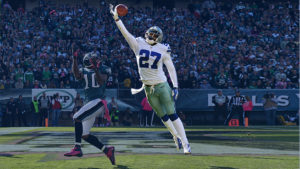 Wilcox was the Cowboys third round pick (80th overall) of the 2013 NFL Draft out of Georgia Southern University. As a freshman, he played wide receiver and finished with 16 catches for 179 yards in 8 games. For his sophomore and junior seasons, he was moved to slotback where he totaled 157 carries for 964 yards rushing, 29 catches for 719 yards receiving at 24 yards per catch and 17 touchdowns in 28 games. As a senior, he was moved to safety where he flourished with 88 tackles, 2 interceptions and 3 passes defensed in 13 games. He then proceeded to have a strong NFL Combine showing with a 4.57 forty, a 35″ vertical jump, a 10'4″ broad jump, a 7.02 three-cone drill, a 4.09 twenty-yard shuttle and 17 reps on the 225lb bench press. The speed and athleticism he showed in the ability to play multiple positions in college was showcased in his combine workout and it helped his draft status quite a bit.
In his four years with the Cowboys, he totaled 215 tackles, 5 interceptions, 15 passes defensed and 3 forced fumbles while only missing 6 games. He started at safety for the Cowboys in his first 2 seasons but was eventually moved to a reserve role in 2015 where he was still highly productive as a backup safety and a core special teams player. His play was enough to grab the attention of the Bucs talented scouting department and they signed him to a two-year deal worth about $8.5 million.
He joins a group of Bucs safeties that includes last year's starters Chris Conte and Keith Tandy, 2017 second round draft pick Justin Evans, 2016 practice squad member Isaiah Johnson and undrafted free agent Alex Gray. The competition for both starting safety positions should be a good one to watch during training camp and Wilcox will be in the mix for the starting strong safety role. He's a big hitter, with the experience to play under control while still forcefully patrolling the secondary. He's not quite John Lynch, but he's enough to keep pass catcher's heads on a swivel and will occasionally cause some of them to suddenly grow "alligator arms". He'll have an effect on this defense and on special teams for sure, but it'll likely be the end of camp before we find out if he's our new starting strong safety. Until then, as always…GO BUCS!!!