Next up in my "Welcome Aboard"  series is another veteran who was brought in to compete for a starting position, and once again it's in the Bucs secondary. This is one of the deeper defensive back groups that Tampa has had in recent memory and it won't be easy to make this team as one of the ten or so cornerbacks/safeties on this roster. Robert McClain will have a big time fight on his hands battling with a couple of youngsters, but if he's up for the task he could add some much-needed experience and leadership to an otherwise young, inexperienced bunch.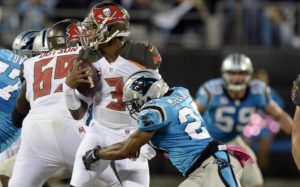 McClain played cornerback at the University of Connecticut from 2006-09 where he totaled 125 tackles, 5.5 tackles for loss, 10 interceptions, 11 passes defensed and a fumble recovery in his four years. He played mostly special teams returning punts and kickoffs as a freshman. Later in his sophomore season, he was made the nickel corner where he played for the remainder of the season. He moved to starting cornerback in his junior year due to an injury to teammate Darius Butler and he continued to thrive in the role finishing with 30 tackles including 5.5 for loss, 3 interceptions and 5 passes defensed. His senior year was even more productive finishing with 60 tackles, 4 interceptions, 3 passes defensed and a fumble recovery as the Huskies nickel corner.
He was picked in the seventh round (#249th overall)  of the 2010 NFL Draft by the Carolina Panthers where he played sparingly in all 16 games of 2010, but he was released from there during the final preseason roster cuts of the 2011 season. In December of 2011, he was picked up by the Jacksonville Jaguars only to be released two weeks later. After not playing a down of NFL football in 2011, he was picked up by the Mike Smith led Atlanta Falcons where he found a home and system where he flourished for 3 years totaling 185 tackles, 2 sacks, 3 interceptions, 2 forced fumbles, a fumble recovery and 20 passes defensed while playing in all but one game in 3 seasons. Unfortunately for him, his contract ended at the same time as the Falcons were going through a coaching change replacing Smith. Atlanta did not re-sign him and he became a 2015 unrestricted free agent.
He was picked up by the New England Patriots in March of 2015 when free agency opened up but was released during their final roster cuts of the preseason. In December, he signed on for his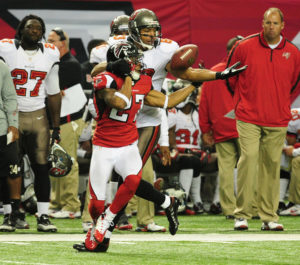 second stint with the Panthers where he ended up starting in the Super Bowl against the Denver Broncos. He stayed in Carolina until December of 2016 when he was released. That same week, he was picked up off of waivers by the San Diego Chargers where he finished the season. He became a 2017 unrestricted free agent until the Buccaneers signed him last month. Over his 6 years in the NFL, he's totaled 246 tackles, 2.5 sacks, 4 interceptions, 2 forced fumbles, 3 fumble recoveries and 23 passes defensed while only missing 3 games during his 5 full seasons played.
He joins a crowded Bucs secondary and will be competing with young players such as Jude Adjei-Barimah and Javien Elliott for the nickel corner position. His 6 years of NFL experience along with his knowledge and familiarity of Mike Smith's defensive scheme should help in in the competition but he's still in for a good fight. The team will likely keep 6 cornerbacks and with Brent Grimes, Vernon Hargreaves, Ryan Smith, Cody Riggs and Josh Robinson all in the mix as well, someone will be getting left without a job. At 5'9″/195lbs and 28 years old, he's the smallest and the second oldest cornerback on the roster. However, he has a chance to revive his career playing under Smith once again and I would never bet against a fighter with his back against the wall. I'm sure McClain will be there until the bitter end of training camp but until then, as always…GO BUCS!!!