The next installment of my "Welcome Aboard"  series includes an impressive story of determination. The story of a man chasing a dream and doing whatever it takes to achieve it. Stevie Tu'ikolovatu (pronounced TOO-E-KOLO-VAH-TOO)  is now living his dream of being an NFL player and even though he still has some fighting left to do in training camp, it doesn't seem like he will let anything get in his way.
Big Stevie, or Tu'i or Stevie T, is a 6'1″/330lb gap-plugging defensive tackle who was picked by the Buccaneers in the seventh round (#223 overall)  of the 2017 NFL Draft after a strong Combine performance where he put up a 5.45 forty, a 24.5″ vertical, a 7'7″ broad, a 7.83 three-cone, a 5.00 twenty yard shuttle and 28 bench reps. He had an interesting college career that started with a redshirt during his 2009 freshman year at the University of Utah before he decided to go on a two-year church mission to the Phillippines. He returned to Utah in 2013 but missed the entire season due to a foot injury. As a sophomore in 2014, he had 8 tackles and one tackle for loss as a reserve in 5 games. He finally received more playing time as a junior and produced 28 tackles, 6 tackles for loss, 2 sacks, 2 passes defensed and 4 fumble recoveries in 10 games.
After that junior year, he decided that he needed more playing time to have a shot at the NFL and he wasn't going to get it with Utah so he decided to transfer to the University of Southern California. He wanted to be able to workout with his new team over the summer so he packed up and moved to Los Angeles. The problem was, he didn't have a place to live. Although he was officially enrolled in USC, his housing benefits weren't approved for two months. During that time, he and his wife Kalo lived in his parent's 2004 Chevrolet Suburban parked near the campus down by the beach. The gamble paid off as he was voted as the No.2 run defending interior lineman in college football after producing 53 tackles, 2 tackles for loss, a half sack and one pass defensed while starting in all 12 games for the Trojans.
Similar to almost all of the Bucs 2017 draft picks, the team had their eyes on Tu'i earlier in the draft than he was actually picked. They had him graded out as their sixth round pick, but their trade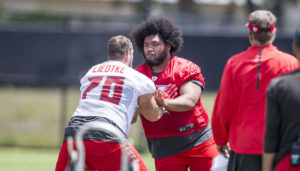 for linebacker Kendall Beckwith in the third round cost them that pick along with their fourth round pick. They were ecstatic to see him still sitting there in the seventh round but didn't want to gamble any longer so they traded up a few spots to ensure that they would get him. The rest is history.
The Bucs consider themselves lucky with how the draft fell. From that first round pick when tight end O.J. Howard, a top 5 talent, was still available with their 19th pick to getting their run-stuffing defensive tackle in the seventh round instead of the sixth, the entire draft could not have gone any better for the Buccaneers. They had their second round pick safety Justin Evans graded out as a first round pick. They had their third round pick wide receiver Chris Godwin graded out as a second round pick. Same with their other third round pick linebacker Kendall Beckwith. Their fifth round pick Jeremy McNichols was one of the highest graded running backs on their board. And then there's Stevie who was ranked in their top 150 players but taken with the 223rd pick.
This will be the first Bucs draft that I can recall where each one of their draft picks will likely make the 53-man roster. And it will be up to Tu'i to make that happen. As most seventh round picks usually are, he has the smallest chance of making the team of all the picks but I think he prefers it that way. I think that he relishes the "underdog"  role. I think he flourishes in that role. And I think he'll end up making this team as a situational, run stuffing defensive tackle. We'll find out by the end of camp but until then as always…GO BUCS!!!