Sportless Depression Got You Down?……..
Here's a Way Too Early Depth Chart to Hold You Over!
Editor's Note: Patches here, and we're gearing up here at WTB? to barrel through the offseason with a full head of steam! Upgrades are the theme right now, and there's nothing wrong with new things. We tend to break them, but hopefully that won't be the case here. Welcome our newest writer, Rob Malpica aka "Big Paizan." This is the first, hopefully of many, of Rob's articles here at WTB?. See below the depth chart for a little background on the newest addition to the WTB? team!
As I sit here typing up this, whatever this becomes, I suddenly have a sense of loneliness that is never easy to deal with. The NBA and NHL finals are complete, congrats Cavs and Penguins, the NFL Draft has long since passed and honestly, Major League Baseball just doesn't wet my sport loving thirst or peak my interest until October. 
We are in the times of the "Football Fan Wasteland." Seven Sundays away from the Hall of Fame game between the Colts and Packers on August 7 in Canton, Ohio and much worse for Bucs fans, eight Thursdays away from their first test against the Eagles on August 11 in Philadelphia. So "What Do We Do" you ask?
Some of us will spend a little more time with family. Some of us will go on vacation. Some of us will use this "extra" free time on binge watching some shows that we chose to ignore while the sporting world was in full effect. You know, that glorious 5-month span from the MLB World Series until March Madness concludes and the NFL Draft process begins. And of course, all that NFL and College Football in between and the NBA and NHL seasons begin to start meaning something. That, my fellow sports fans, is what we call Heaven, at least in an entertaining, non-biblical, sporting sense. For those of you that are fans of the Summer Olympics, like myself, at least we will have a little two-week reprieve from our sportless depression.
So, as OTAs begin for NFL teams around the country, football geeks like myself, our friends Derek "Old School" from What the Buc? and the boys at Pewter Report like to start talking football and planning our ideas on how we feel how good our beloved Buccaneers can, should and will be for 2016. Some fans begin to make way too early predictions on who should make the team and who should start before any of the players take "real" snaps against other opponents besides their brethren from the same team on the other side of the ball at practice. With that being said, it does not stop this diehard Bucs fan from writing this little nugget to you and adding my way too early "BigPaizan's Buccaneer 90 Man Preseason Depth Chart."
I know I "officially" haven't seen all of these guys in action in the Red and Pewter garb, but with some of my knowledge base of football both as a past player and current coach, I can make some observations and have opinions on who I feel should have potential and the peg leg up at certain positions ,if I were coaching the team. I based most of my decisions on last year's play, whether it was with the Bucs or another NFL team or in college and of course what we have seen so far in OTAs. Some of my decisions were made just on a "gut feeling" I had and what a lot of coaches have about certain players sometimes.
This Depth Chart is just a very early guideline and window to the makeup of our roster. Since the Official Tampa Bay Buccaneer Website does not do a depth chart this early, then this will fulfill the need to see one this early for my fellow football geeks out there. Enjoy this little tool I made and as cuts happen and new players come and go I will make new ones. Feel free to over-analyze, criticize and drop some of your opinions to us anytime regarding the depth chart at least we won't feel as lonely anymore in the "Football Fan Wasteland" we are in right now.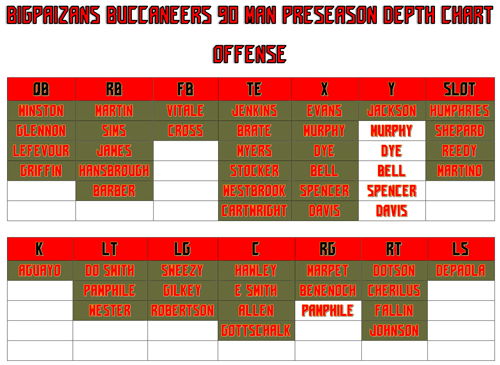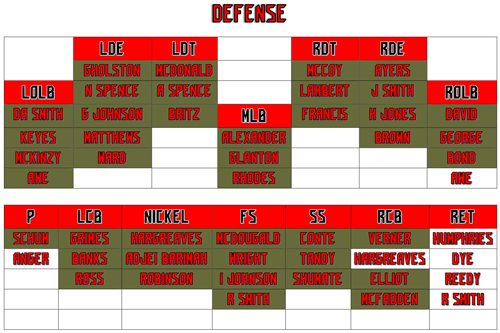 Click Here For Full Size: BIGPAIZAN BUCS DEPTH CHART 90 Man 1.0
Who is Rob Malpica aka "Big Paizan"?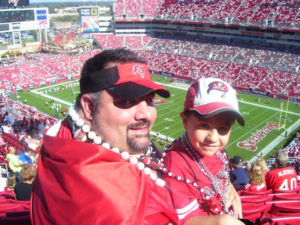 A transplant from Long Island, New York while in middle school in 1988/89, Rob "BigPaizan" Malpica moved to rural Inverness, FL, instantly rebelled against his NY Giant loving family and became a fan of the then Orange Creamsicle Clad Buccaneers.
After graduating from Citrus High School it's leading rusher, he moved on to play RB at Lenoir Rhyne University in North Carolina and for the Orlando Predators in 1996 and 1997. After the playing days ended he began to play music in several local bands around Florida until finally growing up, getting married and becoming a proud father of two boys, Zach and Josh.
An original member of the then "Bucarino Tailgate Krewe" at the corner of MLK and Himes, Big Paizan began to create Bucs-themed parody songs on YouTube and soon became the official parody song person of WTB? From 2008-2011. After a move to Cape Coral in SW Florida BigPaizan began to delve deeper into coaching at the youth and HS level and took a hiatus from contributing to WTB? But he always kept track from afar.
Now that family life has settled, BigPaizan still helps run a youth football organization in SW Florida and he is currently Running Backs Coach and Offensive Assistant at North Fort Myers High School with former Bucs Earnest Graham and Ed Gant….Small World Huh? Now he is excited to contribute again with writing some articles and possibly an occasional BigPaizan Parody Song for old time sake.  His YouTube channel is still active and you can check out his old classics if you are in a nostalgic mood.