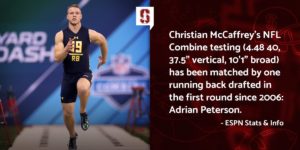 The NFL offseason is a time full of anticipation and speculation by us football fans. That's part of the fun. That's part of the excitement. We like to pretend we're the GM of our favorite team and act like we know what's in the team's best interest and what the team needs to get better for the next season. Most of the time we're wrong. Mostly, because we just don't have a clue. We're not informed enough on the subject to really know what the teams need. Some fans feel as though the 16 games they watched one time each gives them more insight than the front office and coaching staff that are constantly around this team and these players and watch more game film than all of us put together. In an attempt to shed some light on the things and remedy some of the speculation, I've decided to break down the team's roster and analyze the free agent moves so far to see where the Bucs stand at the moment so we can figure out what they ACTUALLY need out from the upcoming draft. Let's get started…
QUARTERBACKS
Since Mike Glennon's departure to Chicago, I've seen a bunch of fans asking which free agent QB the Bucs will be signing as their new backup. Here's the likely answer…
NONE.
After Glennon signed with the Bears, the Bucs quickly tendered a $1.8 million offer to third string QB Ryan Griffin. That tells me that they're probably planning on him being the new backup to Jameis Winston. There is still a chance that they draft one in the mid-to-late rounds, but I doubt it. Dirk Koetter has stated that Griffin has all the tools to be an NFL quarterback and that he has complete confidence in him to be their backup. SO, QB IS NOT A FIRST ROUND NEED IN THIS DRAFT!
RUNNING BACKS
This may be the hottest debate amongst Bucs fans going into the draft, especially with the Florida State faithful. Seminole Nation is in full "Dalvin Cook or Bust"  mode while the rest of Bucs Nation just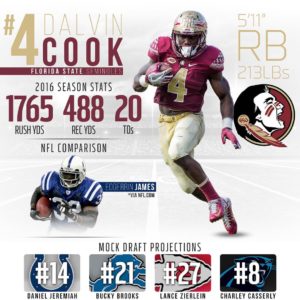 wants the best player available that will help this offense whether it be wide receiver, tight end or running back. If Dalvin Cook is sitting there at #19 then I can see the appeal. He is probably the most "pro ready"  back in the draft. However, he's not the ONLY choice that could be available when the Bucs go on the clock like some FSU fans would like to make us think. Running back is very deep in this draft which raises the question, is RB really a big enough need to use a first round pick on it? The Buccaneers just re-signed Jacquizz Rodgers and they still have Charles Sims and Peyton Barber along with Russell Hansbrough, Quayvon Hicks and Blake Sims on the roster. And so far, it looks as though the Bucs are letting the Doug Martin situation play out which means they could have him back after Week 3 this season at a bargain price. Should the Bucs decide to move on from Martin, then I can see them taking the best available RB with that 19th pick. It could be Cook. It could be McCaffrey. Something strange could happen and it could be Fournette. Who knows? Right now though it seems like the Bucs are sticking with Dougie and I think that's the smarter move. SO, RB IS NOT NECESSARILY A FIRST ROUND NEED IN THIS DRAFT…but it could be an option depending on who's available.
OFFENSIVE LINE
The o-line seems to be another hot topic of choice for some Bucs fans and I will admit that the line could use some improvement after their 24th ranked finish last season. However, as bad as some Bucs fans think they performed, the front office and coaching staff don't seem to share that same opinion. In fact, they seem pretty happy with the group they have right now. Left tackle Donovan Smith had a rocky start last season but "came on stronger in the second half of it"  according to Bucs GM Jason Licht. Right tackle Demar Dotson seems to be safe and secure in his starting spot. Free agent signee from last year J.R. Sweezy is healthy and should be the new starting left guard. And Ali Marpet is already proving to be one of the best in the league at right guard. The Bucs just re-signed last year's starting center Joe Hawley to a two-year deal. It looks as though backup guard/center Evan Smith will be sticking around despite rumors of him becoming a cap casualty this offseason. They still have Ben Gottschalk and Josh Allen who have both seen live game action at center, as well as newly acquired James Stone. So not only do they have five centers on the current roster, but there have been rumors floating around that Marpet could be moved inside to center but we'll see if that plays out in training camp. They also still have last year's starting LG Kevin Pamphile, who's actually listed as a tackle, Leonard Wester, who the Bucs seem to like, Caleb Benenoch and Michael Liedtke. That makes 13 offensive linemen on the current roster which is almost twice as many as they typically keep on the active roster. If the Bucs are in fact satisfied with the players they have then they definitely won't be using that 19th pick on the o-line. They may not use any picks on it, period. If they do, I see it being more of a mid-to-late round pick instead of an early round pick. Remember, 4 of the 5 starters on the current o-line that were not so good last year were on the o-line in 2015 when they finished 5th in rushing. The loss of veteran Pro Bowl left guard Logan Mankins was a bigger blow than some of you realize and the addition of a healthy Sweezy should have that same kind of effect. That in combination with the addition of DeSean Jackson to the receiving corps will change the face of this offense completely. SO,  O-LINE IS NOT A FIRST ROUND NEED IN THIS DRAFT!
TIGHT ENDS
Despite what some Bucs fans believe, NFL football teams can have more than one pass catching tight end on the roster. Just ask the Patriots how that concept works out for them. At the moment, the Bucs tight end group consists of 2016 breakout star Cameron Brate, blocking backs Luke Stocker and Alan Cross, and practice squad members Kivon Cartwright and Tevin Westbrook. Basically, Brate is the only pass catching threat out of the group and there IS a need to add another. I have seen quite a few Bucs fans who'd like to see them take either Alabama tight end O. J. Howard or Miami tight end David Njoku with that 19th pick and I'm currently on that bandwagon as well. However, tight end is another deep position in this draft so that does still keep the "best player available"  approach open for this team in the first round. SO, TE IS NOT NECESSARILY A FIRST ROUND NEED IN THIS DRAFT…but it could be an option depending on who's available.
WIDE RECEIVERS
With the addition of speedy superstar receiver DeSean Jackson, the "need"  for WR in the first round has changed. While the Bucs do need to address the position in this draft, it's not necessarily a first or second round need. It's still up in the air whether unrestricted free agent Vincent Jackson will re-sign with the Bucs or some other team. Besides D-Jax and Evans, the Bucs have re-signed exclusive rights free agent Adam Humphries and still have Donteea Dye, Josh Huff, Freddie Martino, Bernard Reedy and Derel Walker on the roster. Dye, Reedy and Martino were all practice squad regulars and Huff and Walker are still fairly new to the team and still question marks. That leaves the Bucs with only 3 proven wide receivers on the team, even though I like Martino and Walker looks like he could be a nice addition. This position is more of a "want"  than a "need"  at this point, similar to running back. This is a fairly deep draft for receivers, so they could still wait until the 3rd or 4th round to take one. PewterReport.com  just put out one of the best mock drafts I've seen yet (https://www.pewterreport.com/pewterreport-coms-2017-bucs-7-round-mock-draft-3-0/7/)  that has the Bucs taking Texas A&M receiver Josh Reynolds (6'3″/195lbs, runs a 4.5)  in the 4th round and West Virginia receiver Shelton Gibson (6'0″/190lbs, runs a 4.5)  in the 7th round. I felt like the Bucs needed to add three new WR's to the group this offseason whether it was two free agents and a draft pick or visa versa. SO, WR IS NOT NECESSARILY A FIRST ROUND NEED IN THIS DRAFT…but it could be an option depending on who's available.
DEFENSIVE LINE
Pass rusher is another deep position in this draft so the fans who feel that it should be addressed in the first round are also thinking incorrectly. Last year, the Bucs signed free agent DE Robert Ayers then drafted DE Noah Spence in the second round. They've also re-signed run stopping DE Will Gholston, pass rushing DE Jacquies Smith and gap plugging DT Sealver Siliga while grabbing DT/DE Chris Baker in free agency. They did lose rotational DT Akeem Spence to the Lions in free agency but they still have last year's starting DT's Gerald McCoy and Clinton McDonald. We can assume that "Big Swaggy"  will be taking over the starting role next to G-Mac while McDonald moves to a more rotational role. Ayers and Gholston will probably remain in their starting roles as well so as you can see, it's not likely the Bucs will be using their first round pick on a non-starter. Besides the players I've named already, they still have DT DaVonte Lambert and DE's Ryan Russell, Channing Ward and George Johnson under contract as well. I do think they will pick up a pass rusher in later rounds but, D-LINE IS NOT A FIRST ROUND NEED IN THIS DRAFT!
LINEBACKERS
Last year's starting SLB Daryl Smith is now an unrestricted free agent and not likely to be back with the Buccaneers. It leaves the door open for some fans to suspect a big enough need to use that 19th pick on a LB to fill that vacant role. Probably wrong thinking again. In the 2016 draft, the Bucs selected LB Devante Bond to eventually take over the SAM LB position. Though he was injured all season last year, he's still on the roster which means the Bucs must hold a high opinion of the young man and probably have plans for him. Those plans just might include him as their new starter at strongside linebacker. I wouldn't be surprised if they add a LB at some point for some depth, but it won't be in the early rounds of the draft. I can't see the Bucs using an early pick on a position that only played 30% of the defensive snaps last year and nobody in this draft will unseat Kwon or Lavonte from their starting roles. They still have OLB Adarius Glanton and LB's Jeff Knox and Cameron Lynch to fill reserve/special teams roles as well. SO, LB IS DEFINITELY NOT A FIRST ROUND NEED IN THIS DRAFT!
CORNERBACKS
Even though they released CB Alterraun Verner a few weeks ago, they still have all of their starting corners from last year. Brent Grimes and Vernon Hargreaves will remain in their roles while the nickel/slot corner position will be up for grabs between CB's Jude Adjei-Barimah and Javien Elliott in training camp. They also re-signed special teams star Josh Robinson and still have DB's Cody Riggs and Ryan Smith under contract. It's still a possibility that they pick up another CB at some point this offseason, but it won't be in the first round of the draft. They have a pretty solid, young group but could stand to add more depth. However, CB IS DEFINITELY NOT A FIRST ROUND NEED IN THIS DRAFT!
SAFETIES
The safety position for the Buccaneers might be the most controversial position on the team. Most fans were seriously disappointed with their play last year and think it's a big enough need to use the 19th pick on it. I beg to differ and I get the feeling that the Bucs do too. After re-signing Chris Conte and then signing free agent safety J.J. Wilcox, it seems as though the Bucs might be content with their safety group. Besides those two, they still have starting free safety from the last quarter of the season Keith Tandy and safety Isaiah Johnson. It looks as if unrestricted free agent FS Bradley McDougald is wanting more money than the Bucs are willing to pay so he probably will not be returning. Previously mentioned Pewter Report's mock draft has the Bucs lucking out with Washington safety Budda Baker in the second round which I wouldn't mind at all. However with the signing of Wilcox last week, is it still a big enough need to use an early round pick, let alone a second rounder on? I'm not so sure. Part of the spotty secondary play last year was due to inadequate pressure on the opposing QB by the front four. With the addition of Chris Baker and barring another disastrous string of injuries to the d-line, the "lack of pressure"  problem should be fixed which will allow for better play from the secondary. Despite what a bunch of Bucs fans think, SAFETY IS NOT A FIRST ROUND NEED IN THIS DRAFT!
If you've been keeping track, then you realize that the Bucs have no positions on defense that are a first round "need". Since last season ended, Jason Licht and Dirk Koetter have both said that the focus this offseason would be on "finding playmakers and getting after opposing quarterbacks". They stuck to that during free agency with the signings of Jackson and Baker and I expect them to continue doing so in the draft as well. I know I keep mentioning Pewter Report's mock draft, but it's for good reason. They focused on these same two aspects by selecting two WR's, two TE's, a RB, a DE/OLB and a ball-hawking safety. I have my own opinions on what the Bucs could/should do in this draft and I'm on the playmaker train, at least for the first few rounds. The Bucs are in a position for this draft that they haven't been in for a very long time…the position of picking "BEST PLAYER AVAILABLE"  in the first round. Some Bucs fans may not accept that, but ALL Bucs fans should be excited about it. I know I am. The privilege of picking "best player available"  only comes to teams that aren't locked into any certain position with their first round pick. They don't have any obvious holes on their roster and are simply drafting for depth. This is the first draft in quite a while where the so-called experts have no idea who to mock to the Bucs. I've seen mocks that have them taking DE, CB, S, RB, WR, OL and TE. The fact that they are in a position to do so means that this team is getting close. This team is on the verge of being relevant once again…and it all begins with this offseason. The Bucs are off to a good start with free agency so far and if they can hit on their draft picks as well, then this team could be scary this season!
Now that the NFL Combine is over and free agency has calmed down, I'll be kicking off my position analysis articles on what I feel are the Bucs biggest positions of need in this draft starting with the tight ends. Stay tuned for that, but until then…..GO BUCS!!!