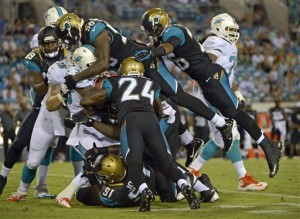 The gut reaction coming off of a tough road loss might tend to lean in the direction of "oh good, the Jaguars." While the Jags tend to be somewhat lackluster even with Blake Bortles still trying to turn the team around, they are consistently a quiet sleeper. Their losses have been at the hand of small issues, and this leaves the Jaguars as a very dangerous team if they play their cards right. They'll be looking to come to Tampa Bay and break an 11-game road losing streak, so let's see what they're bringing.
---
The Armory
Weapons of Mass Destruction: T.J. Yeldon, Blake Bortles, Allen Hurns
While the Jaguars haven't put any more than 20 points on the board in a single game this season, that doesn't mean their offense can't make plays. Despite an overtime loss to the Colts last week, Yeldon proudly announced his arrival as a rushing threat to the tune of 105 yards on 22 attempts. Tampa Bay has allowed 100+ rushing yards from every single team they've played this year, and the Jaguars would be wise to exploit that. If the defense can't shut down Yeldon, there's no reason for Jacksonville to go back to him all game long.
As for their air attack, Blake Bortles continues to have little to work with. Free agency acquisition Julius Thomas is still sidelined with an injury and unlikely to play, leaving Bortles to rely heavily on Allen Hurns. With two touchdowns on the year, Hurns has managed 60+ receiving yards every game, including a 116-yard effort last week. If Yeldon is contained, it will fall on Bortles to use Hurns as his lesser receivers to make something happen.
---
The Fortress
Bastions of Defense: The Defensive Front
The Jacksonville front is filled with players you probably don't know, but they don't need to be household names to instill fear in opposing offensive lines. Going back to last season, the Jaguars have been consistently effective at creating pressure and capitalizing with sacks in key moments. This threat has been mostly anchored by defensive tackle Sen'Derrick Marks, and the Buccaneers may catch a break if Marks isn't ready to return from injury tomorrow.
Even with his absence, the Jags have depth and an ability to rotate and create constant pressure that will prove to be a big challenge for an offensive line that could be without Logan Mankins on top of starting two rookies. Fortunately, the Jaguars do not have the same fear coming from their lackluster secondary. They will look to contain Doug Martin and force Winston into making mistakes, and any semblance of success in that could prove disastrous for Tampa Bay.
---
If there ever was a "something's got to give" game, this is it. That goes for both Tampa Bay and Jacksonville, as both teams boast a 1-3 record they didn't expect to have. Tampa Bay has lost 11 straight home games, and Jacksonville has lost 11 straight road games. Both teams have young quarterbacks trying to gain consistency, and both have coaches feeling increasing heat from the seats they sit upon. Who will push? And who will be shoved into a 1-4 start?