Fine. This time, you can #BlameJameis. On the same day that the legend of Mike Alstott was inducted into the Tampa Bay Buccaneers' Ring of Honor, the Bucs didn't get the job done against the Carolina Panthers. Believe it or not, there were positives, but it was two steps forward and four steps back. Let's try and absorb the tough loss, and figure out what went wrong.
---
The Inevitable Rookie: Okay, fine. #BlameJameis
It's definitely not time to #FireLovie or #FireJameis, but this is a valid moment where Winston's mistakes contributed significantly to the downfall of the team. Jameis completed 60% of his passes for 287 yards and two touchdowns, but the real problem was the fact that he threw four interceptions and lost a fumble. Carolina scored 20 of their 37 points directly following a Tampa Bay turnover.
Meanwhile, Kyle Brindza left 7 points on the board en route to the unemployment line with two missed field goals and a missed extra point. Let's do the math. Bucs lost 23-37. If Brindza never misses, it would've been 30-37. One fewer turnover, and it could've been a different outcome.
There were actually still positives on offense. Vincent Jackson hauled in 10 receptions for 147 yards despite being shadowed by Norman for much of the game. The Dougernaut showed up, as Martin rushed for 106 yards on 20 attempts, an average of 5.3 yards per carry. This all helped the Bucs improve from 1 of 12 on third downs last week to 8 of 16 this week.
---
The Defensive Marathon: Can We Get Some Help Over Here?
I'll start with something that has been an issue all season, and that's penalties. The Buccaneers have been struggling with penalties on both side of the ball, especially pre-snap ones. After averaging 11 penalties per game so far, the Bucs finished this game with only five. Two of those were intentional grounding by Winston, and one fell on Gosder Cherilus, leaving only two having been caused by the defense.
Lavonte David has spoken about the little things that the defense needed to do, and this was absolutely one of them. The defensive line was actually able to bring significant pressure at times throughout the game, but they struggled to contain Cam Newton even when they had an open lane right for him. Despite his elusiveness, both Gerald McCoy and Danny Lansanah were able to register sacks against Cam.
Chris Conte continued to impress with seven solo tackles, one key tackle for loss, one pass defended, and the team's only forced fumble. The defense showed marked improvement, and a few near-turnovers going their way could have helped shift the momentum, but constantly being put on the field in poor position by offensive turnovers didn't help them at all.
---
WeekFourTBvsCARcoachesfilm.gif
This is Winston's first of four interceptions. Like he did for much of the day, Norman is initially covering Vincent Jackson. Winston thinks Myers is clear because of this, but Norman reads the whole thing and comes back under for an easy pick-six.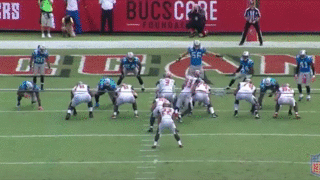 One of many great runs by Doug Martin is this touchdown while the game was still within reach. Effective blocking creates a lane for Martin, and he finds just the right spot to go to punch it in.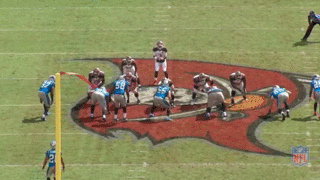 With this look, focus on the end where the interception takes place. Not only does Winston stare down Vincent Jackson while he's under pressure, he delivers it too far to the left. Jackson thinks it's coming right to him until the last second, and seems completely unaware of Norman. Without Jackson contesting it, Norman easily snaps this one for what becomes a long run back after the interception.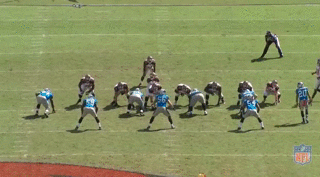 While the game was beginning to get out of hand by this point, you can see a huge run here by Doug Martin. The kind of run where Sims would have crumbled at the first adjustment, Martin dodges around and creates a huge play. 
---
Verdict
Kyle Brindza continues to miss kicks? Check. Doug Martin continues to dominate? Check. Charles Sims somehow still gets the handoff…and goes nowhere? Check. On the surface, this looked like another faceplant. It looked like another inept performance by the Bucs, but the distance from winning and losing this game was small. Less mistakes by Jameis Winston, and it could've easily gone the other way. It sucks, but that's all there is to it. Analyze the problems, work to fix them, move on. One was already fixed in the release of Kyle Brindza.
---
Sword: Doug Martin
Despite a largely flat offensive performance, Doug Martin made plays all game long. From big runs, to key downs, he continued to show that the Dougernaut is here in 2015. It's a bit predictable, but hard to deny.
Skull: Jameis Winston
There's no flirting around this. You can't throw four interceptions and fumble the ball if you want to win. If you commit five turnovers, you're damn right that's on you. Fire Jameis? Hell no. These are rookie mistakes. He will improve, but that doesn't change the outcome of this game.
All stats courtesy of NFL.com or Pro Football Focus unless otherwise noted.
All gifs created using footage from NFL Game Pass. Courtesy of NFL, yadda yadda. Photo courtesy of NFL and Fox, all trademarks and copyrights belong to those guys.