With a few weeks remaining before the 2017 NFL Draft, it is still early in the offseason. Though the biggest free agent names have already found new homes, there are still valuable players left unsigned. However, at this point in the calendar year, we have a good snapshot of what teams will look like for the coming football season.
In terms of fantasy football, this is even more true. The biggest fantasy assets have all found their newest homes. The Tampa Bay Buccaneers got in a little bit on this action, adding a special weapon to their offensive attack in DeSean Jackson. There should be very high hopes surrounding the stars of Tampa Bay in 2017.
First, at quarterback, Jameis Winston continues to grow. He is a far cry from the elite players at his position, both in terms of real life and fantasy. However, Winston has some things going for him. He is entering his third year in the league; a point where even the rawest players begin to understand their surroundings. He already has two 4,000-yard passing seasons under his belt. Though he has had high interception rates in each of his first two seasons, his touchdown total and completion percentage went up in year two. His yards per attempt declined, but the overall trend of Winston's career is positive.
For fantasy, Winston is a borderline starting quarterback. He is not a guaranteed top 10 player at the position but possesses a higher upside than some of his peers. This upside stems from the pieces around him. However, with the addition of DeSean Jackson, Winston now has a great shot of cracking the top 10 fantasy quarterback list.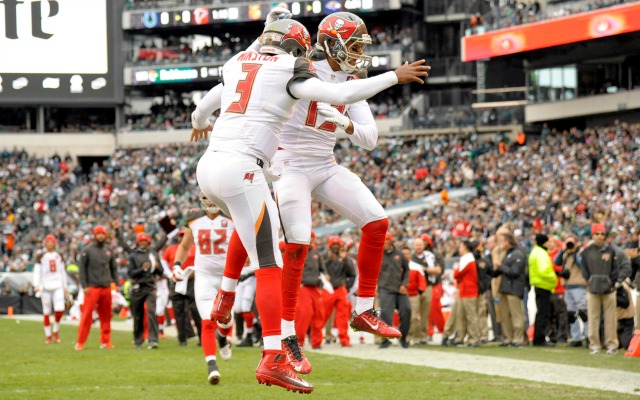 At wide receiver, Winston will have one of the premier pass catchers in the NFL at his disposal. Mike Evans is a top-flight receiver and in the discussion as the best fantasy player at his position.
Evans destroyed the competition as a rookie, topping 1,000 yards and scoring 12 touchdowns. He had some screwy luck in his second year finding the end zone but rebounded last year for another dozen scores. That proclivity for scoring makes him a potential first round pick in fantasy drafts.
He has an intriguing running mate alongside him too. Vincent Jackson's time in Tampa is over. He struggled to stay on the field. In his place, the team signed burner DeSean Jackson. Jackson spaces the field and draws deep coverage like no one else in the sport. He should open up huge lanes in the middle of the field for teammates and have a solid year himself. Though Jackson doesn't have the fantasy upside of Evans because of his boom-or-bust potential week to week, he is still a quality middle-tier option. There are far worse players to rely on as a third receiver in lineups this coming season.
If tight end Cameron Brate can build off his breakout 2016, the Tampa Bay passing offense will be formidable. It remains to be seen what type of impact Doug Martin and the backs will have, but the big plays will be there for the Buccaneers.