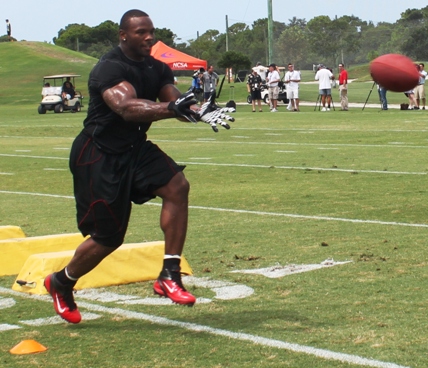 Folks, lockout or not, the Bucs had the first day of their player run mini camp kicked off yesterday. As we mentioned on Twitter, our compatriots from Pewter Report and Joe Bucs Fan did a great job of updating us on what was going on at IMG yesterday (Can you tell we are all starved for Buccaneers football action?)
We had a couple of agents on location at the camp (sadly, I was not there) and we have Michael Bennett lined up for our special Wednesday night show tonight to discuss the camp, the activity and the excitement leading to what should be our upcoming season.
Please go out and read the excellent content from both of those sites in preparation for tonight's show. We will be discussing what our team witnessed on location as well as what we are looking to see here in this very odd offseason. From what I have read (and yes, it sucks that I was not there. You guys know that is normally not the case and if our team gets their full Training Camp together it will be on!) Some great notes are coming out about the work by Bucs leaders like Josh Freeman, Gerald McCoy and even Aqib Talib and while I will temper our optimism as these were non contact, non gear drills, it is hard not to get excited when football starts!
Some particularly good pictures can be found (at Joe Bucs Fan) here: http://www.joebucsfan.com/?p=49867 Nice work!
We will be live tonight at 9:00 PM discussing this and so much more!