As football fans, we dedicate a lot of time, money and energy each year into being there for our teams at every single home game. It takes commitment. It takes loyalty. It's tough. What's even tougher is when fans want to hit the road for away games as well. For most of us, it's just not an option to see all 16 games of a regular season so if we desire to see our team play outside of Raymond James we have to carefully analyze the schedule and choose which games are the best games to attend. I've seen a large number of Bucs fans already planning road trips to Miami, Atlanta, Arizona and Green Bay just to name a few. So I've decided to dive into this year's road schedule and break it down in hopes of helping some fans choose their games wisely.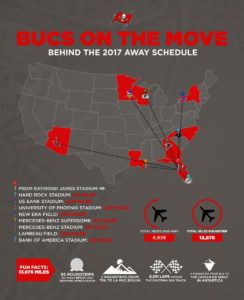 The season kicks off Week 1 in Miami against a rejuvenated Dolphins team in Hard Rock Stadium. This is the closest road game of the year which is probably it's biggest perk. It's a quick 4-hour drive down I-75 from Tampa. Plus, it is Miami. White sand beaches, tiny bikinis, frozen drinks poolside and that famous Miami nightlife. If you're planning on making it a weekend getaway with the significant other, then this could be the way to go. Then there's the game itself. The Fins, like the Bucs, are a young, up and coming team that finished 10-6 and made the playoffs last season. They lost to the Steelers in the wildcard round 30-12 in Heinz Field. This team has tons of talent on both sides of the football with QB Ryan Tannehill, RB Jay Ajayi,  WR Kenny Stills and TE Julius Thomas on offense and DE Cameron Wake, DT Ndamukong Suh, LB Kiko Alonzo and CB Byron Maxwell on defense. It should be a good road test for our Buccaneers and a fun way to open up the season. I know of a large number of Bucs fans who are filling up two charter buses to make the trip down south early that Sunday morning but I'm sure it'll be a great time no matter when you go or how you get there!
Week 3 brings a trip up north to Minnesota to play the Peterson-less Vikings in their fancy new home, U.S. Bank Stadium. It also brings a matchup between the Bucs defense and the guy some fans thought should've been their pick at #19, RB Dalvin Cook. The Vikings started their 2016 season with five straight wins only to lose 8 of their last 11 games and finish 8-8 for the year. This is another young team with some potential that should prove to be another tough road test for our Bucs. However, the highlight of this trip could be the fans. The members of the VWO, or Viking World Order, are some of the most passionate and intimidating fans in the league. This group was founded in 1997 by longtime Vikings fan Sir Syd Davy and has become a seriously exclusive club. There are currently about 180 members, both men and women, in the VWO, but it's not easy to get in. VWO wannabe's have to get support from at least 15 of the 28 "generals"  based on a biography about what makes you a die hard Vikings fan worthy of this distinguished honor. If you pass that test, then the candidate goes to Sir Syd for final approval and they're "knighted"  into membership. Yes, I said "knighted".  Like down on bended knee and touched on the shoulders with a large, sharp sword by a very large man kind of "knighted".  Oh, and they're just as serious about their tailgating too. What NFL fan wouldn't want to party with this bunch? Minnesota is definitely up there on this year's list of road trips!
Week 6 is an opportunity for the Bucs to redeem themselves. Last year, they went to Arizona in Week 2 and got destroyed 40-7 by a mediocre Cardinals team. That should be all the motivation this team needs to go in there and have a good showing. Even though the Cards lost some key defensive players this offseason like DT Calais Campbell and S Tony Jefferson, they still have enough pieces in place to cause problems for opposing offenses. Not to mention the guys on the other side of the ball like veteran QB Carson Palmer, RB David Johnson and WR Larry Fitzgerald. This is still a dangerous team despite finishing 7-8-1 last season. Now I don't know much about the city of Phoenix or even the state of Arizona for that matter. I do know that it's HOT  there. Yeah, I know it's hot here in Florida too, but like everyone says, it's a different kind of heat. It's dry. Like dry sauna kind of dry. Weather aside, there is one really good reason to make this trip…the Buccaholics! This is the ONLY  west coast game on the Bucs schedule this season and you can bet that the Buccaholics group will be throwing it down in Arizona. For those few Bucs fans who are just resurfacing from years of hiding, the Buccaholics are a group of Bucs fans that originally started in Southern California and has morphed into one of the largest Bucs fan organizations in the country. There are chapters all across the United States and all over the world but a large percentage of them are from the California, Arizona, New Mexico, Nevada region. That means they'll be at University of Phoenix Stadium in full force once again taking over just like they did in San Diego last year. They also put on one hell of a tailgate party! It would be an epic road trip to make this season.
The very next week, the Bucs travel to Buffalo to play the Bills for Week 7. What can I say about this one…I mean it's Buffalo. They do have a pretty passionate fan base that likes to party. In fact, they were voted the "Most Drunk Fans in the NFL"  in 2015 which is no easy task considering all 32 teams have fan bases who tailgate and party hard. Other than that, it's Buffalo. The Bills could be another good road test for the Bucs so I expect it to be a fun game to attend. However, it is still just Buffalo.
In Week 9, they finally get some division action on the road when they visit the Mercedes-Benz Superdome to play the rival Saints. If you've never been to New Orleans, I highly recommend this trip. Not only because the Saints have one of the friendliest and most passionate fan bases in the league in the Big Easy Mafia who put on one hell of a tailgate party, but because the city itself is amazing. So much history. So much culture. So much fun. From the bars and restaurants that line Bourbon Street to Harrah's Casino. From the horse-drawn carriage rides through the historic district to the fairy rides down the river. From the melt in your mouth beignets at Cafe' du Monde to the award winning gumbo at the Gumbo Shop. There's no shortage of things to do, places to go and things to see in this city. All of this combined with a good matchup between NFC South rivals definitely makes this another one of those "weekend getaway"  trips to put on the road trip list this season!
After a much-needed bye, Week 12 has the Bucs visiting the Atlanta Falcons brand new stadium for another division game. This game could end up having division/playoff implications this late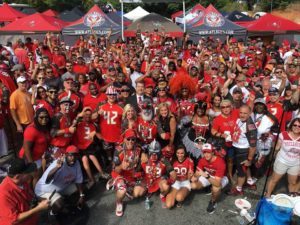 in the season. The Falcons will surely be in the mix for the NFC South title once again and this should be a fun game to watch. However, there are other reasons that make this one of the "must-do"  road trips this year. First, it's close. A not so bad 6 hour drive up I-75 and you're there. No airports. No expensive flights. Not really even a need for the extra cost of a hotel room. That makes it one of the more cost-effective road trips of the season for us fans. Second, is the pre-game. The ATLBucs/Buccaneer Invasion group there puts on one of the biggest, baddest Buccaneer away game tailgates in the country and it's an absolute must if you're planning on catching this game. The president, John "Superfan"  Blakey and the rest of his group really know how to do it up right. For me, this trip is pretty high on the list as well.
Week 13 brings an NFC conference game with the Packers that could have playoff implications. This may be the number one road game on my list this year. It's the Packers. It's in legendary Lambeau Field. It's Aaron Rodgers against our Buccaneer defense. Need I say more? Yes, it's a long distance and would be an expensive trip but it's one of those "bucket list"  type things to see a game in that stadium. Besides that, they have one of the most passionate fan bases in the NFL. In fact, they were voted the "NFL's Best Fan Base"  last year for the second year in a row. They have over 100,000 people on their season ticket waiting list for God's sake. And they know how to party consistently being voted as one of the best places in the league to tailgate. If I can only make one away game this year, then this might be the one!
The final away game of the year comes in Week 16 on Christmas Eve against the Carolina Panthers. As much fun as this road trip would be, it does fall on a holiday which will take it off of most fan's lists. As much as I love North Carolina in the winter, it's just not an option for me this year. But if some of you are thinking about making the trip, here's a few reasons why you should. First the obvious, it's a division rivalry game. It's Cam Newton. And it could possibly have NFC South title or even playoff implications.  Second, it's in Charlotte, North Carolina. A city that's rich in history with plenty of extra-curricular activities to do and all kinds of things to see like the Nascar Hall of Fame and the Carolinas Aviation Museum. Third, it's relatively close as away games go as it's only an 8 hour drive up I-95 or a short 90-minute flight from TIA. Finally, it's the last away game of the season. The last chance to see a Bucs regular season game outside of RayJay for this year. Those are all pretty good reasons to consider attending this game if you can get past the Christmas Eve game thing!
So there it is the entire 8-game road schedule for the 2017 Buccaneers. Did this offer some clarity or just confuse you even more? Hopefully, this will help you in your decision-making process when it comes to choosing which away games to attend this year. I for one am trying to narrow down my choices between the Dolphins, Vikings, Saints, Falcons and Packers. Unfortunately, the Miami and Minnesota games are only a week apart so that eliminates one of those for me. I also have a decision to make between the Atlanta and Green Bay as those games are back to back. I know…decisions, decisions. This is going to be an exciting year for us as Bucs fans and I don't think 8 home games will be enough Bucs football for most of us to see in person. Bucs Nation will be present and accounted for in every one of these games I'm sure. Will you be a part of it? I hope to see some of you out there in the trenches but until then, as always…GO BUCS!!!