My next "Welcome Aboard"  installment will feature another lesser known addition to the Bucs but one that could make just as much of an impact, if not more than the player in my first segment. He's well kept Canadian secret, tight end Antony Auclair.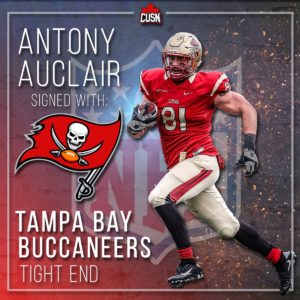 With the exception of the butthurt FSU homers still ranting about the Bucs NOT taking Dalvin Cook at #19, most of Bucs Nation is extremely excited to have such a versatile weapon like O.J. Howard at the tight end position for this team. But what some of you may not know is that the Bucs signed an undrafted free agent right after the draft that they should be just as excited about as well. Antony Auclair is from Laval College in Quebec, Canada. He stands 6'6″ and weighs 255lbs, same size as Howard. He had a 34″ vertical jump, ran a 4.83 forty, had a 4.3 shuttle and a 7 second 3-cone drill. He's got the prototypical size, long arms and massive, soft, natural hands with speed and athleticism to boot. In addition to all that, he's a solid receiver who runs angry after the catch and also plays with an edge as an inline blocker. If you pull up his highlight reel or some game footage of him on YouTube you'll see what I'm talking about. The dude has a nasty mean streak in him when it comes to blocking.
He caught the eyes of Buccaneers personnel at the East/West Shrine game in January where some of the nation's best college players are invited to show off their skills before the draft. He stuck out. He was actually on the Bucs draft board as a late round prospect and would've been their 7th round pick had DT Stevie Tu'ikolovatu not been available that late. They were almost as happy to sign him as an undrafted free agent as they were to get Howard with the 19th pick. Almost. Either way, they're excited about the young man, and we all should be too. He will be making a strong push for the 53-man roster along with Howard, Cameron Brate, Luke Stocker and Alan Cross. The Bucs could choose to role with five tight ends this season. However, if they decide to only keep four of them, Auclair will make things interesting for either Stocker or Cross.
There are three possible routes for the Bucs to take with this tight end position. The first, keep all five tight ends. The second, keep Auclair and Cross and release Stocker who's the only true veteran tight end in the locker room now.  The third and most likely choice would be to keep Auclair and Stocker and send Cross to the practice squad while he's still eligible. I know what some of you are thinking. "Well, why can't they keep Stocker and Cross and put Auclair on the practice squad?",  right? Let me explain why this isn't the smartest move and why it's probably not what the Bucs will do.
For those that don't know, here's how the NFL's practice squad policy works. When a player is released from the active roster or a current contract to be placed on the practice squad, the player must go through the waiver process first. That means that ANY team that wants that player can sign him to their practice squad or the active roster within a 24 hour window of him being released to the practice squad. IF the player passes through waivers without being signed by another team, he's now officially on the practice squad. However, that player still isn't safe. ANY team could still sign
him off of the practice squad IF they plan on adding him to their active 53-man roster.
That being said, I think that there would be too much interest from other teams in Auclair to take the chance of sending him to the practice squad. I could easily see a team like the New England Patriots, who like running two TE sets, scooping him up off of waivers as soon as he's released. I'm not so sure the Bucs are willing to take that chance. They like him a lot. So, that leaves them with those three options mentioned. He could be the eventual replacement for Stocker, but I'm not sure it happens this year. I would have to say the best bet is that they simply keep all five tight ends, but we won't know until the end of training camp. Until then, as always…GO BUCS and welcome aboard, Antony!!!