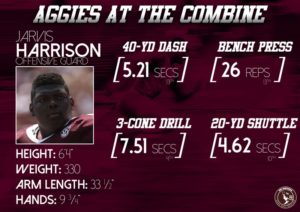 This is a new series that I'm starting to occupy my time until training camp starts. In these "Welcome Aboard"  pieces, I'll be introducing Bucs Nation to some of the "under the radar" players that the Bucs have signed or brought in recently that I feel could have a significant impact on the team this season. The first part of this series will be about recently signed guard Jarvis Harrison.
Most Bucs fans aren't even aware that the team signed him back in January. Harrison is 6'4″/330lbs and was the New York Jets fifth round pick of the 2015 draft. Coming out of Texas A&M, where he was teammates with Mike Evans, he was called a "dancing bear who possesses the talent, technique and physical traits to be a high-end NFL starter". One AFC scout stated that he had "major Pro Bowl talent". He had one of the fastest 3-cone drills of any offensive linemen at the Combine and was best known in college for being technically sound in the run game and in pass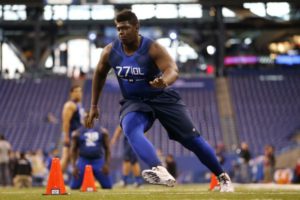 protection, as well as finding and hitting targets in open space while pulling. Sounds like a great find, right? Maybe, maybe not.
The knock on him coming out of school and the reason that the Jets released him was due to his work ethic (or lack thereof) and conditioning. NFL scouts had concerns about his desire to work hard and manage his weight effectively which is why he went from being a third round prospect to a fifth round pick. After the draft, the Jets signed him to a 4-year/$2.5 million contract but he was released midway through the season only to be re-signed to their practice squad. He remained with the Jets until he was again released during the final cuts in August of 2016. Before you write the guy off the same way New York did, let me make an argument FOR him as a Buccaneer.
IF this guy is even close to being as talented as most NFL scouts said before the draft, he could possibly be the Bucs answer at left guard. The difference between him failing as a Jet and succeeding as a Buc could be Jameis Winston. Just in case some of you have been living under a rock for the past two seasons, Jameis has a contagious way about him. A winning way. A hardworking way. A way that could rub off on this 25-year old and could light a fire under his ass. If Winston and the rest of the leaders on this team like Gerald McCoy, Kwon Alexander and Mike Evans can get through to this young man and reach his untapped potential he could end up not only being the new starting guard for the Bucs in 2017, but a dominant force on that o-line as well. Having George Warhop, one of the best offensive line coaches in the NFL, won't hurt either. If this team's leaders can whip him into shape and teach him how and what it takes to be a professional football player, then the ceiling is high for this kid.
Teaming him up with an improving Donovan Smith at left tackle, Ali Marpet holding it down at center, J.R. Sweezy plowing away at right guard and a highly motivated Demar Dotson at right tackle would give the Buccaneers a very solid offensive line to not only protect Jameis but open lanes for the run game too. On the other hand, he may not even make the final 53-man roster. The battle for those 8 or 9 active roster o-linemen is going to be seriously competitive so if he wants another shot at the NFL, he'll have to work for it. But if he gets his mind right and his head straight, he could end up making a real impact on this team. Until then, as always…GO BUCS and welcome aboard, Jarvis!!!